This was amazing.  I love cashews.  I could eat a giant things from Costco by myself.  I always order this when we go to a chinese restaurant.  I loved being able to make this at home and taste just as awesome as take-out.  The chicken was cooked so perfectly in the crockpot and the flavor and cashews mixed together was so yummy!
Rating: 5 stars  Difficulty of Recipe: 2 stars
How I changed it:  I doubled the sauce.  You have to double it or there will not be enough.  I used chicken breasts instead of thighs.  I also added the cashews at the beginning.  It was still really good!
Things I would do differently next time:  I have made it both with coating the chicken in flour and not coating the chicken.  The flavor is still great and if you are in a hurry to dump this in, it doesn't make that big of a difference.  When the chicken is floured, it has a little bit of different texture on the outside and the sauce is thicker after it is done cooking.  Also if you have little ones, hold off on the pepper flakes.  It has a little kick to it.
Will I make it again? YES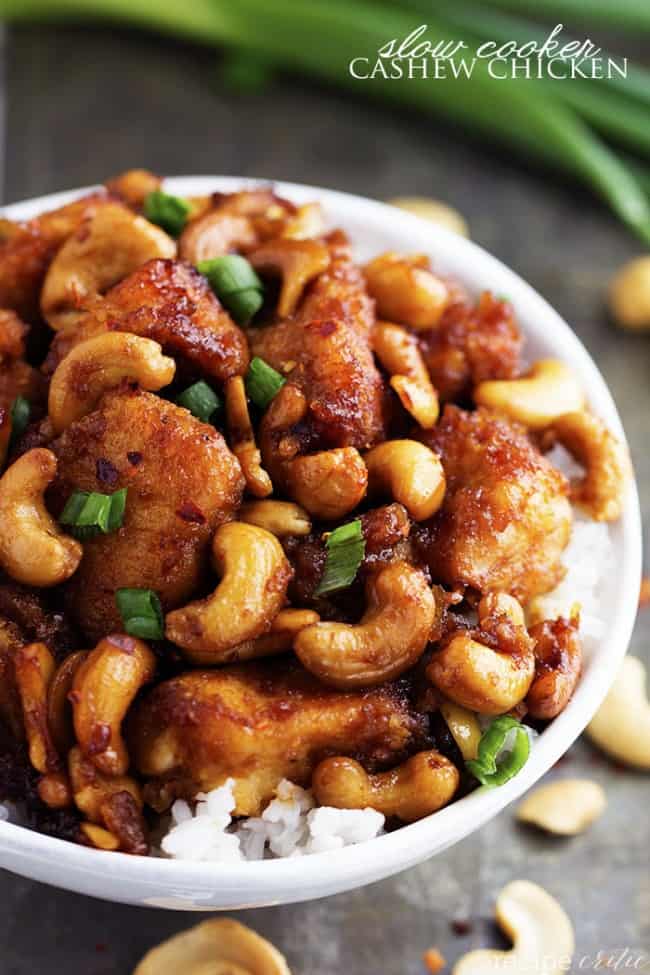 Ingredients:
2 lbs boneless skinless chicken breasts (About 4 pieces)
1/4 cup all purpose flour
1/2 tsp black pepper
1 Tbsp canola oil
1/4 cup soy sauce
2 Tbsp rice wine vinegar
2 Tbsp ketchup
1 Tbsp brown sugar
1 garlic clove, minced
1/2 tsp grated fresh ginger
1/4 tsp red pepper flakes
1/2 cup cashews
1.Combine flour and pepper in resealable food storage bag. Add chicken. Shake to coat with flour mixture.
2. Heat oil in skillet over medium-high heat. Brown chicken about 2 minutes on each side. Place chicken in slow cooker.
3. Combine soy sauce, vinegar, ketchup, sugar, garlic, ginger, and pepper flakes in small bowl; pour over chicken.
4. Cook on LOW for 3 to 4 hours. Add cashews and stir.
5.Serve over rice. Makes 4-6 servings.