I loved how easy and delicious this dip was.  Seriously.  It took me minutes to dump all of this together.  And I took the recipe and made it a little better for you.  Because we are all still trying to watch what we eat right?  Even though the super bowl is coming up and we all like to have delicious food while we watch the game.  This is such an easy and delicious appetizer to bring to any party!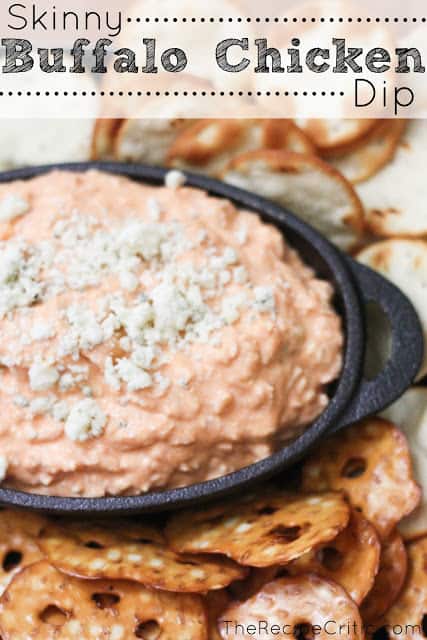 Rating: 4 stars  Difficulty of Recipe: 1 star
Review: I decided to use bleu cheese dressing but I think I am more of a ranch kind of girl. I think that the next time that I make this I will use ranch but still put the bleu cheese crumbles throughout.

Ingredients:
8 fat free ounces cream cheese, softened
1/2 cup reduced fat blue cheese or ranch dressing
1/2 cup Buffalo or Red Hot sauce
1/2 cup crumbled blue cheese or shredded mozzarella cheese
2 cans (9.75 each) Premium Chunk chicken breast, drained, or 2 cups shredded cooked chicken

1. Place cream cheese first into the bowl.  Stir that until it is smooth.
2.  Add the rest of the ingredients.
3. Bake at 350 for about 20 minutes or until heated through.  Or Warm in the microwave about 2-5 minutes until heated through.
Recipe Adapted From Home Cooking
Subscribe to the Recipe Critic Blog and get family friendly recipes via e-mail.
I am Alyssa and the blogger behind The Recipe Critic. I started my blog in June of 2012 as a place to share my passion for cooking. I love trying new things and testing them out with my family.
Latest posts by Alyssa Rivers (see all)