I can't take any credit for this recipe or post.  It is my hubby's recipe and he made them!
Ok quick story…..
My hubby served an LDS mission in France.   When we started dating I loved that he could speak French and the first time he said the big I love you, it was in French.  That sealed the deal.  Anyway.  He would always talk about how he is an amazing crepe maker.   I absolutely love crepes!  Especially if they are stuffed with cream cheese goodness and fresh fruit.  I always beg my husband to make them.  So he found his little mission recipe book and made me a batch and I was in heaven!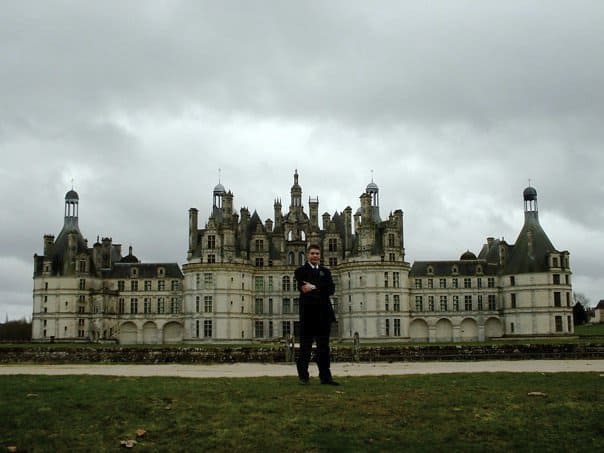 MY OTHER RECIPES
He was so little!  This was in front of Chmbord.  That was 10 years ago. He said that they were so poor most of the time that they were always making crepes. They would have peanut butter and jelly crepes, hot dog crepes, the possibilities are endless! 🙂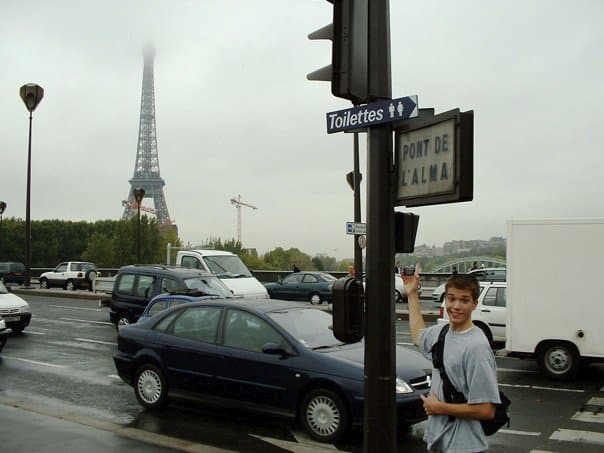 Luckily being married to The Recipe Critic has made him fill out a little more…  hehe 🙂
I have always been kind of intimidated to make crepes.  But like I said, they are one of my favorites!  It was kind of fun to watch my hubby make them.  And really they aren't hard at all.  The first couple might take some practice, but as soon as you get the circular hand motion down, you will be a pro crepe maker in no time!

Perfect Crepes
A delicious and perfect french crepe recipe that my husband used in France.
Ingredients
2½ cups flour
2 cups milk
½ cup sugar
4 eggs
3 Tablespoons oil
1 teaspoon vanilla
Optional Cream Cheese Filling:
8 oz cream cheese
2½ Tablespoons Powdered Sugar
8 oz whipped topping
Instructions
Beat together flour, milk, sugar, eggs, oil and vanilla until the batter is completely smooth.
Brush a medium size pan with olive oil. Heat the pan to medium heat. Once the pan is heated, add about ¼-1/2 cup batter to the pan.
Using a circular hand motion, spread the batter thin and even into a circle. My hubby recommends a crepe spatula if you are wanting them really thin.
Heat on the side for 30-40 seconds and then flip. The side will start to dry out and tiny bubbles will form. Repeat the process with the rest of the batter.
If you are making the cream cheese filling, beat the cream cheese and powdered sugar together until smooth. Fold in the whipped topping. Place 2 Tablespoons on the crepe and roll up. Delicious served with fresh fruit on top.
Yeild 12 crepes