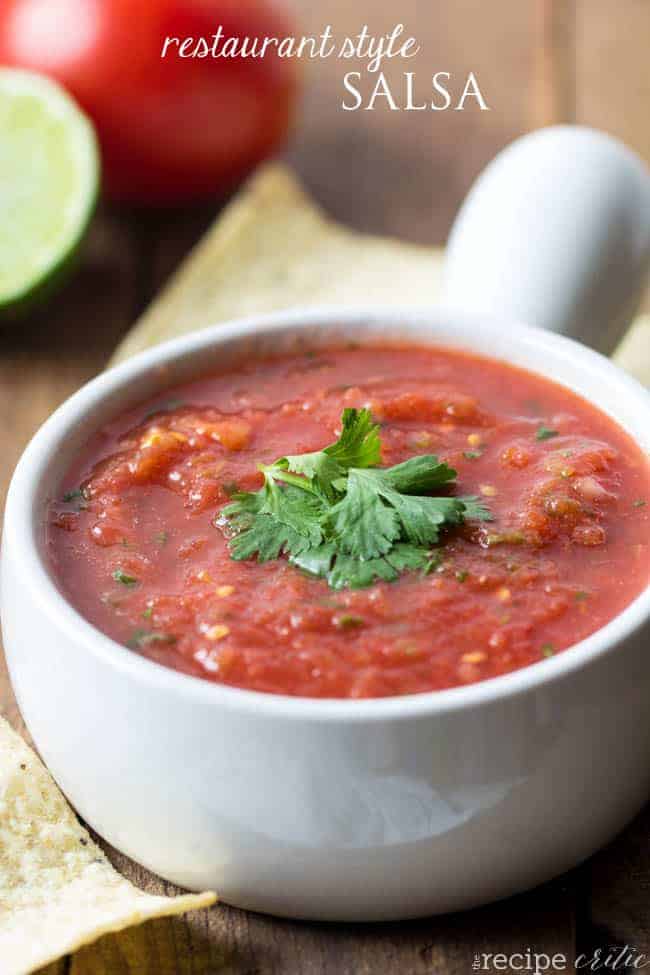 As I was writing this post, I realized that I can not spell restaurant for the life of me.  Luckily I have auto correct to help me out.  Definitely is another word I can never spell right either!  But I felt better because I asked the hubby to spell restaurant and he couldn't either.  So I am glad I am not the only one. 🙂
Anyway, enough about me not knowing how to spell.  Let's talk about restaurant salsa.  Thats one of my favorite parts of the meal!  I especially love Chili's salsa.  Little did I know how easy peasy it is to make it right at home!  You take about 10 minutes out of your day and you have fresh restaurant salsa right at home!  All of the yummy flavors blended together in no time at all and I had a big 'ole batch!  Why have I not made this before?  It was so delicious, we all couldn't get enough of it!
Including my six year old.  He was my personal assistant holding the chip in this picture.  He took that little bite out of the corner.  It was just too cute not to leave. 🙂
Restaurant Style Salsa
Salsa that tastes just like it is from a restaurant and only takes minutes to make!
Ingredients
1 can (28 Ounce) Whole Tomatoes With Juice
2 cans (10 Ounce) Rotel
¼ cup Chopped Onion
1 clove Garlic, Minced
1 whole Jalapeno, sliced
½ teaspoon Sugar
¼ teaspoon Salt
¼ teaspoon Ground Cumin
½ cup Cilantro
Juice from one lime
Instructions
*This makes a big batch. It filled my entire blender. If you want less, half the recipe.
In a blender of food processor combine whole tomatoes, rotel, onion, garlic, jalapeno, sugar, salt, cumin, cilantro, and lime. Pulse or blend until desired consistency.
Refrigerate for about an hour before serving and serve with tortilla chips.
Recipe source
The Pioneer Woman
MY OTHER RECIPES