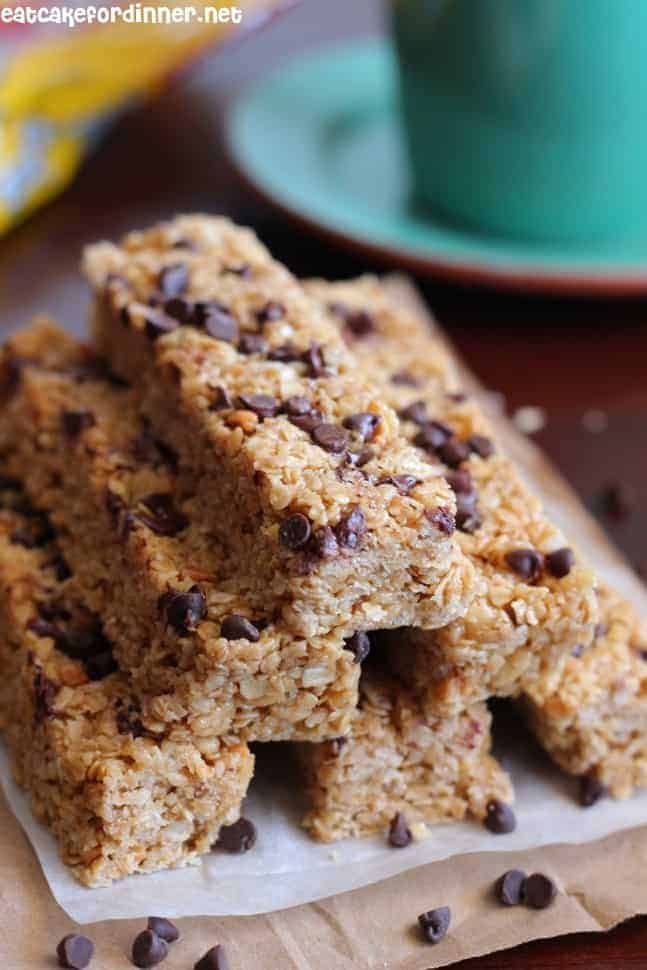 Hey!! It's Jenn, from Eat Cake For Dinner.  How's it going?  What kind of healthy things have you been snacking on?  I always like granola bars.  I don't know about you, but I get SO sick of store-bought granola bars.  Plus, the last box I bought tasted stale and they weren't even expired.
Sometimes, it's so convenient to just grab a box at the store, but homemade granola bars really are so easy to make.  You probably already have most of these ingredients on hand and in just a few short minutes,  you can have homemade WAY BETTER than store-bought granola bars.
The flavor possibilities are endless.  Today, I was feeling like peanut butter and chocolate chip.  I love the combination of all these flavors, they blend together perfectly and leave you with a super delicious, very soft and chewy granola bar.  Just how I like them.
No-Bake Peanut Butter and Chocolate Chip Granola Bars
A delicious super soft and chewy homemade granola bar.
Author:
Jenn@eatcakefordinner
Ingredients
2 c. quick-cooking oats
1 c. rice krispies cereal
2 Tbl. coconut oil
¼ c. honey
¼ c. light brown sugar, packed
¼ c. peanut butter, creamy or chunky
1 tsp. vanilla extract
2 Tbl. mini chocolate chips
Instructions
In a medium bowl combine oats and cereal; set aside. In a small saucepan combine coconut oil, honey and brown sugar. Heat over medium heat until sugar is dissolved. Bring to a boil and remove from heat. Add the peanut butter and vanilla and stir until mixture is smooth. Pour over oat mixture and stir until evenly coated. It might not seem like there is enough liquid, but just keep stirring and it will all come together.
Press mixture into a 8"x8" baking pan (or similar size). Top with mini chocolate chips and press down slightly. Allow to set for several hours or until firm. Cut into 10 bars. If taking in lunches, wrap individual bars in plastic wrap.
 You might also like these other delicious recipes from: Eat Cake For Dinner
No-Bake Cinnamon Chip Granola Bars
Stay Connected with Eat Cake For Dinner
Blog | Facebook | Pinterest | Twitter | Google+
Subscribe to the Recipe Critic Blog and get family friendly recipes via e-mail.
Jenn is the blogger behind Eat Cake for Dinner.She was born and raised in Utah and she still resides there with her high school sweetheart of 15 years.She loves being in the kitchen and spending her spare time cooking, baking, and blogging.From cakes to cookies to breads and casseroles, you will find it all on her blog.She loves all types of food, but cake and frosting are her favorites.If you ask her, the more frosting the better.