Hey everyone! Chelsea back from Chelsea's Messy Apron! I'm slightly obsessed with all things Fall and Winter, so there have been all kinds of pumpkin and apple recipes lately on my site.
I've also been making soup like CRAZY and have tons of recipes to share. This soup was one of our favorites. It's pure comfort food, rich & creamy, plus SO easy to make. My whole family loved it and thought it was even better than a from-stratch chicken pot pie! The ingredient list is short, but it's packed with flavor and easy to adapt to your personal preference. Feel free to add in some extra spices or whatever you generally like in your pot pies.
And the biscuits to top it are totally optional but such a fun "pot pie" touch! Hope you all enjoy 🙂 And if it's still too hot where you are at, definitely make sure to bookmark this recipe for the first cold day!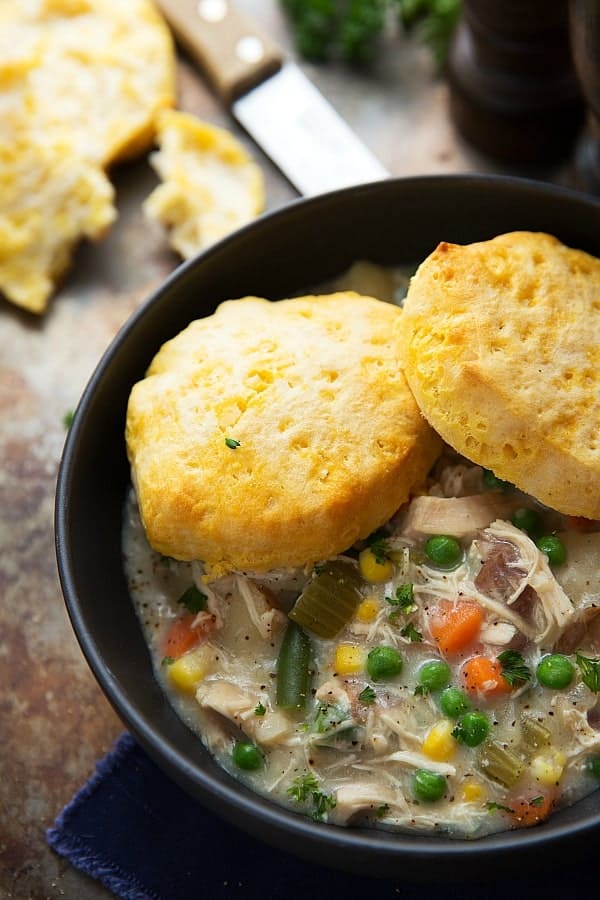 Chicken Pot Pie Soup
Author:
Chelsea from Chelsea's Messy Apron
Ingredients
1 tablespoon olive oil
½ cup chopped yellow onion
1 teaspoon minced garlic
1 cup chopped celery
2 cups cooked and shredded chicken
1 (16 ounce) package frozen mixed vegetables
¾ teaspoon pepper
1 (10.75 ounces) condensed cream of potato soup
1 (10.75 ounces) condensed cream of chicken soup
2 cups milk, I used 1%
Grand biscuits, optional to top with
Optional: fresh parsley
Instructions
In a large pot over medium heat, pour in the olive oil.
Sauce the onion and garlic until tender. Add in the celery, chicken, vegetables, pepper, both soup containers and milk.
Heat through and pour into bowls.
Meanwhile, cook the grand biscuits if desired.
Place a cooked and warm biscuit on top of the bowl and enjoy immediately. Top with chopped fresh parsley if desired.
Recipe adapted from AllRecipes.
More soup recipes from Chelsea's Messy Apron:
Crockpot Sweet Potato, Chicken, and Quinoa Soup
Crockpot Quinoa Chicken Parmesan Soup
Crockpot Tortellini Lasagna Soup
Crockpot Mexican Tortilla Chicken and Quinoa Soup
Subscribe to the Recipe Critic Blog and get family friendly recipes via e-mail.
Chelsea is the blogger behind Chelsea's Messy Apron.She is always experimenting in the kitchen and making new things to eat."Or I am in the kitchen eating.Both are good."She tries to eat a balanced diet of healthful foods, but she loves desserts.You will find most of her recipes are healthy and easy, but still taste great!She has found that eating is all about balance and she hopes that that is the case on her site!
Latest posts by Chelsea Lords (see all)