Creamy and cheesy red potato soup that the whole family will love!
Hey everyone! Chelsea back from Chelsea's Messy Apron with some soup today! I adore red potatoes so any chance I can use them in a recipe, I do! This is a little twist on a potato soup by using red potatoes instead of yukon gold potatoes. I LOVE the addition of the red potatoes!
You've still got all the fillings/toppings we all know and love for a baked potato — cheddar cheese, chives (green onions work well too), bacon, and sour cream.
This soup is ultra filling, and total comfort food at it's best! Enjoy! 🙂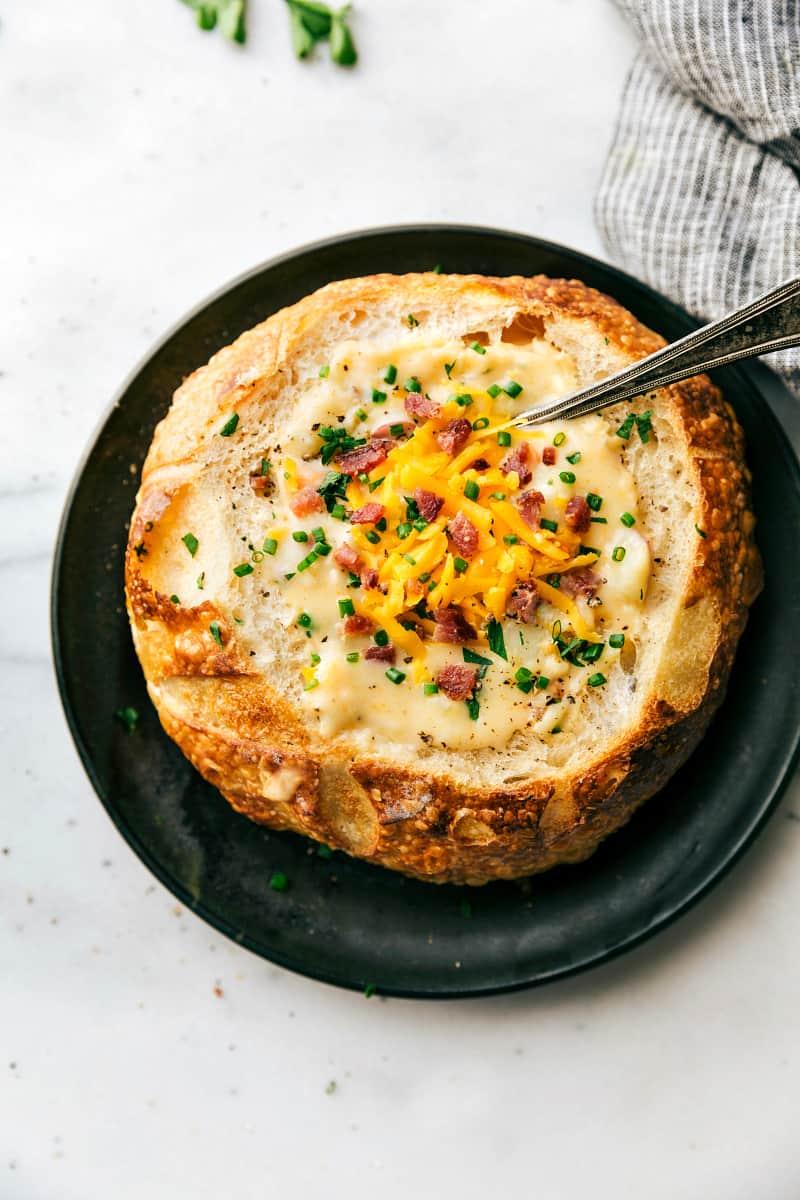 Red Potato Soup
Ingredients
1 package (12 ounces) smoked bacon
1 small onion
2 stalks celery
1 large carrot
2 teaspoons minced garlic
2 pounds red potatoes, cubed*
6 chicken boullion cubes, or 6 cups chicken stock
⅔ cup unsalted butter
¾ cup white flour
4 cups whole milk, at room temperature
1 container (8 ounces) sour cream, I use reduced fat
2 and ½ cups sharp cheddar cheese, separated
Salt and pepper
Chives or green onions
Instructions
Prep: Wash the red potatoes and cut into small cubes. Peel if desired (I like to leave the peel on). Dice the onion, dice the celery, dice the carrot.
In a very large pot, over medium heat, cook all of the bacon to desired doneness.
Remove onto a paper towel lined plate and dab off the excess grease. Coarsely chop the bacon.
Drain all of the bacon fat except for 3 tablespoons.
Add in the onion, celery, and carrot and cook until the onion is translucent over medium heat, about 5-7 minutes. Add the garlic in the last 30 seconds.
Add in the potatoes and toss everything to coat.
Cover everything with 6 cups water and 6 regular sized chicken boullion cubes (watch out, there are extra large ones -- if you get large ones adjust) OR 6 cups chicken stock.
Heat to boiling and then reduce the heat and cook for about 10 minutes or until potatoes are tender.
Using a potato masher, mash down some of the tender potatoes, leaving some chunks.
In another pot, melt the butter over medium heat.
Slowly whisk in the flour and whisk until smooth. Cook for one minute over medium heat.
Very slowly add in 2 cups of room temperature milk.
Whisk until thickened. Add in a generous amount of salt and pepper (I add about a tsp of each, but to your preference!)
To the potatoes: add in the cream mixture, additional 2 cups of milk, sour cream, generous amount of chives or green onions, 2 cups of the cheese, and half of the cooked bacon.
Stir and cook until heated and cheese is melted.
Top individual bowls with remaining ½ cup cheese, remaining bacon, and remaining chives/green onions.
Enjoy!
Notes
*I like to leave the skin on, but peel if that is your preference
More Soup Recipes from Chelsea's Messy Apron:
Crockpot Wild Rice and Sweet Potato Chicken Soup
Crockpot Green Chile Chicken Enchilada Soup
Crockpot Creamy Chicken Enchilada Soup
Subscribe to the Recipe Critic Blog and get family friendly recipes via e-mail.
Chelsea is the blogger behind Chelsea's Messy Apron.She is always experimenting in the kitchen and making new things to eat."Or I am in the kitchen eating.Both are good."She tries to eat a balanced diet of healthful foods, but she loves desserts.You will find most of her recipes are healthy and easy, but still taste great!She has found that eating is all about balance and she hopes that that is the case on her site!
Latest posts by Chelsea Lords (see all)