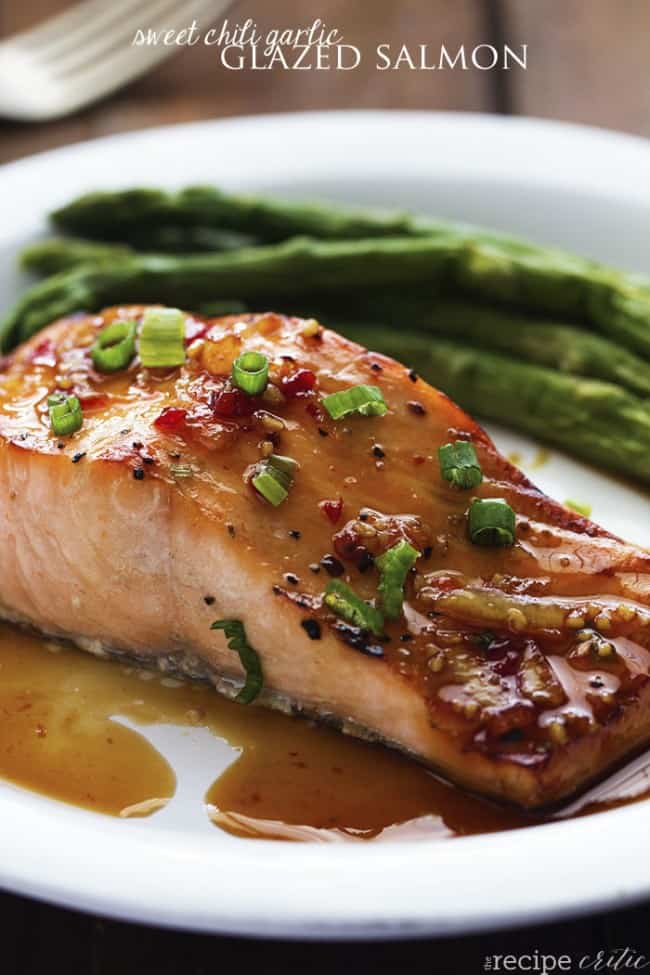 Sweet Chili Garlic Glazed Salmon
Author: Alyssa
Prep time: 5 mins
Cook time: 1 hour 10 mins
Total time: 1 hour 15 mins
A five star salmon recipe with a delicious sweet chili garlic glaze on top. The glaze caramelizes the salmon as it broils and will become an instant favorite that you will make again and again!
4 (6 oz) pieces of salmon
¼ cup sweet chili sauce
1½ Tablespoons Orange Marmalade
3 Tablespoons soy sauce
2 Tablespoons green onion, minced
1 clove garlic, minced
salt and pepper
In a shallow baking dish, combine sweet chili sauce, orange marmalade, and soy sauce. Whisk to combine and add minced garlic and green onions. Reserve ¼ cup of the marinade. Sprinkle the salmon with salt and pepper and place facing down with the skin side up in the dish and allow to marinate for at least one hour.
Preheat the broiler and make sure the oven rack is 5-6 inches down and line a baking sheet with aluminum foil. Spray with cooking spray. Take the salmon out of the pan and shake off excess marinade. You don't want the marinade to pool up on the foil. Place the salmon fillets skin side down on top of the aluminum foil and broil for 6-10 minutes until browned and opaque in the center.
Pour the reserved sauce on top of the salmon before serving and garnish with green onions.
Recipe by
The Recipe Critic
at https://therecipecritic.com/sweet-chili-garlic-glazed-salmon/