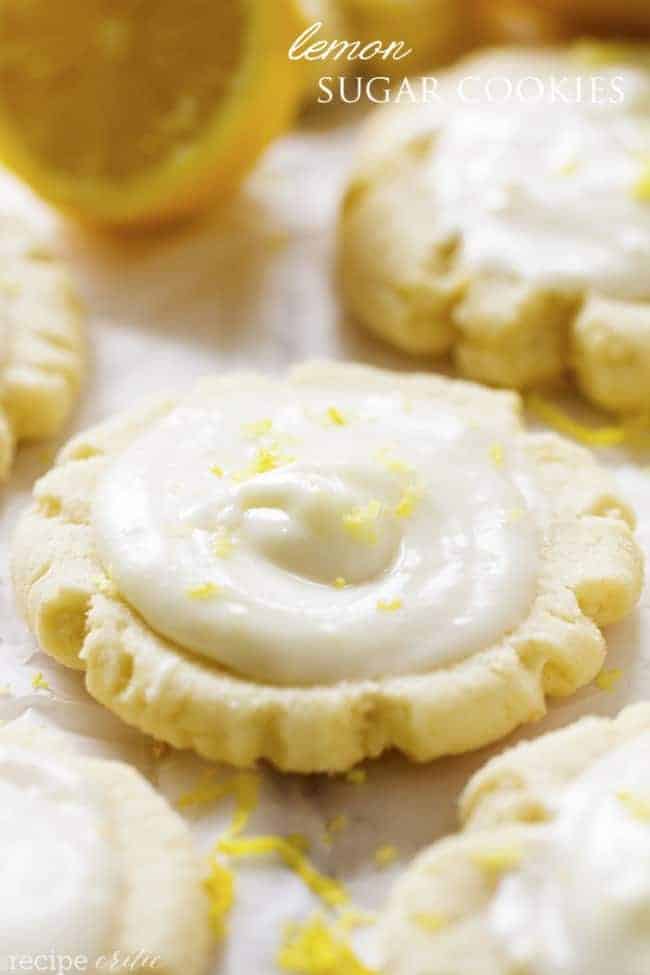 Lemon 'Swig' Sugar Cookies with Lemon Cream Cheese Frosting
Author: Alyssa
Prep time: 15 mins
Cook time: 10 mins
Total time: 25 mins
Amazingly soft and perfect lemon sugar cookies with the best lemon cream cheese frosting on top!
1 Cup Butter, softened
¾ C Vegetable Oil
1¼ C Sugar (plus ¼ cup reserved)
¾ C Powdered Sugar
2 T Water
1 teaspoon lemon juice
1 Tablespoon lemon zest
2 Eggs
½ t Baking Soda
½ t Cream of Tarter
1 t Salt
5½ C Flour
Lemon Cream Cheese Frosting:
1 (8 ounce) package cream cheese,
softened
¼ cup butter
2 tablespoons lemon juice
2 teaspoons lemon zest
1 teaspoon vanilla extract
5 cups confectioners' sugar
NSTRUCTIONS
Preheat oven to 350 degrees. In a medium sized mixing bowl, combine flour, baking soda, cream of tarter, and salt. Set aside.
In a large mixing bowl, cream together butter, vegetable oil, sugar (1¼ C), powdered sugar, and water. Add in lemon juice and lemon zest.. Add in eggs.
Slowly add in flour mixture until combined. Roll the dough into golf sized balls and place onto a non stick cookie sheet.
To give the cookies their signature rough edge, dip the bottom of a glass into the reserved ¼ cup sugar and press onto the cookie ball to flatten the cookie. You still want the cookie to be thicker so don't press them to thin.
Bake for 8-10 minutes or until the bottom is lightly brown. The cookies stay soft so do not over bake.
To make the lemon cream cheese frosting: Beat cream cheese, butter, lemon juice, lemon zest, and vanilla together until smooth and fluffy. Add confectioners' sugar. Beat until creamy.
Recipe by
The Recipe Critic
at https://therecipecritic.com/lemon-swig-sugar-cookies-with-lemon-cream-cheese-frosting/