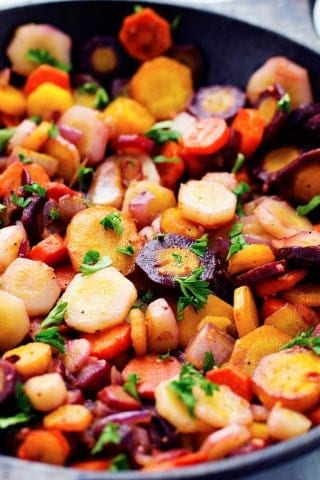 Sautéed Brown Butter Garlic Rainbow Carrots
Author: Alyssa
Prep time: 5 mins
Cook time: 10 mins
Total time: 15 mins
Vibrant colored rainbow carrots get sautéed in brown butter and garlic creating a delicious side dish. They are so tender and flavorful and will become a favorite new side!
¼ cup butter
2 cloves garlic, minced
6-8 rainbow carrots, sliced*
¼ cup red onion, chopped
salt and pepper to taste
In a medium sized skillet add the butter. Cook over medium heat and whisk the butter to brown. It will become frothy and start to have a nutty aroma. Then it will turn brown.
Add the garlic, sliced carrots and red onion. Sauté for about 5-7 minutes until they become soft and tender. Salt and Pepper to taste.
*If rainbow carrots aren't available at your grocery store regular carrots will also work great.
Recipe by
The Recipe Critic
at https://therecipecritic.com/sauteed-brown-butter-garlic-rainbow-carrots/