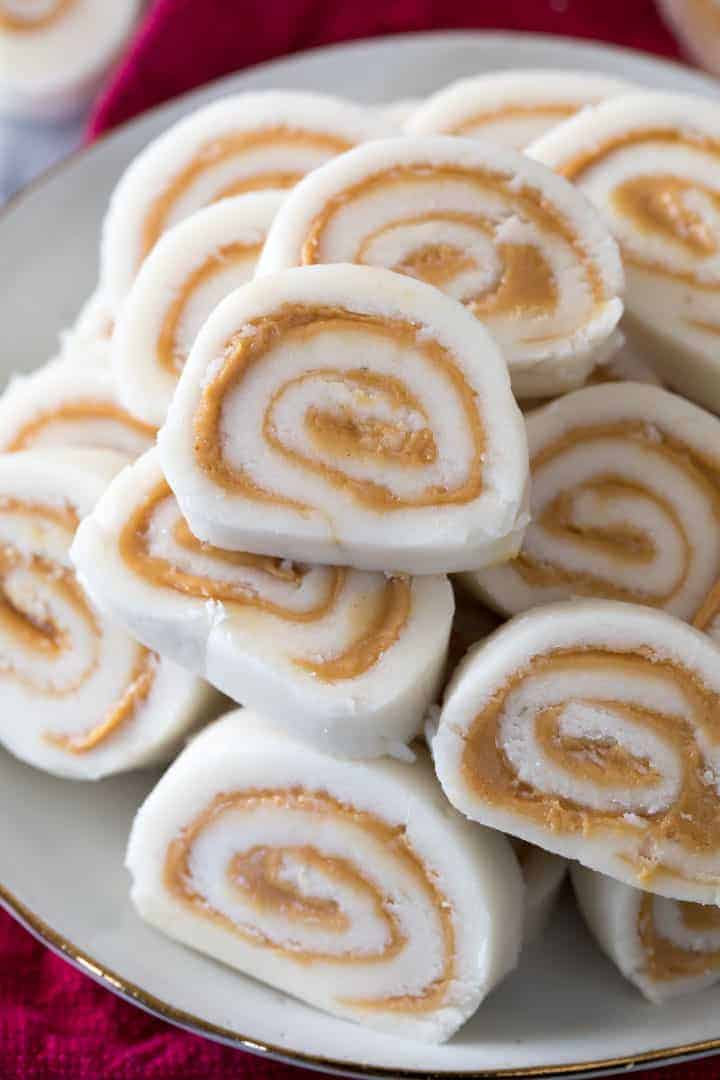 Peanut Butter Pinwheel Candy
Peanut Butter Pinwheel Candies are made with an unexpected but essential ingredient. This is a family favorite recipe that's been passed down for generations!
With electric mixer, combine mashed potatoes, butter, and 1 cup sugar.

Add in remaining sugar, 1 cup at a time. Start by adding 6 cups of powdered sugar, if the dough is not moldable in your hands and can't be rolled into a ball, continue to add sugar until it is firm.

Stir in vanilla.

Refrigerate filling for 1 hour.

Once chilled, divide dough into two pieces and place one piece on a clean surface that you've generously dusted with powdered sugar. Dust the surface of the dough with additional sugar, and use a rolling pin to roll dough out into a rectangle about 1/4" thick. Make sure that your dough can be rolled at this point, if it's too sticky or falling apart, you may need to add more sugar, re-shape it into a ball, and start over.

Once dough has been rolled into a 1/4" rectangle, spread evenly with peanut butter, leaving a small amount of space peanut butter-free around the perimeter of the dough.

Starting with the longer side of your rectangle, gently but tightly roll into a lot.

Use a knife to slice into pieces about 1/2" thick.

Repeat steps 5-8 with remaining half of dough.

Serve and enjoy.
Use russet potatoes, peel, dice, and boil until tender. Drain potatoes and then mash well. Allow potatoes to sit at room temperature until completely cooled before making your filling.
Nutrition Facts
Peanut Butter Pinwheel Candy
Amount Per Serving
Calories 71
% Daily Value*
Sodium 1mg0%
Carbohydrates 18g6%
* Percent Daily Values are based on a 2000 calorie diet.