An awesome alternative to the classic philly cheesesteak sandwich!  Low carb, gluten free, and stuffed into a delicious tender and juicy bell pepper!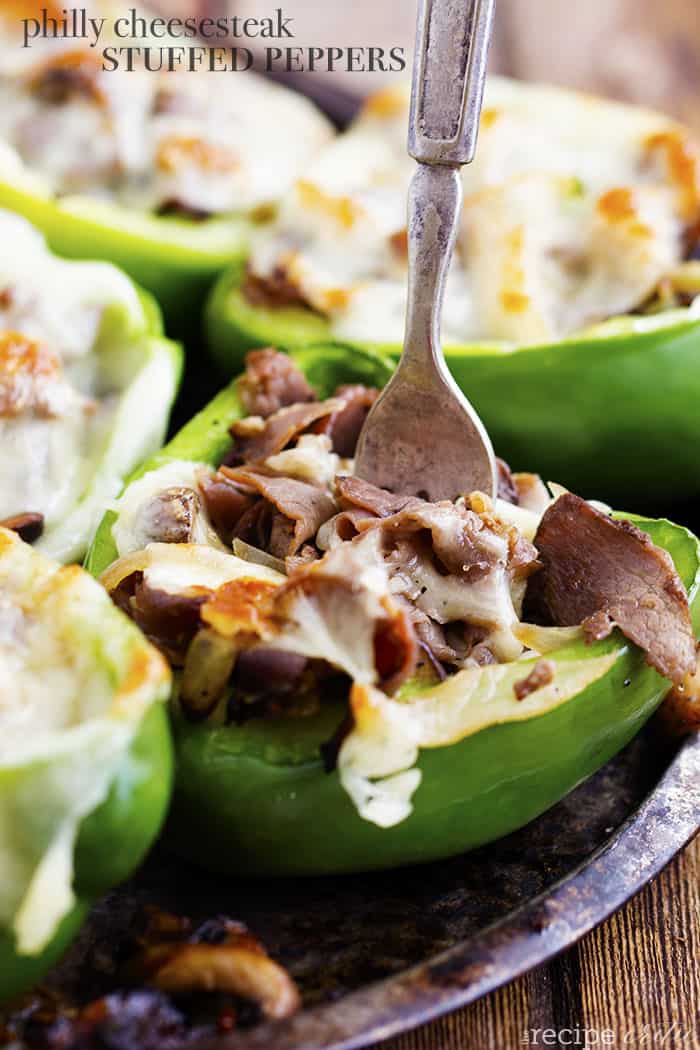 Isn't homework ridiculous these days?  My boys come home from school and I don't see them again until dinner.  They are buried in homework.  And my 5th graders math is totally beyond my area of expertise.  Remember that show, Are you smarter than a fifth grader?  Well I am here to tell you I am not.  His homework is tough!   Whenever I am in charge of homework duty I am so thankful to have google.  It saves me.  🙂
It has always been important for me and my family to eat dinner together each night.  We love to take a time out from homework and other activities we have going on.  Even if it is hot dogs and macaroni and cheese, we eat dinner together.
I especially love on a busy day a quick and easy meal.  Since Philly Cheesesteaks are one of my favorite sandwiches, I couldn't  wait to try them stuffed in a pepper.  I mean seriously.  It goes perfect in a pepper!  And then you add the beef, caramelized onions and mushrooms, and provolone cheese…  perfection.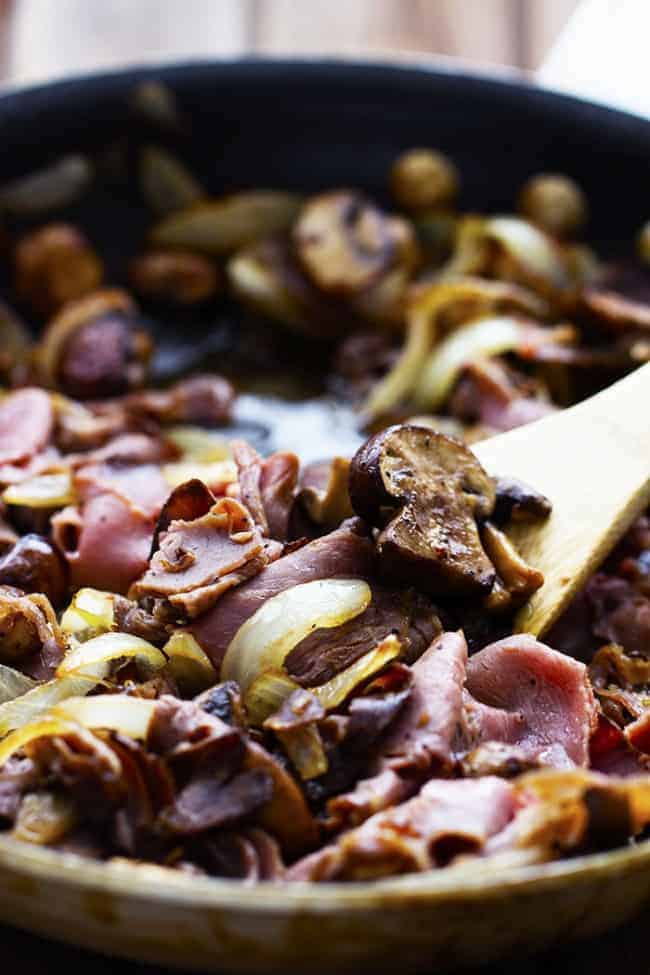 These were AMAZING!  One of the best meals that I have had.  They were perfect for keeping me on track while I am watching what I eat and they are great because they are low carb without the bread!
A philly cheesesteak isn't complete without ooey gooey cheese.  And don't you worry.  These peppers have plenty!
Loaded with cheese in the top and the bottom of the pepper.  As soon as you dig in to these perfect peppers there is ooey gooey cheese just waiting at the bottom.
Stuffed peppers and Philly cheesesteak go hand in hand.  We absolutely loved them and the flavor is out of this world.  I loved how easy these were to put together.  A perfect win.
Now just dig in!
Philly Cheesesteak Stuffed Peppers
An awesome alternative to the classic philly cheesesteak sandwich! Low carb, gluten free, and stuffed into a delicious tender and juicy bell pepper!
Ingredients
8 ounces thinly sliced roast beef
8 slices provolone cheese
2 large green bell peppers
1 medium sweet onion
1 (6 ounce) package sliced baby bella mushrooms
2 tablespoons butter
2 tablespoons olive oil
1 tablespoon garlic, minced
Instructions
Slice the bell peppers in half and remove the membranes. Preheat the oven to 400 degrees.
In a medium sized skillet on medium heat add the butter, oil, minced garlic, and salt and pepper. Saute until the onions and mushrooms are caramelized about 5-10 minutes.
Slice the roast beef into thin strips and and add them to the onion mixture. Cook for an additional 5 minutes until it is heated throughout.
Line the bottom of each pepper with a slice of provolone cheese. Fill the pepper until it is nice and overflowing. Add another slice of cheese on top.
Bake for 15-20 minutes or until the cheese is nice and bubbly and the pepper starts to soften.
 Recipe adapted from Food.com
Subscribe to the Recipe Critic Blog and get family friendly recipes via e-mail.
I am Alyssa and the blogger behind The Recipe Critic. I started my blog in June of 2012 as a place to share my passion for cooking. I love trying new things and testing them out with my family.
Latest posts by Alyssa Rivers (see all)