This website may contain affiliate links and advertising so that we can provide recipes to you. Read my privacy policy.
Alfredo Sauce is the most creamy and delicious homemade alfredo sauce that you will ever make! This is a tried and true recipe and you will agree that it is the best recipe out there!
This is my most popular recipe for a good reason! If you love alfredo as much as I do try this Creamy Garlic Shrimp Alfredo Pasta, Instant Pot Chicken Alfredo Pasta or Asiago Garlic Alfredo Pasta.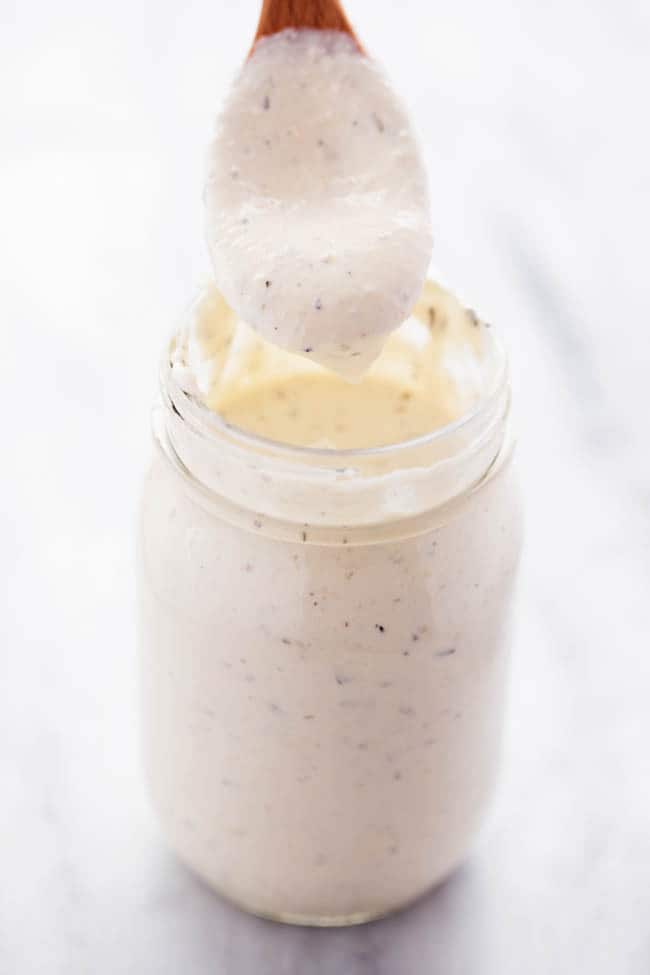 Best Ever Alfredo Sauce
I just had to post my favorite recipe that I have created here on the blog. There are a few secret ingredients that set it apart from all of the rest. If there is one thing I can always count on my family to eat it is my homemade alfredo sauce over pasta.
We recently had some company over for dinner and I made these Chicken Bacon Garlic Alfredo Roll Ups and they always are a huge hit! This sauce is thick and creamy and the flavor is out of the world. It is restaurant quality that you can make right at home!
What is Alfredo Sauce?
Classic Alfredo Sauce is a simple but elegant creamy, white sauce that is commonly known to lay over pasta noodles. It is made from butter, a type of cream and parmesan cheese. Adding seasonings and cream cheese for a thickener I like to blend a rich, creamy sauce together that is simple and irresistible. The end result of this mixture is satisfying to say the least!
What you Need to Make Sauce:
Simple ingredients for an elegant sauce that is a classic dish loved by all. This Sauce just has a smooth, creamy texture that melts in your mouth. The best results comes from the ingredients. Using the freshest ingredients is key!
Fresh parmesan cheese grated off the block is one of those key ingredients. This will create a smooth textured sauce rather than a grainy one. Each of these ingredients melt and blend together so well creating a masterpiece!
Butter: either unsalted or salted work for this alfredo sauce recipe.
Heavy whipping cream: for a richer and creamy flavor heavy whipping cream is preferred over whipping cream.
Cream cheese: this adds a nice thick consistency to your alfredo sauce.
Minced garlic: for best flavoring use fresh garlic and mince it the best you can.
Garlic powder: adds to the rich and garlic flavoring.
Italian seasoning: brings on an Italian fill and blends all the seasonings together.
Salt and pepper: just to taste!
Grated parmesan cheese: using real parmesan cheese is best. Powdered cheese will create a grainy texture and does not melt through when heated.
How to Make Fettuccini Sauce:
Creating this master piece does take a little bit of time. We all know that it is worth it! We love making this sauce and it is a quick and easy. It can be made in minutes with these simple ingredients. Enjoy alfredo sauce right when you need it!
Whisk dairy ingredients together: In a medium saucepan add butter, heavy whipping cream, and cream cheese. Cook over medium heat and whisk until melted.
Add and whisk seasonings: Add the minced garlic, garlic powder, italian seasoning, salt and pepper. Continue to whisk until smooth.
Stir in cheese: Add the grated parmesan cheese.
Thicken your sauce: Bring to a simmer and continue to cook for about 3-5 minutes or until it starts to thicken.
Toss with pasta: Toss it with your favorite pasta!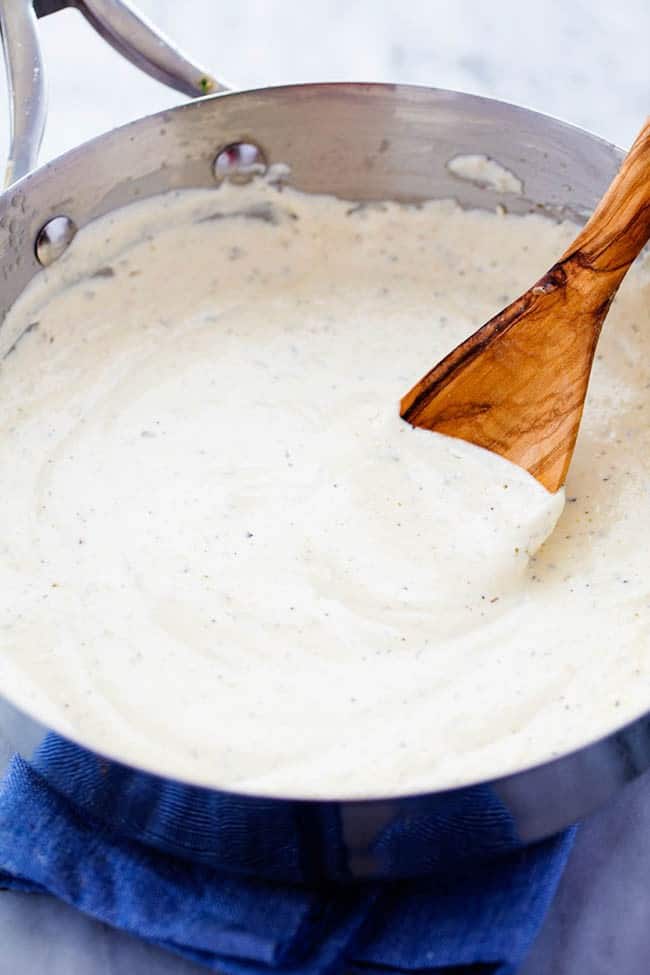 Frequently Asked Questions:
This alfredo sauce has delicious garlic flavor and Italian seasonings. I like to add cream cheese to my alfredo for that extra creamy flavor and texture. This alfredo sauce always gets raved about whenever I make it!
How to make Alfredo Sauce with milk instead cream? Adding milk is always an option. This will be a lighter and less thick consistency but can work. Half and half is also another option instead of heavy whipping cream. To thicken it up a little more adding 1 to 2 teaspoons of flour to thicken.
Thicker Alfredo Sauce: When adding cream cheese, slowly cut chunks of cream cheese as you are stirring. This helps create a thicker and creamier sauce. You can also use a roux by using an equal amount of butter to flour, about 1 teaspoon.
Gluten free: This recipe is considered gluten free! It still has a great taste and all the fresh ingredients to make this just the way you like it with no substitutions.
Is Alfredo Sauce cheese?  This is a cheese based sauce that is rich in flavor. It does not harden like a cheese though.
Does it have dairy?  There are substitutions to make this dairy free but I do not recommend it if you are looking for the authentic taste of Alfredo Sauce. Having dairy in this Alfredo Sauce recipe makes this rich, creamy and smooth when simmering.
Is it good with ground beef? It can be done, but not recommended. Alfredo sauce goes best with a chicken, fish or pasta.
How Many Cups Does this Yield? 

When you are done making your Alfredo Sauce you will be able to fill a tall canning jar. This is about 14 to 16 ounces (1 pound) of pasta or 2 cups of sauce. We like to reserve a little sauce on the side for dipping. 
Is Alfredo Sauce Keto?
Yes! This is totally keto! Crazy, I know! But such good news if you are following a low carb diet this can be a great recipe to enjoy while cutting back on other favorite meals.
Even though it is keto and considered a low carb recipe, it is still full on creamy, thick and rich white sauce. It will be like dessert in your mouth! This easy to make Alfredo Sauce recipe will have you saying MMMMM and AWW, with every bite.
Even Better with These Tips:
I think this sauce is even better than any restaurant that I have been to and the best part is that you can make it yourself! It is thick, creamy, and rich and the perfect sauce on top of your favorite pasta. I know that you will quickly agree that this is the BEST! This will be a recipe that you make again and again, just like I do!
Slowly add in your heavy whipping cream and cream cheese. This will enhance your flavors as well as thicken evenly throughout.
Avoid separating your Alfredo Sauce when mixing it by whisking it together rather than stirring with a spatula.
Parmesan cheese is the key ingredient for making this Sauce thick and creamy. I recommend using a fresh parmesan cheese that you grate yourself or similar. Try to avoid using the powder or grated grated parmesan cheese in a tall can.
The most important rule is not overheating your Alfredo Sauce. Slowly add ingredients on a low and for a short period of time. Melted cheese will break and separate once it gets too hot leaving your cheese clumpy.
When simmering, a shorter amount of time is best. Around 1 minute, whisking it well.
Do not boil or overheat. Boiling will separate and ruin the alfredo sauce.
If you are worried about overheating, add your parmesan with the heat off. This will also precent clumping and separating the alfredo sauce.
Variations of Alfredo:
There are many variations that can be done with Alfredo Sauce recipe. Adding thickeners or making it more creamy and watery are great ways to adjust this Alfredo Sauce. Substituting any dairy or cheese can have major changes to this dinner though.
For best results, enjoy my delicious Alfredo Sauce recipe that is definitely a tried and true recipe that is pure perfection!
Half and half or milk is great to substitute the heavy whipping cream.
Grilled chicken, shredding rotisserie chicken or shrimp goes well with pasta.
Add in more spices and seasonings like red pepper flakes or paprika for a sweeter and spicier Alfredo Sauce like this One Pot Cajun Chicken Alfredo Pasta.
Use half Romano cheese or asiago cheese instead of parmesan cheese.
Making your own fresh pasta instead of dry pasta tastes even more amazing.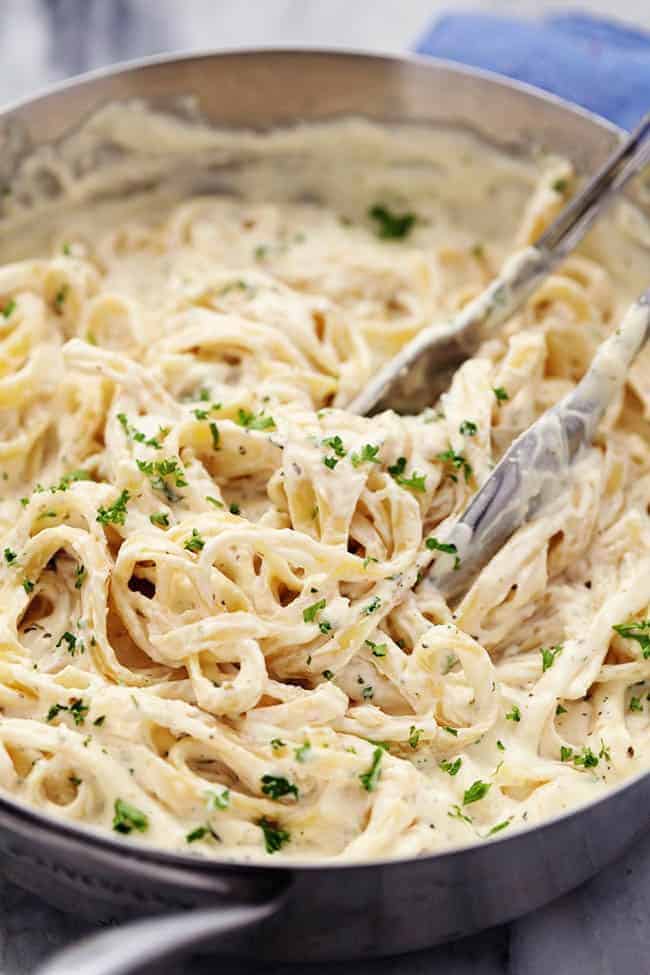 Make a Complete Meal!
This alfredo sauce recipe comes together pretty easily and you will never go back to the jarred alfredo sauce again! It is awesome on top of just about any pasta but is also delicious used as a dip or even spread on pizza.
You can't go wrong where you add your Alfredo Sauce to!
Pasta: Any pasta is great with Alfredo Sauce. The thicker and larger is best to soak up the rich, thick and creamy sauce.
Pizza: Alfredo pizza is one of our favorites. We love the fresh and lighter taste this sauce has to offer. This Chicken Alfredo Pizza is a great use of Sauce recipe. Making my Quick and Easy Dough for the crust is a great combination too.
Dipping: We love to dip breadsticks or Miracle No Knead Bread. It is always so delicious and almost addicting it is so good!
Casserole: I have several casserole dishes that work so well with this alfredo sauce. It is easy to make and add to a simple casserole. Try this Pesto Alfredo Chicken Casserole for your next main meal!
What To Make With The Best White Sauce:
Alfredo sauce is a family favorite over here. I know that I can make so many delicious recipes with this sauce. Simple and basic recipes to a little more complex, this Alfredo Sauce recipe just does the trick! Make this a complete meal with a few vegetables, garlic bread and a side salad.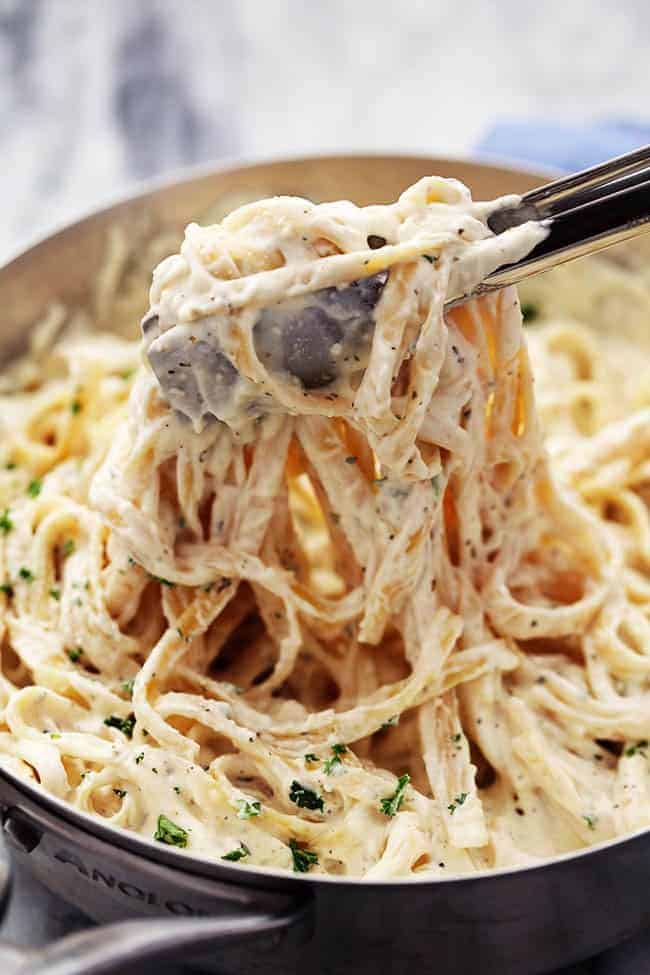 How To Store Alfredo Sauce:
To make the perfect blend of Alfredo Sauce you will want to watch your cooking temperature and stirring well. This will make the perfect alfredo sauce and reheating just a breeze.
Alfredo Sauce is a favorite in our home and I know that it does not last long, even if I double it! Enjoy your sauce again and again when storing it properly.
Storing in the Refrigerator: I like to pour my Alfredo Sauce in a jar and sealed in the refrigerator. For best results and continued flavoring it will last in the fridge for about 5 days.
Freezing: Unfortunately this Alfredo Sauce does not freeze well. Because of the freshness of it, it will separate when freezing.
Reheating: Slowly, is the key! Slow, low temperatures and stirring often. If it starts to separate, slowly stir it back together over low heat on the stove top. It is best not to microwave this sauce. It becomes more oily and separates just as easily, if not more. Once reheated, do not reheat again.
More Delicious Recipes Using Alfredo Sauce:
The Best Homemade Alfredo Sauce Ever!
Alfredo Sauce is the most creamy and delicious homemade alfredo sauce that you will ever make!   This is a tried and true recipe and you will agree that it is the best recipe out there!
Ingredients
½

cup

butter

1

pint

heavy whipping cream

or 2 cups

4

ounces

cream cheese

½

teaspoon

minced garlic

1

teaspoon

garlic powder

1

teaspoon

italian seasoning

¼

teaspoon

salt

¼

teaspoon

pepper

1

cup

grated parmesan cheese
---
Instructions
In a medium saucepan add butter, heavy whipping cream, and cream cheese. Cook over medium heat and whisk until melted.

Add the minced garlic, garlic powder, italian seasoning, salt and pepper. Continue to whisk until smooth. Add the grated parmesan cheese.

Bring to a simmer and continue to cook for about 3-5 minutes or until it starts to thicken. Toss it with your favorite pasta!
---
Notes
Updated on October 24, 2019
Original Post on February 18, 2016
---
Nutrition
Serves: 10
Calories
329
kcal
(16%)
Carbohydrates
3
g
(1%)
Protein
6
g
(12%)
Fat
33
g
(51%)
Saturated Fat
21
g
(105%)
Cholesterol
111
mg
(37%)
Sodium
347
mg
(14%)
Potassium
67
mg
(2%)
Fiber
1
g
(4%)
Sugar
1
g
(1%)
Vitamin A
1218
IU
(24%)
Vitamin C
1
mg
(1%)
Calcium
159
mg
(16%)
Iron
1
mg
(6%)
All nutritional information is based on third party calculations and is only an estimate. Each recipe and nutritional value will vary depending on the brands you use, measuring methods and portion sizes per household.
Save
Save
Save