This website may contain affiliate links and advertising so that we can provide recipes to you. Read my disclosure policy.
Super easy and better than store bought, Italian Seasoning is a MUST have in your pantry! One of the best seasonings there is, this Italian Seasoning is used on most everything!
Making your own seasoning is cheap, easy and just smart! You will know exactly what is and isn't in your spice rack. Try my homemade ranch, taco and fajita seasonings for more homemade goodness, with optimal flavor!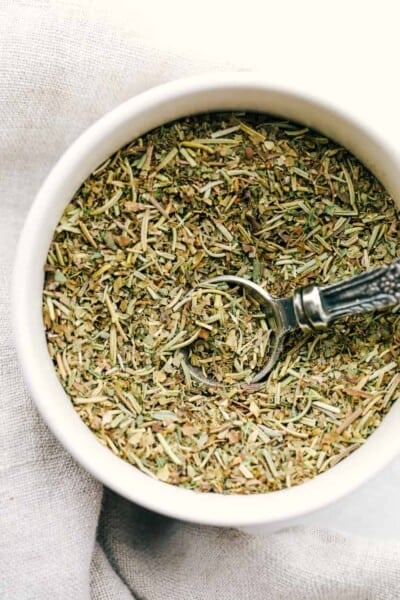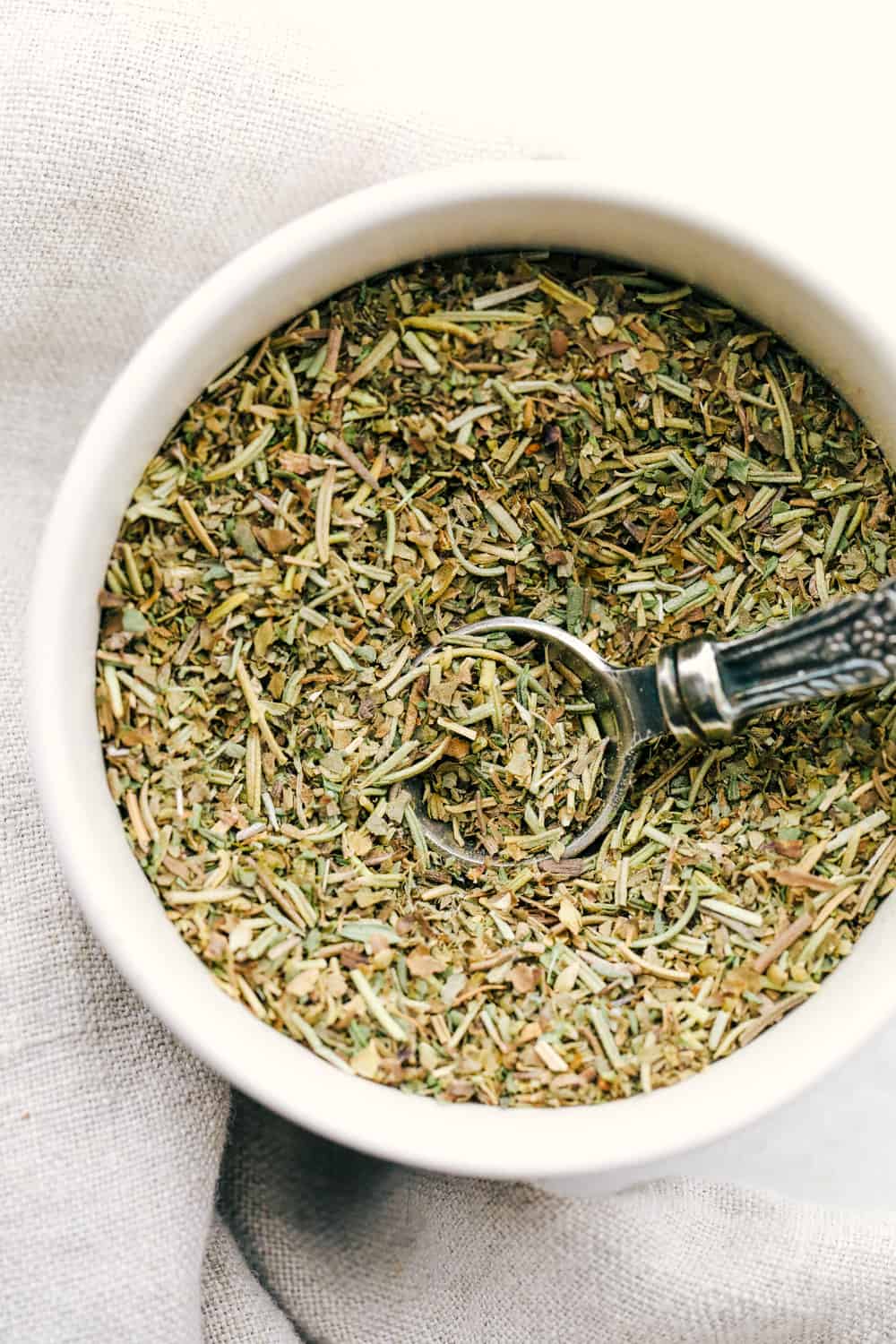 Italian Seasoning Recipe
Making your own seasonings just make sense. It's easy and you know exactly what's in them. Italian seasoning is one I reach for over and over again. It has the perfect balance of earthy, sweet, and savory flavors. It blends beautifully with so many dishes from potatoes, chicken, beef, fish, vegetables and even bread.
Italian seasoning is one of the best of the seasoning blends out there. Having a good blend on hand speeds up your cooking. You don't have to measure out multiple seasonings. It's all together in a nice little package. It also takes all the guesswork out of how much spice to add to a dish to make it balanced. The Italian Seasoning blend is already balanced for you. You are going to love having this staple in your pantry! If you're a fan of Italian seasoning you'll notice this is the classic herb only version. Often you'll see it with garlic and onion powder and even red pepper flakes added. Which is delicious, but I wanted to be able to control the amount of those ingredients more depending on the recipe.
What is in Italian Seasoning
If you have a grocery store that carries bulk spices, buy them there. You can also get bulk spices sometimes at restaurant supply stores. As you make your Italians seasoning again and again, you can play with the amounts and add in more or less according to your tastes.
Basil: This is spice has a balance between sweet and savory, with hints of mint, anise, and pepper.
Oregano: This is a strongly aromatic herb.
Rosemary: It has a sage-like, peppery flavor
Marjoram: milder flavor than oregano and tastes similar to thyme.
Thyme: It has a sharp, almost minty flavor. It is earthy with floral hints and is a little bit sweet and a little bit peppery.
How to Make Italian Seasoning at Home
This homemade Italian seasoning comes together in minutes, but keeps for a long time. Whip some up to use in your favorite dishes. In a small bowl combine the basil, oregano, rosemary, marjoram and thyme. Use as needed.
How to Use Italian Seasoning Mix
Italian seasoning is one of those blends that goes with so many things. When you're making a dish and it just needs a touch of something. Reach for the Italian seasoning. It's quite perfect for just about anything.
Add: Italian seasoning is a fantastic addition to any recipe using chicken, beef or fish. When a recipe just needs a little bit of something extra, try Italian seasoning.
Sprinkle: Enhance your popcorn, vegetables and potatoes by sprinkling some over the top, or mixing it with melted butter and topping them.
Mix: Create a delicious bread by melting butter and brush on bread sticks, French Bread, or Focaccia.
Add: Mix it in butter on the outside of toasted cheese sandwiches.
Dressing: Combine the seasoning with oil and vinegar for your own homemade Italian dressing. YUM!
Marinade: Italian seasoning makes incredible marinades. Try it in this world famous steak marinade!
Don't forget: Italian seasoning is obviously perfect for your Italian favorites from lasagna, pizza, pasta salads, to classic soups and spaghetti. It seriously goes on everything!
Storing Homemade Italian Seasoning
This mix is quick and easy to make, so you'll want to store it properly so it lasts a long time, and stays fresh. The beauty of dried herbs is that as long as they are in a tightly sealed jar or tin, they can keep for a really long time. Even up to 2-3 years sometimes. They don't mold or spoil like fresh herbs can. You will know they are no longer good when they are no longer aromatic.
To ensure the longest and freshest herbs store away from heat and light which will cause them to lose their flavor and smell faster. If you keep spices in a spice rack on your counter keep far enough away from the stove to prevent heat damage.  For this Italian seasoning simply add the seasoning to a sealed jar or container.  This seasoning will last 6 months or more in a sealed jar stored in a dry, cool area away from direct sunlight. Italian seasoning does not need to be refrigerated.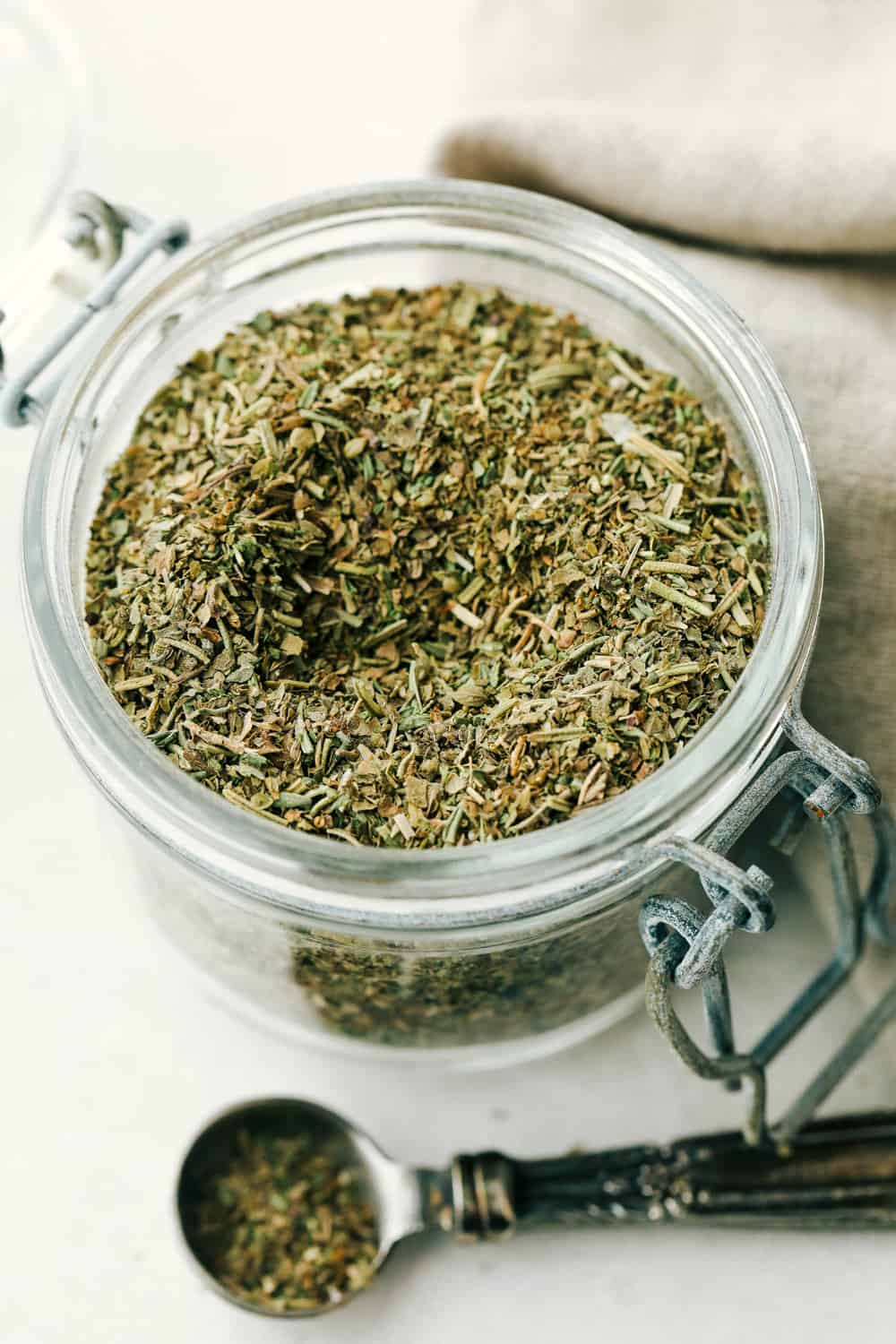 More Italian Recipe to Try!
I love Italian food. It's comfort food. Full of rich spices, savory sauces and decadent desserts, you can't go wrong with an Italian dish. The list is long on favorites and absolutely crazy delicious Italian recipes. Start with these and then search up some more. Have Italian for every meal!
Pin this now to find it later
Pin It
Homemade Italian Seasoning
Super easy and better than store bought, Italian Seasoning is a MUST have in your pantry! One of the best seasonings there is, this Italian Seasoning is used on most everything!
Ingredients
Instructions
In a small bowl combine basil, oregano, rosemary, marjoram, and thyme. Use as needed.
Nutrition
Calories:
38
kcal
Carbohydrates:
9
g
Protein:
1
g
Fat:
1
g
Saturated Fat:
1
g
Sodium:
4
mg
Potassium:
178
mg
Fiber:
6
g
Sugar:
1
g
Vitamin A:
610
IU
Vitamin C:
8
mg
Calcium:
207
mg
Iron:
5
mg
Nutrition information is automatically calculated, so should only be used as an approximation.