This website may contain affiliate links and advertising so that we can provide recipes to you. Read my disclosure policy.
Pizza night just got a whole lot better with this Awesome Air Fryer Pizza! Perfectly cooked crust and exquisitely baked toppings, the air fryer does it again!
There are so many recipes used with the air fryer it is hard to choose which one to make each night! Here are a few you have to try The Best Air Fryer Chicken Breasts, Perfect Air Fryer Salmon, Amazing Air Fryer Steak with Garlic Herb Butter and don't forget the reason these air fryers were invented, Homemade Air Fryer French Fries.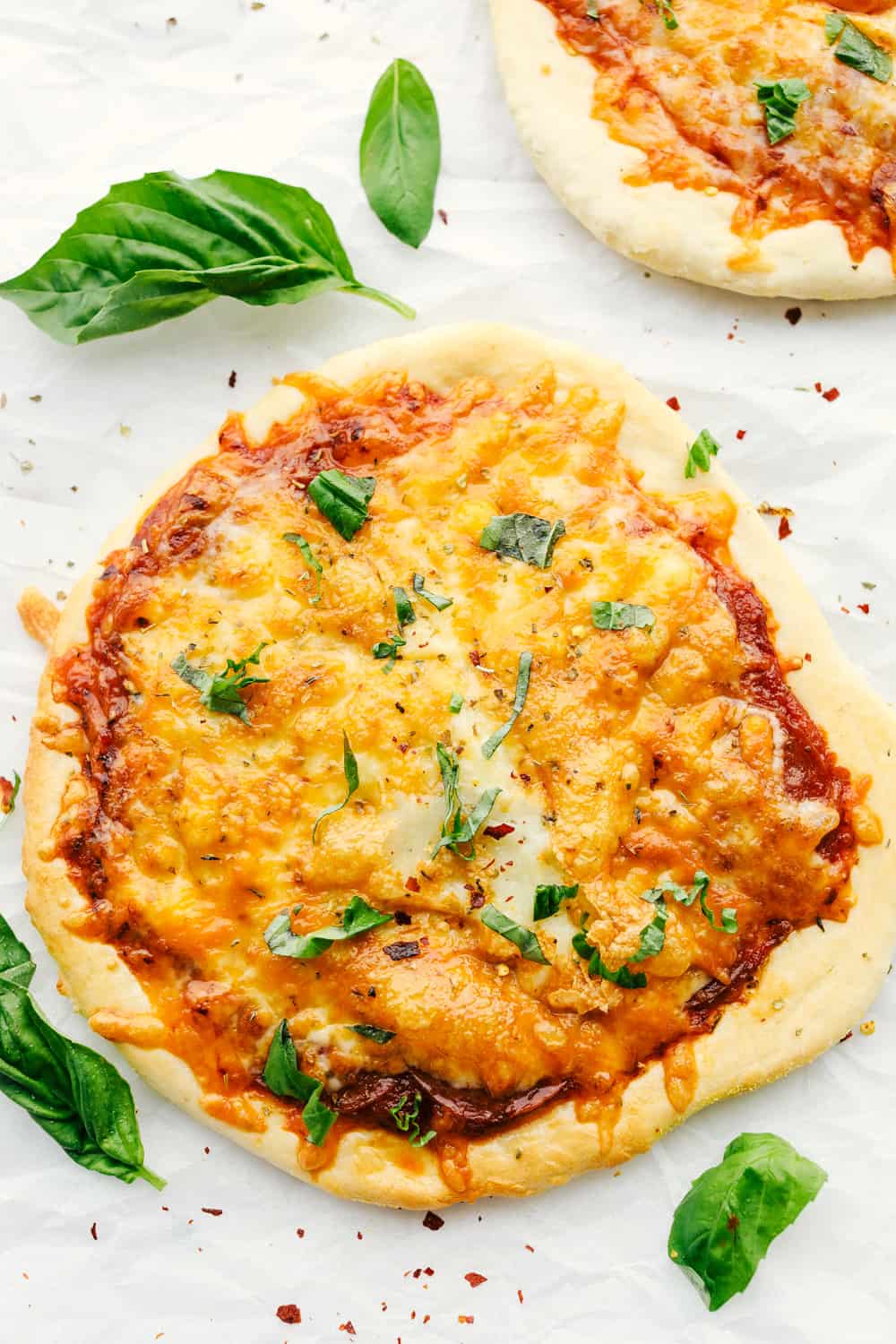 The Best Air Fryer Pizza
This air fryer pizza is amazingly delicious and cooks up in no time! The best part is using homemade dough, I love this quick easy dough, that I also use for my famous Stromboli. This method works magic on the pizzas because air frying cooks by circulating hot air to cook the food. It makes it crisp, cooks and browns the outside while leaving the inside soft and tender but cooked through all at the same time. Just like pizza is meant to be!
These make pizza night at our house so much more fun. Everyone gets in on the action, from rolling out the dough to putting the toppings on. It is a family affair that is sure to please everyone. Serve this awesome air fryer pizzas with Caesar Salad and some Homemade Easy Cheesy Garlic Bread and you have a restaurant worthy meal at home. This will be a new tradition in your home in no time!
Why Pizza in an Air Fryer Works So Well
Here is why this will be hands down the best pizza you've ever had from home!
The forced heated air helps the pizza dough rise quickly creating those big air bubbles that we all have come to equate with amazing crust. The dough becomes light, airy inside but a nice crust outside.
Because your air frying the dough, it almost becomes like a savory funnel cake or elephant ear. It's just heavenly.
There is something about air frying pizza that magically transforms cheese into ooey gooey perfection as well.
And of course, because this sits on your counter, you can free up your oven for some Cinnamon Roll Dessert Pizza! Or you don't have to turn on your oven at all and not heat up your kitchen!
Ingredients for Homemade Pizza
This could not get any easier. Keep these pantry staples on hand and you can enjoy pizza whenever the craving strikes. Wholesome and delicious, these air fryer pizzas are one of the best!
Cornmeal: Classic coating to prevent sticking.
Pizza Dough: Store bought or make your own with this homemade pizza dough or this incredible whole wheat pizza dough.
Pizza Sauce: Buy at the store or use this homemade marinara sauce.
Pepperoni: Use your favorite brand or even the mini pepperoni's would be good on here.
Mozzarella: Grate your own, don't buy the pre-shredded it bakes more evenly.
Italian Seasoning: Adds an extra punch of Italian flare and flavor.
Making Crispy Air Fryer Pizza
Super simple and quick! These are easy to make and everyone can help when making them. These are a great way to make individual pizzas or share them with each other. Air frying the pizzas makes them fast!
Prep: Sprinkle cornmeal in the bottom of your air fryer basket.
Roll: Roll the pizza dough 1/4 inch thick and place in the basket of the air fryer.
Sauce: Spread the pizza sauce 1 inch from the edge.
Top it: Place pepperoni with a dash of Italian seasoning on top and sprinkle with cheese.
Bake: Cook at 400 degrees for 10-12 minutes.
Tips for The Perfect Air Frying Pizza Recipe
Cheese on Last: The air fryer uses circulating air, you do not want your toppings to go flying all over the inside of your air fryer. I have found that by anchoring the toppings with the cheese kept them on the pizza where they belong and the cheese got nice and golden.
It's all in how you roll it: If you want a thinner crust pizza, roll your dough out thinner and reduce your time to 8-10 minutes. If you want a thicker crust, leave it thicker and cook for about 3 minutes longer.
Crispier: If you like your thin or thick crust crispy, add 2-3 minutes to your cook time. The beautiful thing about an air fryer is you can open it while it's cooking and peek and see if the air fryer pizza is exactly how you want it.
What if I use precooked pizza dough: If you use Boboli, pitas bread, flat bread or even a bagels for your pizza base you can still cook them in the air fryer. All you need to do really is cook the toppings and heat the pizza. Air fry your pizza after you top it at the same temperature but for 4-5 minutes.
Can I pre-cook my crust: If you love that really cooked crust, then yes by all means par bake your crust. Put your dough in the air fryer and cook for 4-5 minutes. Add your toppings and cook for another 5 minutes.
Toppings: Of course you can use any sauce, toppings and cheeses that you can come up with. I love using BBQ Sauce, Pesto or Alfredo Sauce as a base for some variety. Just remember you will want to use cheese as your glue for your toppings!
Make Ahead and Storing Easy Air Fryer Pizzas
You can make these ahead of time for a homemade take on frozen pizza. These air fryer pizzas are just going to change the way you do pizza nights!
Make the Pizza: Assemble the pizza outside of the air fryer. Complete with sauce and toppings.
Flash Freeze: Place on a cookie tray and partially freeze for an hour.
Individually Wrap: Remove pizza from cookie sheet and wrap individually in plastic wrap.
Freeze: Place in a freezer safe bag or container for up to 3 months.
Remove Plastic: When ready to bake, remove pizza from plastic wrap and place in air fryer.
Air Fryer: Cook the pizza for 12-15 minutes or till cooked as desired.
Storing: To store leftovers, wrap tightly in plastic wrap or aluminum foil. Reheat in the air fryer for 3-5 minutes.
More Pizza Inspiration Headed Your Way!
Pizza, it's just awesome stuff. There are so many variations you can make. If love pizza as much as the rest of us, then you have to throw these pizza recipes into your rotation. Most of these you could even try out in the air fryer! If you do, you'll have to leave a comment and let me know how they turn out!
Pin this now to find it later
Pin It
Air Fryer Pizza
Pizza night just got a whole lot better with this Awesome Air Fryer Pizza! Perfectly cooked crust and exquisitely baked toppings, the air fryer does it again!
Instructions
Notes
* If you want your dough thicker or a crispier crust, cook for 3 minutes in the air fryer and then add the toppings.
* Putting the toppings under the cheese prevents the toppings from blowing while cooking.
Nutrition
Calories:
183
kcal
Carbohydrates:
5
g
Protein:
13
g
Fat:
13
g
Saturated Fat:
7
g
Cholesterol:
44
mg
Sodium:
672
mg
Potassium:
245
mg
Fiber:
1
g
Sugar:
3
g
Vitamin A:
644
IU
Vitamin C:
4
mg
Calcium:
283
mg
Iron:
1
mg
Nutrition information is automatically calculated, so should only be used as an approximation.