This website may contain affiliate links and advertising so that we can provide recipes to you. Read my disclosure policy.
Pillowy soft, with the perfect taste and texture, this quick and easy pizza dough is going to be your go-to recipe for everything! You are going to want to keep this in the archives and use it over and over again.
We all have made homemade versions of kids' favorites; burgers, tacos, and macaroni and cheese. When it comes to homemade pizza though, it can be intimidating. Not anymore! Now you can make homemade pizza and so many other delicious things with this quick and easy dough!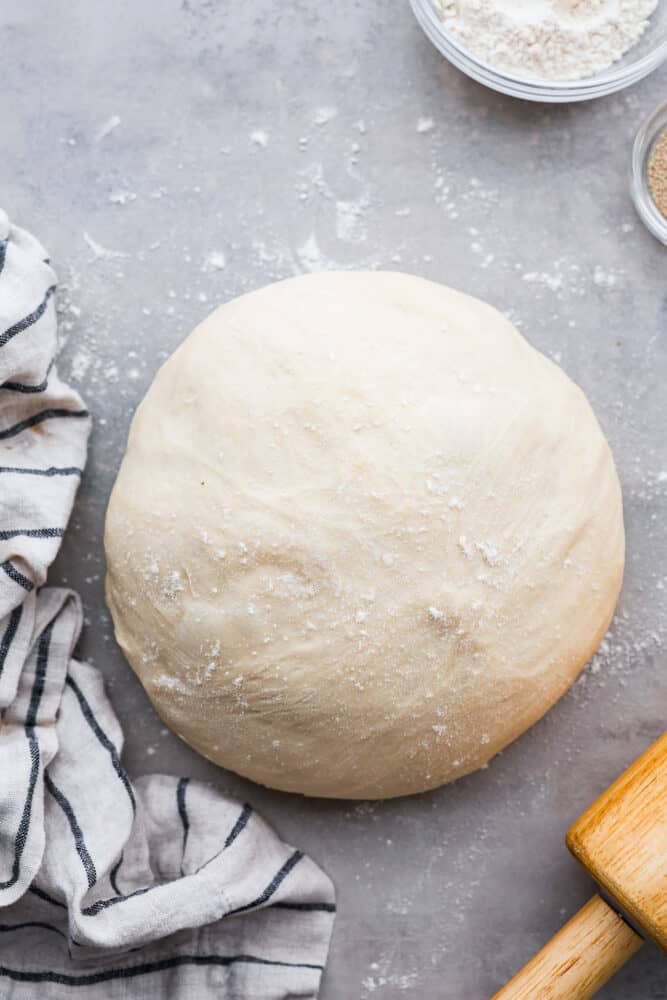 Quick and Easy Pizza Dough Recipe
Most doughs require lots of proving and rising time. That means you have to plan ahead. If you're like me, as much as I try to plan ahead, things don't always go according to plan. But with this super fast and effortless dough I can have an amazing dinner any time of the week. It's a dinner lifesaver!
The rest time is only about 20 minutes for this dough. So within 30 minutes, I can have my pizza (or whatever else I am making) in the oven, ready to go. It's a great recipe for beginners because it's so easy! And the taste is fantastic. It really makes the best homemade pizza crust. Try it out with this tasty Hawaiian pizza or chicken alfredo pizza!
Dough Ingredients
Just a handful of ingredients make this quick and easy dough! Check out the recipe card below for exact measurements.
Warm Water: Make sure it's not too hot, or it'll kill the yeast.
Sugar: This is food for the yeast, don't leave it out.
Yeast: Gives the dough it's rise and elasticity.
Flour: A good strong flour is necessary for good structure.
Salt: Keeps your dough from tasting bland.
Making Quick and Easy Dough
It's so easy! This versatile dough comes together in just 5 simple steps. It's such a game-changer for homemade pizzas.
Activate Yeast: Combine the water, sugar, and yeast, give it a little stir then let it sit for 5 minutes.
Combine: In a large mixing bowl combine the flour and salt to the yeast mixture. Stir till smooth. You can also use a stand-mixer and dough hook.
Rest: Let the dough rest for 10 minutes. It will rise some.
Prepare: Prepare the dough for whatever you are using it for and let it sit another 10 minutes.
Bake: Bake at 400 degrees Fahrenheit for 15-20 minutes.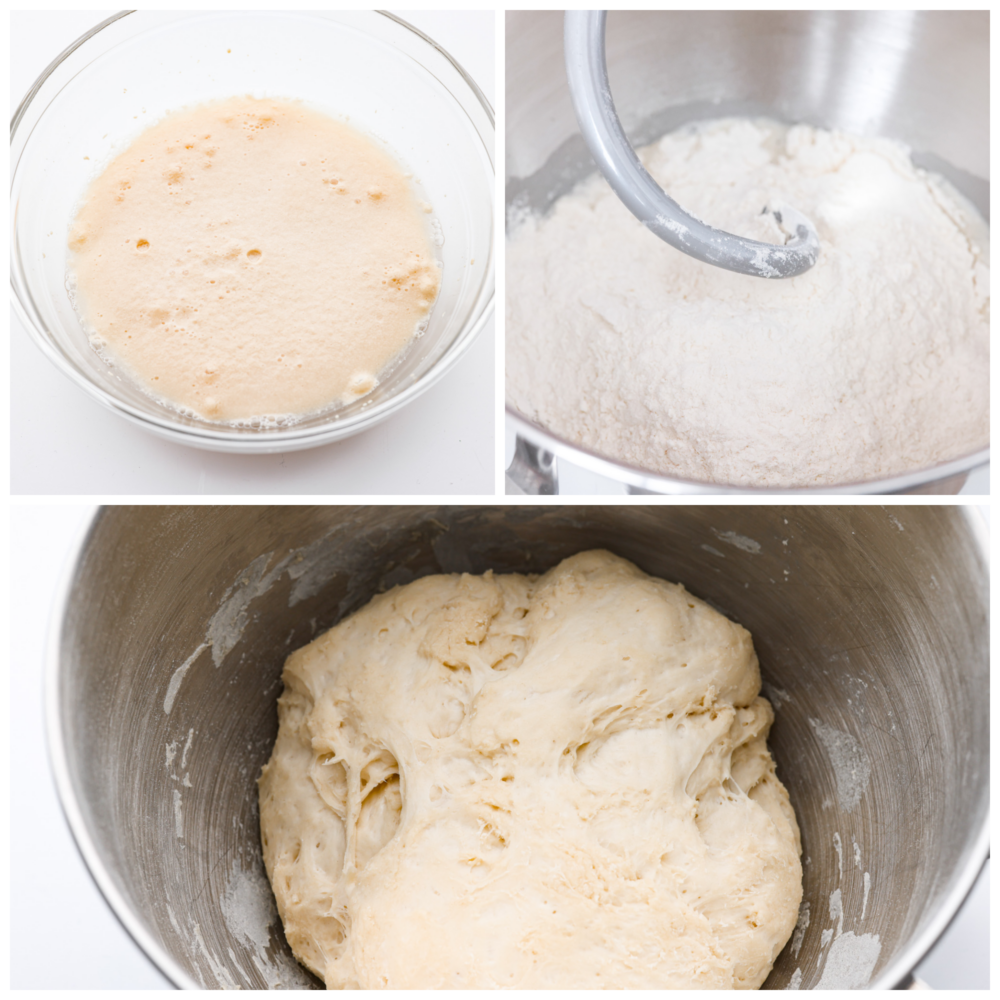 Tips for Homemade Dough
Here are a few extra ways to perfect your quick pizza dough! Once you get the hang of it, you'll want to make it all the time!
Use Warm Water: You want your water to be 105-115 degrees Fahrenheit when you add it to the yeast for optimum proofing.
Sugar: Yeast needs food to grow, sugar is its favorite. You can also use honey without changing the flavor or structure of the dough. Use the same amount of honey as you would sugar.
Rest: The first 5 minutes of rest you give the dough acts as its first rise. That's what makes this so quick and easy. You don't have to wait for a full rise in bread form, which would take longer.
Salt: Salt can kill yeast if added at the same time. Don't add the salt until after it's rested and you've added in the flour. Salt is needed for flavor and structure.
Flour: Do not add too much flour. Add the flour gradually until a soft dough forms and pulls away from the sides of the bowl. The exact flour amount will vary so go by the touch and feel of the dough versus the exact cup measurements. The dough should be soft and smooth. It should not leave a residue on your hands, but should not be super stiff either.
Double: This pizza dough recipe is simple to double. You can even make breadsticks with it!
Flavor: Feel free to add seasonings to the dough when you add the flour if you desire.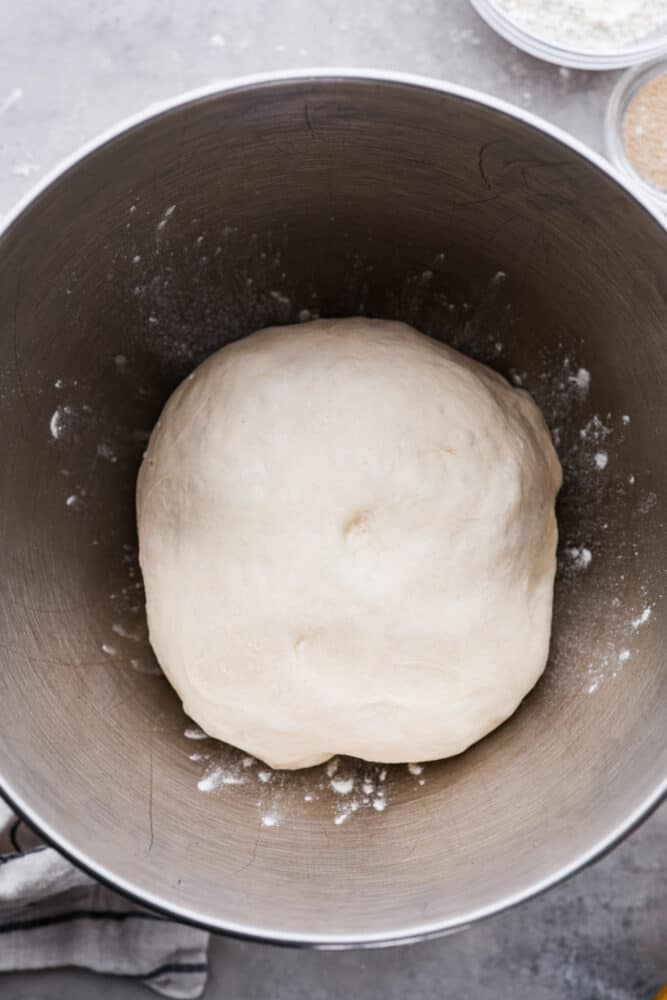 Making the Best Pizza Crust
These are a few more things to keep in mind so you end up with the best homemade pizza ever! Your family won't be able to get enough.
Pre-Bake: There is nothing worse than toppings cooked to perfection and a doughy crust. I like to eliminate that from happening by precooking the crust for 5 minutes. Once I add the toppings I continue to cook it on the bottom rack in the oven. This ensures the crust cooks through.
Pizza Stone: If you use a preheated pizza stone, then you do not need to pre-bake the pizza dough.
Bubbles: If you notice bubbles forming in your dough while it's cooking, simply pierce them with a fork. You can also fork it before baking to prevent it from bubbling.
Personal Pizzas: This dough is wonderful for making personal-sized pizzas, medium or large pizzas. You can even make mini pizzas in the air fryer! It's a quick and easy snack for the kids.
Storing Leftovers
This quick and easy homemade pizza dough is great for making ahead! My kids love air fryer pizzas so I always keep some on hand.
In the Refrigerator: Wrap dough in plastic wrap and store for 4-5 days.
Can I Freeze My Dough?
Yes! It's a great way to make your pizza dough last longer.
In the Freezer: Shape dough into a large ball, wrap in plastic wrap and then place in a freezer bag for up to 3 months. Thaw overnight before using.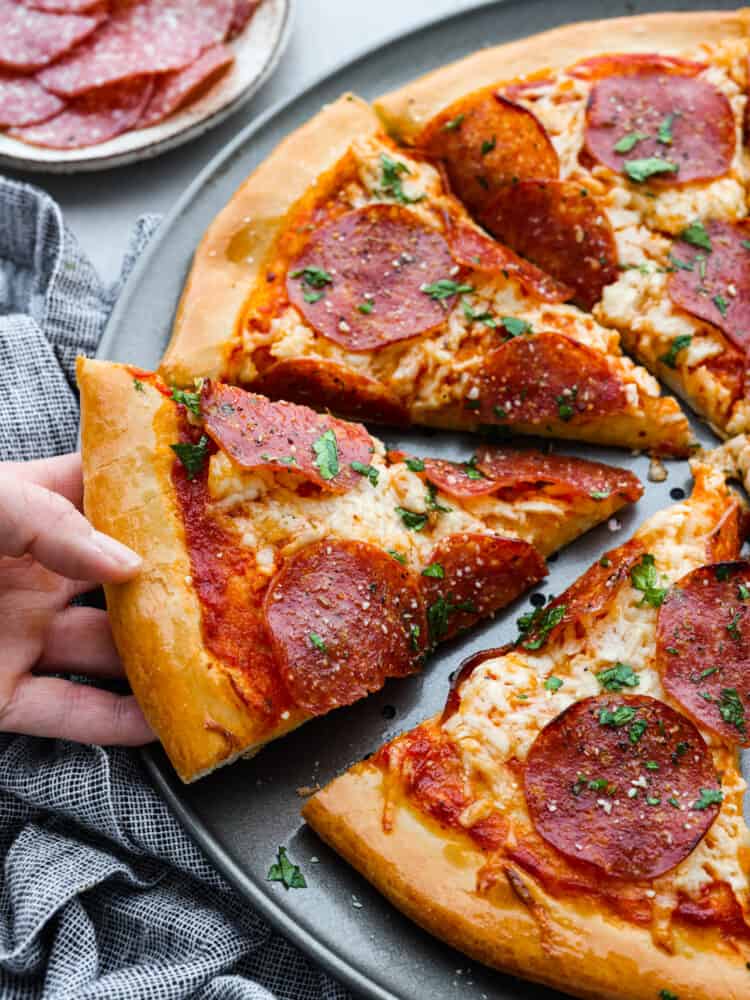 Pin this now to find it later
Pin It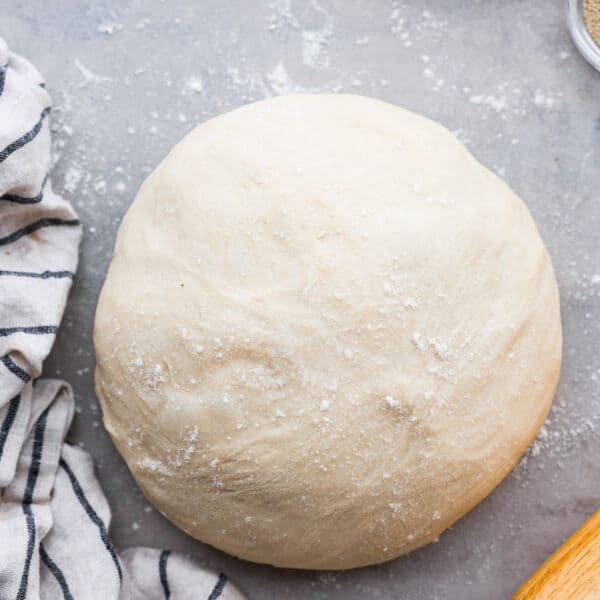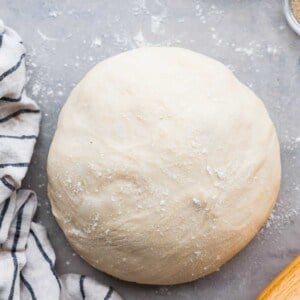 Quick and Easy Dough
Pillowy soft, with the perfect taste and texture, this quick and easy pizza dough is going to be your go-to recipe for everything! You are going to want to keep this in the archives and use it over and over again.
Instructions
Mix warm water, sugar and yeast together. Let that sit for 5 minutes.

Add flour and salt to the water, sugar, and yeast. Mix this until smooth and let it raise for 10 minutes. I used my kitchenaid mixer with the dough hook and it was so easy and worked great!

Prepare the dough for what you will be making and let rest for another 10 minutes before putting into the oven.

Bake at 400 degrees for 15-20 minutes.

*If making a pizza, you can cut the dough recipe in half and make a thinner crust pizza and breadtwists. That is what we like to do.
Notes
Originally posted August 1, 2014
Updated on February 20, 2023
Nutrition
Calories:
1755
kcal
Carbohydrates:
370
g
Protein:
51
g
Fat:
5
g
Saturated Fat:
1
g
Sodium:
2361
mg
Potassium:
609
mg
Fiber:
16
g
Sugar:
31
g
Calcium:
77
mg
Iron:
21
mg
Nutrition information is automatically calculated, so should only be used as an approximation.