This website may contain affiliate links and advertising so that we can provide recipes to you. Read my disclosure policy.
This Air Fryer Steak is impeccably seared on the outside and tender juicy on the inside. Cooking steak in an air fryer will create extra flavor and a delicate texture to truly satisfy everyone in your family!
Make this a scrumptious meal with a Caesar Salad, or Garlic Butter Green Beans and a Perfect Baked Potato or Homemade Sweet Potato Fries. Your friends and family are going to love this!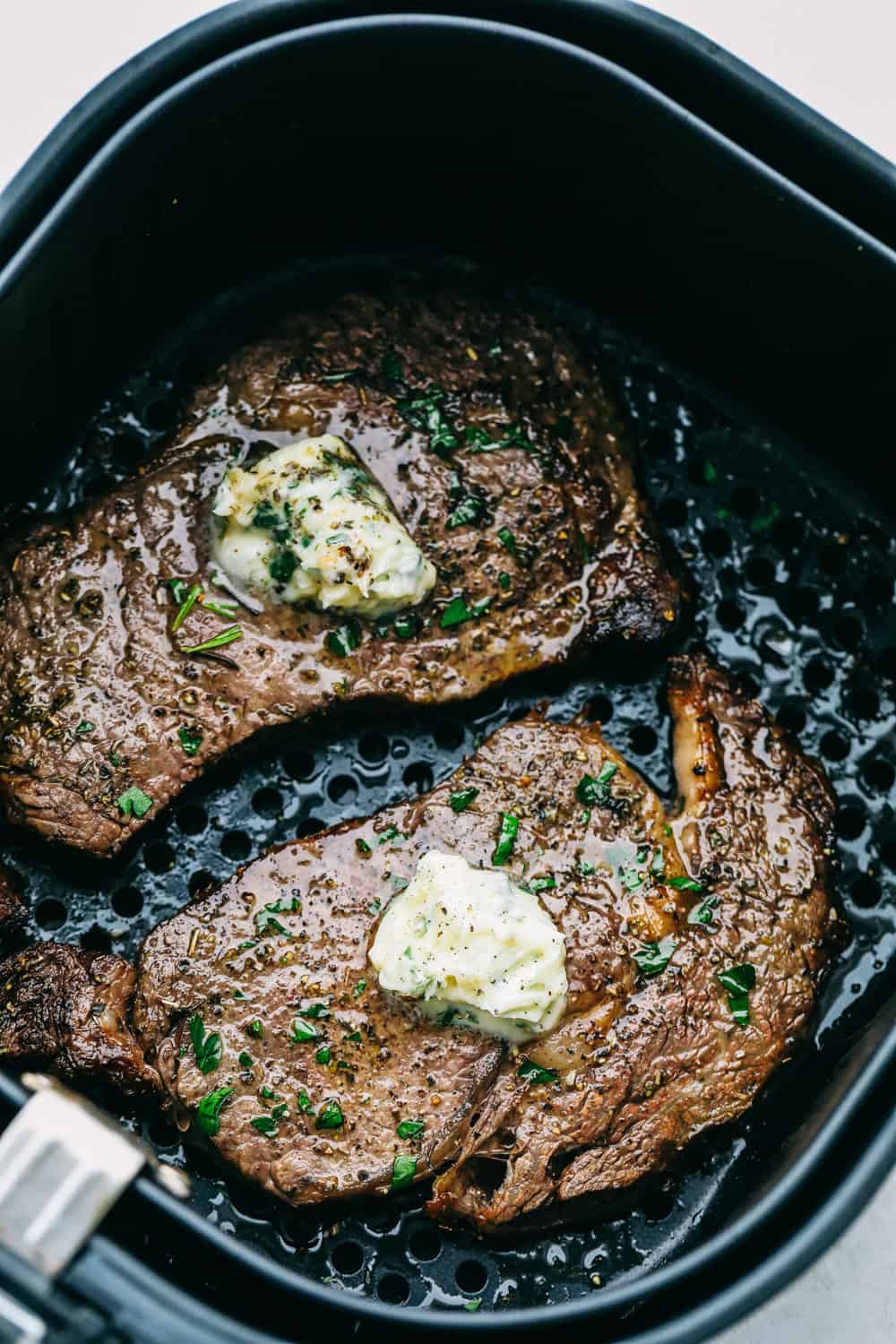 Steak in the Air Fryer
I'm not exaggerating when I say this is a perfect steak. It gives you that crispy crust seared outside and a tender juicy inside, EVERYTIME! Yes, grilling steak is still amazing but it's getting cold, no one wants to stand outside to grill a steak. Cast iron steak on the stove is divine, but no one wants to fill the house up with smoke all the time. Plus cooking it in the Air Fryer takes the guesswork out how long to cook it for. You don't have to worry about it getting over done or underdone. You just have to worry about keeping the hungry masses patient.
This is so simple, and easy. Now steak can be the main dish any night of the week, not just reserved for the weekends. It's quick too, so no need to stress about not having enough time. Your biggest issue will be having enough time to make side dishes. Top the succulent steak with a super decadent yet painless Garlic Butter for a taste you won't be able to resist.
Steak Ingredients
Steak: Ribeye, New York or Tri Tip about 1 inch thick
Oil: I used Olive oil for it's mild flavor
Italian Seasoning: Such a classic seasoning that tastes  so good.
Salt and Pepper: To taste
Garlic Herb Butter
Butter: Softened
Garlic: Fresh garlic minced
Fresh Rosemary, Thyme, and Parsley: Using fresh herbs adds subtle flavor and color.
How to Cook Steak in Air Fryer
Air fryers don't just do potatoes, they can surprisingly create a restaurant worthy meal at home. It's so simple, hands off and so good you may never cook steak any other way again!
Preheat and Prepare: Preheat fryer 400 degrees. Rub the steaks with oil on each side. Rub the Italian seasoning and salt and pepper o
Fry: Put the steaks in the fryer and cook for 12 minutes, flipping half way through. Let it rest for 10 minutes and top with the garlic butter.
Why Air Fryers Are So Amazing
Healthy: Air Fryers make everything so easy and so much healthier than traditional methods. It can cut the time in half as well as the fat without sacrificing flavor.
Frozen: Frozen food can be cooked in the fryer, you'll just have to adjust the cooking time.
How It Works: They work by circulating heat all around the food so it's practically fool proof.
Tips and Variations for Perfect Steak
Room Temperature: Have your steaks for the best results.
Spacing: Avoid overcrowding the air fryer so the air can circulate evenly around the steaks.
Rest: Remove the steaks and let rest on a plate so the fryer doesn't continue cooking the steaks.
Seasonings: You can use so many different spices and seasonings to your liking and desire.
Medium Steak: Set the time to 12 minutes and flip the steak at 6.
Medium Rare: For a medium-rare steak, cook the steak for 10 minutes and flip it at 5 minutes.
Well-done steaks take a good 12 to 15 minutes.
Steak Temperature
FDA's temperatures for Steak, Use a meat thermometer to test your meat and take out 5 min before your desired doneness.
Rare: 125°F
Medium-Rare: 135°F
Medium: 145°F
Medium Well: 155°F
Well: 160°F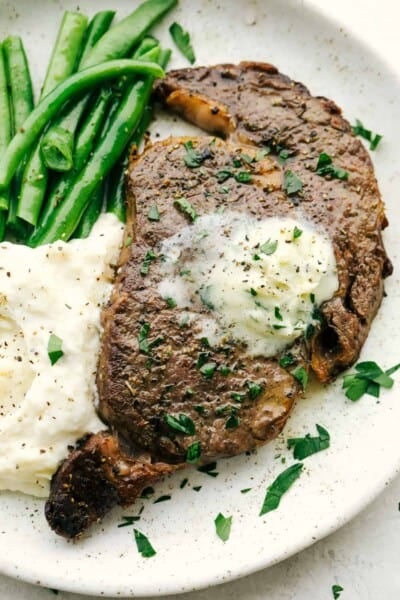 More Steak Loving Recipes
Pin this now to find it later
Pin It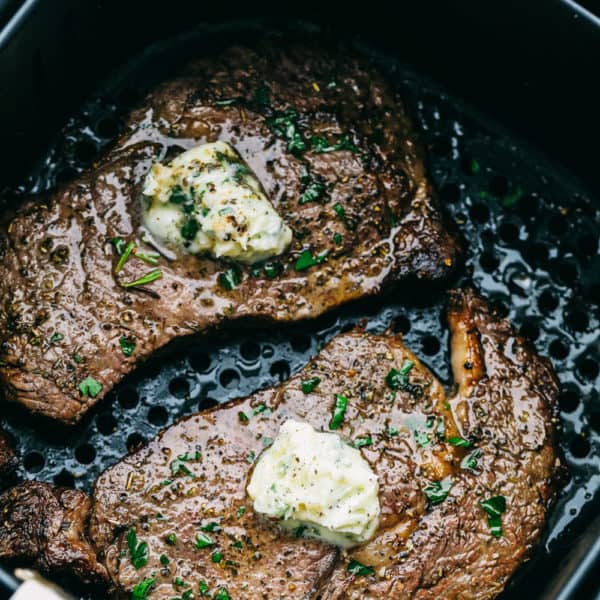 Air Fryer Steak
This Air Fryer Steak is impeccably seared on the outside and tender juicy on the inside. Cooking steak in an air fryer will create extra flavor and a delicate texture to truly satisfy! 
Instructions
Preheat the air fryer to 400 degrees. Prepare the steaks by rubbing olive oil on each side. Rub the Italian seasoning, and salt and pepper on each side.

Add the steak to the air fryer basket and cook for 12 minutes, turning over ager 6 minutes for medium. Let the steak rest for 10 minutes and top with garlic butter.
Nutrition
Calories:
506
kcal
Carbohydrates:
1
g
Protein:
23
g
Fat:
46
g
Saturated Fat:
23
g
Cholesterol:
130
mg
Sodium:
262
mg
Potassium:
303
mg
Fiber:
1
g
Sugar:
1
g
Vitamin A:
757
IU
Vitamin C:
2
mg
Calcium:
31
mg
Iron:
2
mg
Nutrition information is automatically calculated, so should only be used as an approximation.