This website may contain affiliate links and advertising so that we can provide recipes to you. Read my disclosure policy.
Cajun seasoning is the perfect blend of spices to add a little zest to your dish. Completely versatile and delicious, this homemade spice can be added to a wide variety of recipes giving them just the yummy kick you were looking for!
This amazing and savory flavoring takes just minutes to put together but can completely take a dish to the next level! I absolutely love the spice that it brings. If you love cajun food, try this cajun shrimp and sausage, pasta, and cod!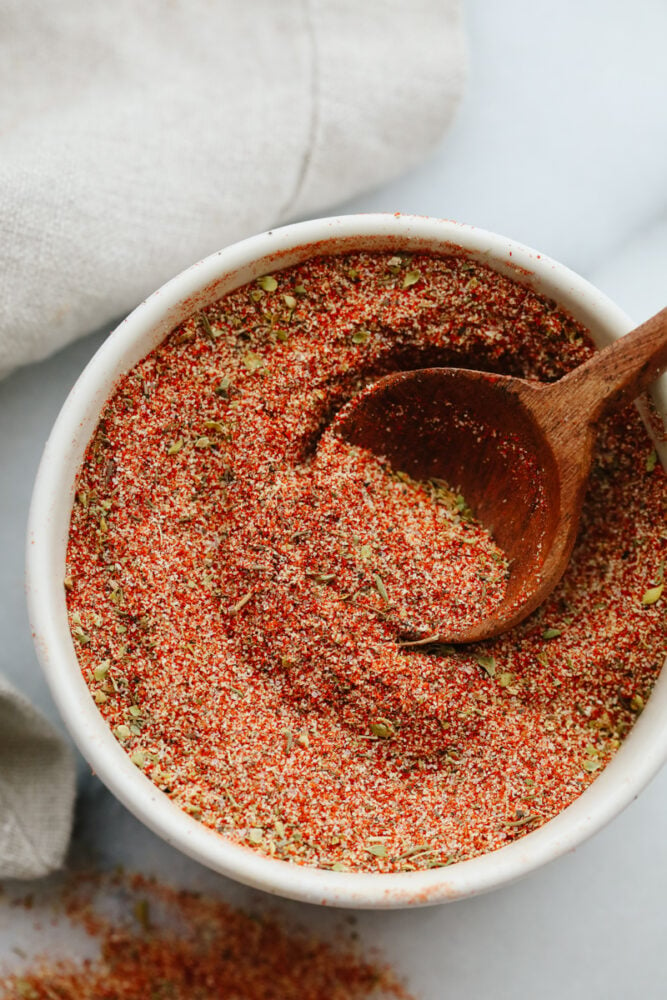 Cajun Seasoning Mix
Homemade spices don't have to be complex and complicated and can be used in a lot of different ways! This recipe is a brilliant blend of spices that can be used on vegetables, chicken, fish, shrimp, burgers, and steak. As a result, anything that you love will become even more delicious by adding this delicious flavor to it! The key to making any recipe stand out, it how it's seasoned. I especially love this specific mixture because although it has a tiny kick, the heat is not too much to handle. Making your own seasonings is such an easy and unique way to make a dish your own. This recipe uses very common ingredients that you are likely to already have on hand!
I love making my own homemade spices because I realized how expensive they are at the store! You can make this at home (double or triple this recipe so that you always have some on hand!) using basic ingredients. Because cajun seasoning hails from Louisiana, it will bring that delicious southern cooking right to your own home! It's yummy, zesty, and it will add exactly the extra taste that your recipes need! You will want it in your spice drawer for years to come!
Cajun Seasoning Ingredients
The best part about this seasoning is that you probably already have all of the spices in your spice drawer, ready to go! Just get them out, mix them together and you will have a bold flavor ready to add to all of your favorite foods!! See the recipe card below for exact measurements.
Paprika: You can use regular or smoked paprika depending on your preference or what you have on hand.
Garlic powder: Garlic powder is more mellow than actual garlic cloves so it is perfect for seasoning!
Cayenne: This is the ingredient that will bring the heat to your dish. Go light on this for less heat.
Dried oregano: Oregano will add a warm, peppery flavor to this mixture.
Dried thyme: Make sure that you are using dried thyme and not ground time. Your measurements will be different if you change this up!
Onion powder: Onion powder adds a sweet and savory flavor to certain dishes that you arent able to get from fresh onions.
Kosher salt: Because of its larger size and ability to blend well, kosher salt is preferred to table salt. It does a great job drawing out the flavor of any meats that you put it on.
Black pepper: I like to use freshly ground black pepper.
How to Make Cajun Seasoning
This cajun seasoning is so easy to make, you will never go back to buying this again! Because of how simple it is, you can double or triple this recipe because once you try it, you are definitely going to want more! The seasonings are all combined and stored in an airtight container.
DIY Cajun Seasoning
Here are some ways that you can use this seasoning! This spice blend can be used in SO many different recipes. I regularly use it for my jambalaya but here are a few other ways to use it!
Protiens: This seasoning can be used as a rub on shrimp, steak, burgers, chicken and pork. Rub a little olive oil on your protien, pat this seasoning on and cook as usual. Your meat will be full of delicious flavor!
Potatoes: You can use this on all kinds of vegetables but it is especially tasty on any kind of potatoes (fries, roasted or baked).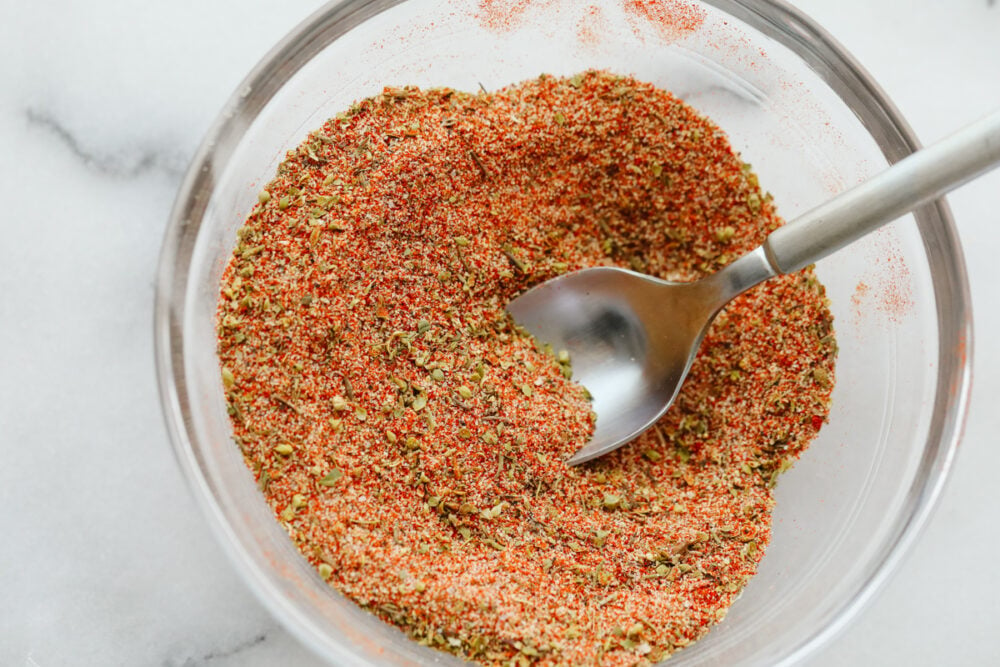 Making the Best Cajun Seasoning
Sometimes, you just need someone to tell you EXACTLY how to make something your own! I am here to help you out with some expert tips that will help you make this seasoning the best for you!
Adjust the heat: If you would like this spice to have more or less heat, adjust the amount of cayenne pepper. Use more if you want it spicer!
Ground vs dried: Use dried ingredients in this recipe. Ground ingredients are more condensed offering more flavor in smaller amounts. The measurements of this recipe are based on DRIED ingredients. If you only have ground spices on hand, reduce the amount of these seasonings (oregano and thyme).
Less salt: If you find it a tad too salty, reduce the salt a little bit at a time.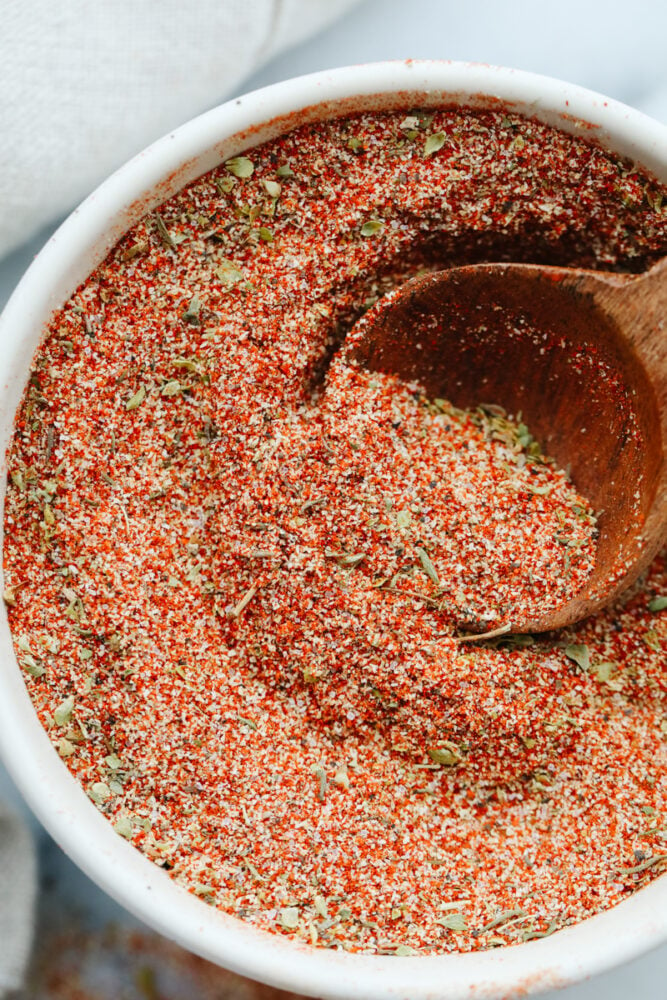 Storing Homemade Cajun Seasoning
Cajun seasoning is something to have on hand to add to any and all of your recipes. Its super easy to store and will last a long time. Here is how you store it!
Storing: You can reuse an old spice jar, buy a new, empty spice jar or even use a ziplock bag! Just make sure that whatever you use is a sealed, airtight container otherwise your spices will clump together!
How long can this be stored? This cajun seasoning can be stored for up to 3 years in a sealed, airtight container!
Pin this now to find it later
Pin It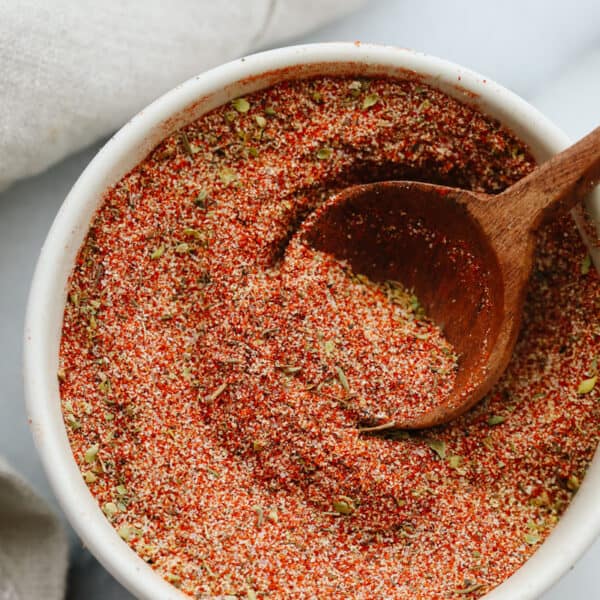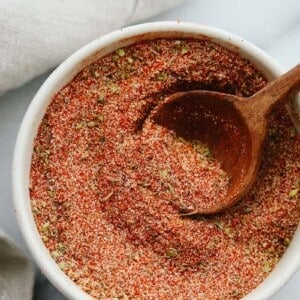 Homemade Cajun Seasoning
Cajun seasoning is the perfect blend of spices to add a little zest to your dish. Completely versatile and delicious, this homemade spice can be added to a wide variety of recipes giving them just the yummy kick you were looking for!
Instructions
Combine all ingredients and store in an airtight container.
Nutrition
Calories:
19
kcal
Carbohydrates:
4
g
Protein:
1
g
Fat:
1
g
Saturated Fat:
1
g
Polyunsaturated Fat:
1
g
Monounsaturated Fat:
1
g
Sodium:
778
mg
Potassium:
94
mg
Fiber:
2
g
Sugar:
1
g
Vitamin A:
977
IU
Vitamin C:
1
mg
Calcium:
31
mg
Iron:
1
mg
Nutrition information is automatically calculated, so should only be used as an approximation.