This website may contain affiliate links and advertising so that we can provide recipes to you. Read my disclosure policy.
Fluffy, melt in your mouth rolls are the perfect Copycat of Texas Roadhouse Famous Rolls. Watch these rolls disappear as soon as they hit the table!
I declare these the best rolls in the entire world!   Freshly baked, and so soft inside they are perfect, Try with this Cinnamon Honey Butter (which is BETTER than Texas Roadhouse Butter for a heavenly experience.
Copycat Texas Roadhouse Rolls
If everyone is truly honest with themselves they would all admit they go to Texas Roadhouse for the rolls. They are so soft and flavorful, with a brush of melted butter on top. Served warm with cinnamon honey butter they are so good and now they can grace your table anytime you get a craving.
It's an enriched dough slathered with butter and then again with cinnamon honey butter, what's not to love?! Incredibly simple and even easier to shape, a beginner baker can master this and wow families and friends. The hardest part will be waiting for them to rise and bake!
Roadhouse Roll Ingredients:
Keep these pantry staples on hand to whip these Texas roadhouse rolls up whenever the urge or occasion occurs. These rolls are always a family favorite and can be made in a short amount of time!
Active Dry Yeast: There is a difference between active and Instant yeast, you can use either, I'll explain below.
Sugar: The food for the yeast.
Warm Water: Necessary to help yeast bloom.
Milk: Use whole milk to really create a soft tender roll.
Melted Butter: Mixes better when it's melted and gives incredible flavor.
Flour: Unbleached Bread Flour is the best to replicate Texas Roadhouse texture.
Egg: Adds more richness to the dough.
Salt: Don't skip the salt, it's a must to slow the rise and give depth of flavor to dough.
Making Texas Roadhouse Rolls:
Bread can be kind of intimidating to make at times. But seriously. Nothing compares to freshly made bread at home. Surprisingly this recipe is pretty simple! You will be surprised how quick and easy these roadhouse rolls are to make.
Yeast: Place the yeast, sugar and warm water in your stand mixer and allow to double in size which takes about 5 minutes.
Scald: Meanwhile place your milk in the microwave for 45 seconds. Add the butter and stir till butter is melted. Allow to cool till it's lukewarm.
Mix: Add the milk to your yeast mixture, along with the sugar and half of the flour. Mix thoroughly, then let it rest for 10 min.
Blend: Next add in the egg and salt, mix well. Followed by the remaining flour mixing till a soft dough has formed.
Knead: Using a dough hook or your muscles knead the dough until it's smooth and satiny.
Rise: Cover with plastic wrap and let it rise until doubles in size. Punch it down and let it rest for 10 minutes.
Roll: On a lightly floured surface roll the dough in a large rectangle about a 1/2 inch thick. Cut in half then cut each half into 6 square pieces.
Bake: Place on a greased baking sheet and allow to rise again then Bake at 350 for 10-15 minuets.
Tips for Working with Yeast:
Yeast breads can be intimidating but if you follow these tips you'll become skilled and successful every time. Learn the best way to manage yeast and master making these Texas Roadhouse rolls often!
What is it? Yeast is a microscopic living cell that can reproduce rapidly creating carbon dioxide which allows the bread to grow and rise.
Feed it: Yeast needs a sugar and warm liquid to grow.
Warm Water: Water should be about 80 degrees Fahrenheit for optimal yeast growth. Using warm water from the tap works perfectly.
Active Yeast: This recipe uses active yeast which needs to be activated, using the sugar and warm water.
Instant Yeast: You don't have to activate Instant yeast so it can be mixed right in.
Expired Yeast: Always check your expiration date and store unused yeast in the fridge or freezer to maintain freshness. If you mix your yeast with water and sugar and it does not "grow" don't use it. Your bread won't rise.
Warm Place to Rise: Dough will rise best if kept in a warm place. If your kitchen is cold, warm your oven to 100-125 degrees then turn it off. Place your dough in an oven safe bowl and place in your oven till it doubles in size.
Hints for the Perfect Texas Roll:
Making these rolls is easy, but here are some sure fire ways to make them perfect every time and some variations as well. This roll recipe is definitely a keeper!
Sugar: Sugar is the food for your yeast, it helps make it grow, Use white sugar so as not to change the flavor,
Dough: Your dough should be tacky but not sticky. If it's too sticky you'll have lots of it on your hands if you touch it. Add a little more flour 1 tablespoon at a time till you get the desired consistency.
Milk: Scalding the milk is crucial to helping it break down the proteins, which can keep the gluten from forming properly in your bread. Bringing it down to lukewarm temperature is vital to helping the yeast grow without killing it.
Cutting:  Getting that classic square Roadhouse shape, use a pizza cutter for quick easy cutting without tearing the dough which a knife will do.
Buttered Tops:  Add extra goodness by waiting till rolls are slightly cooled to brush with melted butter.
Storage: Store completely cooled rolls in a sealed container or Ziploc bag for up to 3 days. Freeze in a freezer bag for up to 2 months.
Double: This recipe is easy to double for a crowd. Double the ingredients but don't increase cooking time.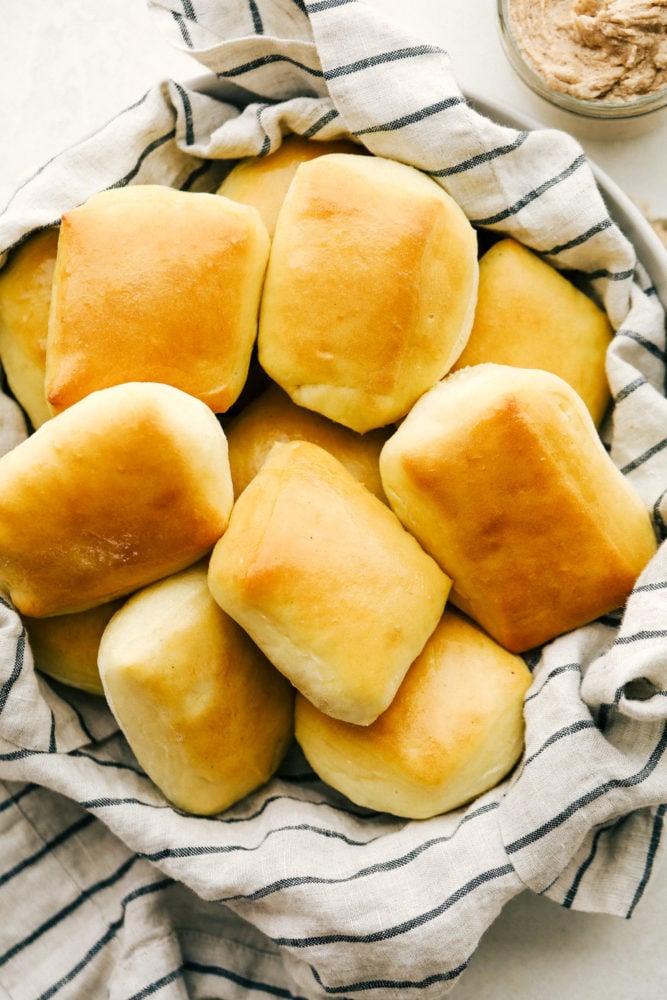 Cinnamon Honey Butter:
Now this cinnamon honey butter is just what these roadhouse rolls love! Spread this butter over top a warm Texas roll and you have the MOST amazing combination ever!
Butter: Soften, but don't melt the butter to make it easier to mix.
Powdered Sugar: mixes in smoothly without making it grainy like sugar and provides fluff.
Honey: Golden, drippy sweet must helps to thicken the spread.
Cinnamon: Adds a nice little spicy punch.
More Amazing Roll Recipes to Try:
Pin this now to find it later
Pin It
Copycat Texas Roadhouse Rolls with Cinnamon Honey Butter
Delicious and soft homemade rolls that taste just like Texas Roadhouse Rolls!
Instructions
In the bottom of your stand mixer bowl, add yeast and 1 tsp sugar to 1/4 cup warm water. Allow yeast to proof, or double in size, which takes about 5 minutes.

Place milk in microwave for 45 seconds. Add the butter to the milk and stir until it is completely melted. Allow milk to cool until it is lukewarm.

Once the yeast has doubled, add the milk to the yeast mixture. Add sugar and about half of the flour until it reaches a muffin batter. Let rest for 10 minutes.

Add egg and salt to the mixture. Mix well. Add remaining flour to form a soft dough. Knead the dough until it is smooth and satiny.

Cover and let rise until it doubles in size. Once it has doubled, punch the dough and let it rest for 10 minutes.

Lightly flour a surface and roll the dough into a large rectangle, about a 1/2 inch thick. Cut the rectangle in half, and then cut each half into 6 square pieces with a pizza cutter.

Place on a greased baking sheet and allow to rise until double in size.

Bake at 350 for 10-15 minutes or until the tops are golden brown.

To make the honey butter, whip together butter, powdered sugar, honey, and cinnamon and serve on warm rolls.
Notes
Recipe Originally posted on November 5, 2013 
Updated on September 6, 2020
Nutrition
Calories:
291
kcal
Carbohydrates:
47
g
Protein:
5
g
Fat:
10
g
Saturated Fat:
6
g
Cholesterol:
39
mg
Sodium:
286
mg
Potassium:
79
mg
Fiber:
1
g
Sugar:
22
g
Vitamin A:
320
IU
Vitamin C:
1
mg
Calcium:
37
mg
Iron:
2
mg
Nutrition information is automatically calculated, so should only be used as an approximation.