I have a confession.  My weakness is bread.  I will take a freshly baked bread slice over chocolate any day.  When I was pregnant with my first, I craved Albertson's french bread that was freshly baked at 4pm.  I love bread!  And I love going to Texas Roadhouse. It is definitely for the rolls.  Freshly baked, and so soft inside.  Slather it with some cinnamon honey butter and I am a fat kid in bread heaven. 🙂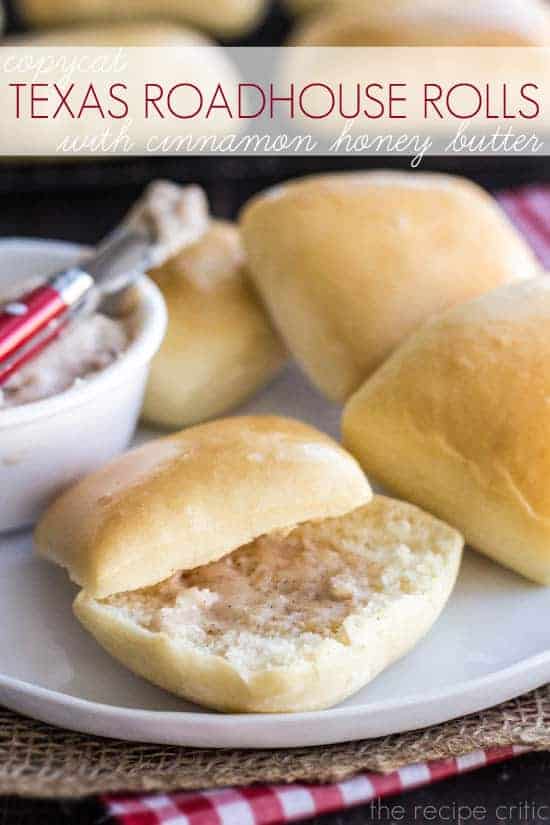 Bread can be kind of intimidating to make at times.  It seems like it can be a lot of work.  But seriously.  Nothing compares to freshly made bread at home.  Surprisingly this recipe is pretty simple.  The hardest part is waiting for the dough to rise.  Other that that you have totally got this!  I especially love making it in the kitchenaid with my dough hook.  It makes it that much easier.  Warm right out of the oven soft and delicious rolls with melted cinnamon honey butter on top.  This is my kind of heaven!  Just leave me with the whole batch! 🙂

Copycat Texas Roadhouse Rolls with Cinnamon Honey Butter
Delicious and soft homemade rolls that taste just like Texas Roadhouse Rolls!
Ingredients
Roll dough:
2 tsp active dry yeast plus 1 tsp sugar
¼ cup warm water
1 cup milk
1 Tbsp. melted butter
¼ cup sugar
3-4 cups flour
1 egg
1 tsp salt
Cinnamon Honey Butter:
½ cup butter
½ cup powdered sugar
½ cup honey
1 tsp. cinnamon
Instructions
In the bottom of your stand mixer bowl, add yeast and 1 tsp sugar to ¼ cup warm water. Allow yeast to proof, or double in size, which takes about 5 minutes.
Place milk in microwave for 45 seconds. Add the butter to the milk and stir until it is completely melted. Allow milk to cool until it is lukewarm.
Once the yeast has doubled, add the milk to the yeast mixture. Add sugar and about half of the flour until it reaches a muffin batter. Let rest for 10 minutes.
Add egg and salt to the mixture. Mix well. Add remaining flour to form a soft dough. Knead the dough until it is smooth and satiny.
Cover and let rise until it doubles in size. Once it has doubled, punch the dough and let it rest for 10 minutes.
Lightly flour a surface and roll the dough into a large rectangle, about a ½ inch thick. Cut the rectangle in half, and then cut each half into 6 square pieces with a pizza cutter.
Place on a greased baking sheet and allow to rise until double in size.
Bake at 350 for 10-15 minutes or until the tops are golden brown.
To make the honey butter, whip together butter, powdered sugar, honey, and cinnamon and serve on warm rolls.