The perfect amount of spices come together in the homemade taco seasoning!  You will never buy taco seasoning from the store again!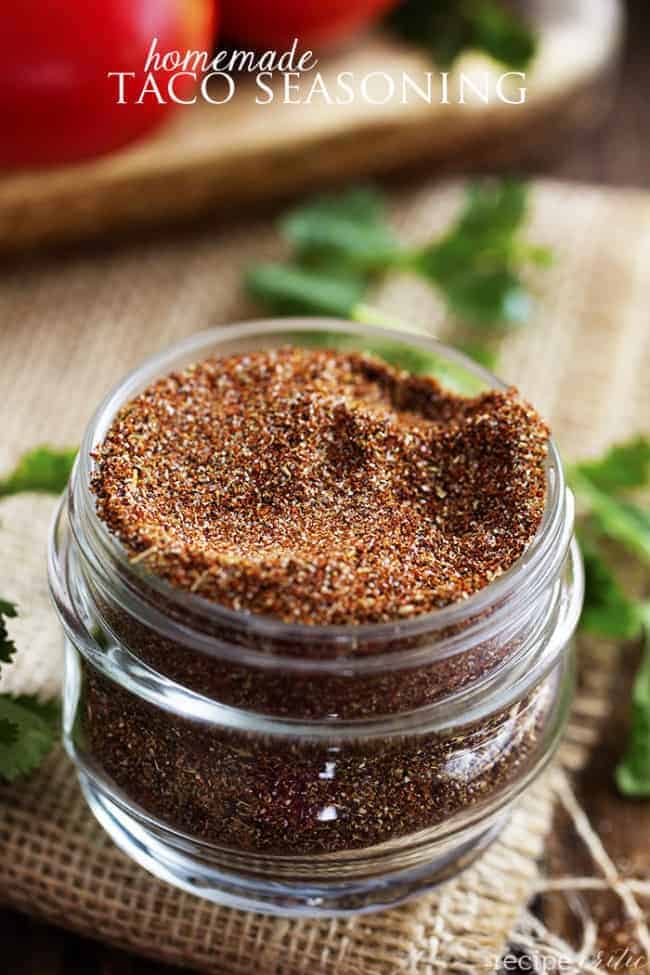 I have continued my healthy eating habits and goals that I made back in December.  Now don't get me wrong.  I ate like a fat kid and got more ice cream cones than one should consume on our cruise, but I have tried to maintain a healthy diet back at home.   One of my favorite meals to make are turkey tacos.  I make a big batch at the beginning of the week and have them almost every day during the week.  Tacos are the best.  Seriously.
As I was making my weekly batch of turkey taco meat I reached into the cabinet to grab a seasoning packet.   There weren't any there!  What would I ever do without unseasoned meat?  So I pulled out the computer and began my search for the perfect seasoning.
 I had all of the spices in my cabinet.   It took only a minute to throw them all together.  The first recipe that I tried was a little to spicy for my liking.  So I tweaked it to my liking and found the perfect taco seasoning just for you.  It was amazing!  I can't believe that I have never made my own taco seasoning before.  It is WAY better than the store bought packages and I know that your family will love it too!
How To Make Taco Seasoning
The Best Homemade Taco Seasoning
The perfect amount of spices come together in the homemade taco seasoning! You will never buy from the store again!
Ingredients
1 tablespoon chili powder
¼ teaspoon garlic powder
¼ teaspoon onion powder
¼ teaspoon dried oregano
½ teaspoon paprika
1½ teaspoons ground cumin
1 teaspoon salt
1 teaspoon black pepper
Instructions
Combine all seasonings together and store in an airtight container.
I used one recipe in one pound of ground turkey. Recipe can easily be doubled and use more or less to taste. I also like to add ½ cup of water to the meat and seasonings to make the meat more moist.