Apple Cream Cheese Crumb Muffins are the perfect buttery and moist apple walnut muffins with a hidden cream cheese center.  Topped with a cinnamon sugar crumb topping these are the perfect fall muffins!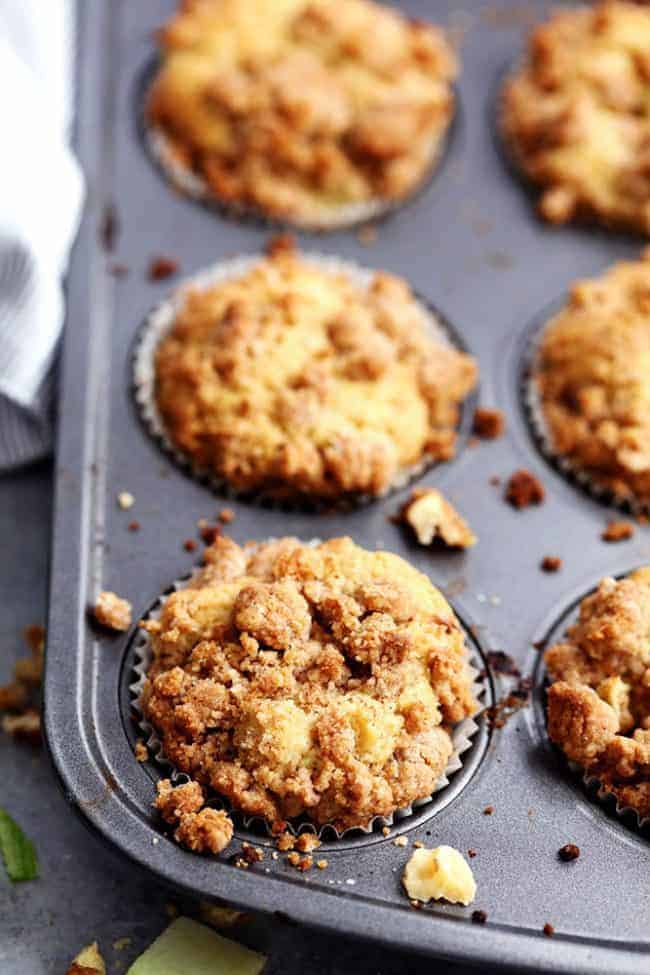 I love that fall is in the air.  We had some high temperatures last week but I am reminded of fall and the beautiful changing leaves in the mountains.  It will be pretty cool and chilly in the morning and evenings but you are dying of heat in the afternoon and have to change into shorts and take off the sweatshirts.  That is typical Utah weather for you.  But I am not complaining because the electric bill finally is starting to go down.
I am especially excited for fall baking.  I mean isn't that what we look forward to?  All of the amazing fall baked goodies with apple and pumpkin?  I love that meme that is going around that says, "My summer body wasn't ready but my winter body is good to go!"   Isn't that the truth? 😉
This year I am bringing you some delicious recipes using walnuts.  I especially love walnuts for baking because they add a new crunchy texture and the nutty walnut taste that we all love.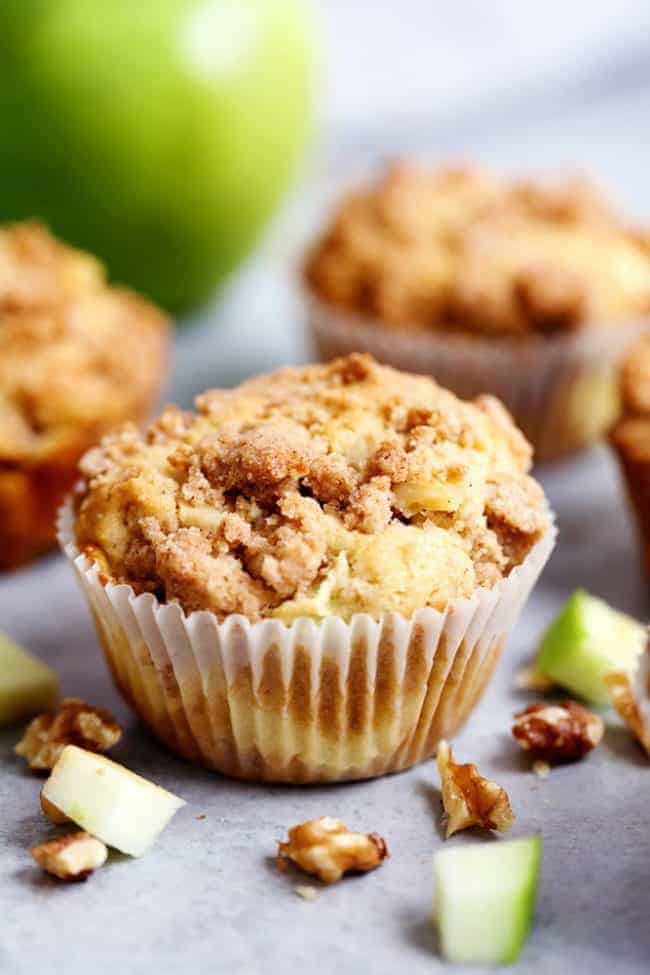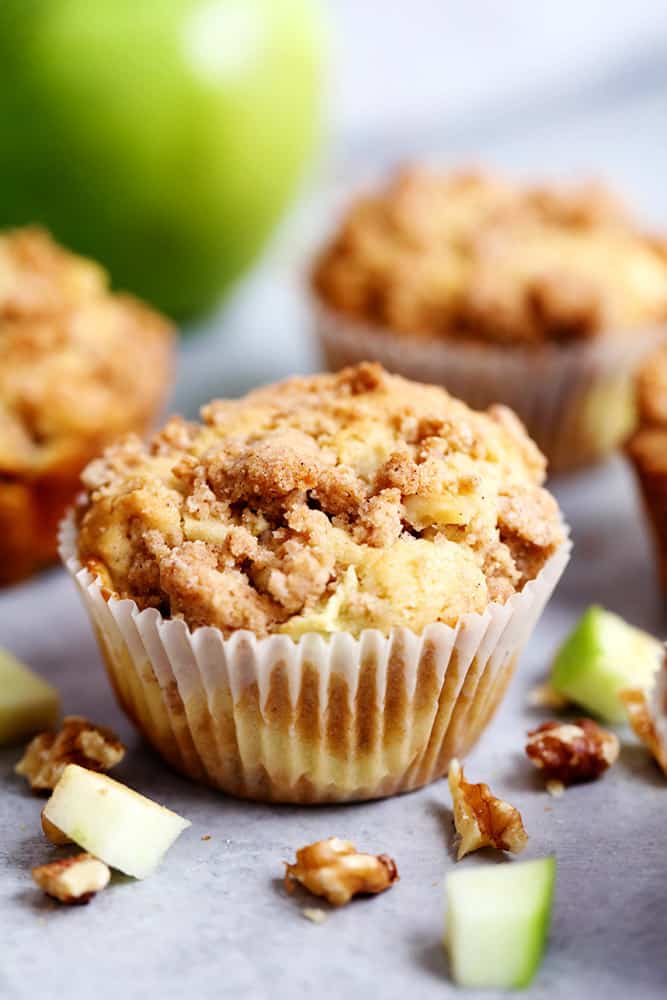 It took me three times to get this recipe just right.  I love apple muffins but I wanted to have a surprise cream cheese center.  I mean who doesn't love when a layer of sweet cream cheese is baked into the center of a muffin?   It is the BEST!  Then to top it off with an amazing crumb topping!  This muffin is the muffin of my dreams!
To achieve the bakery style buttery muffin the dough will be slightly thicker.  You will be able to fill the muffins right to the top.  The inside of the muffin is delicious and tender.  And you will especially love the hidden apples and walnuts in the dough.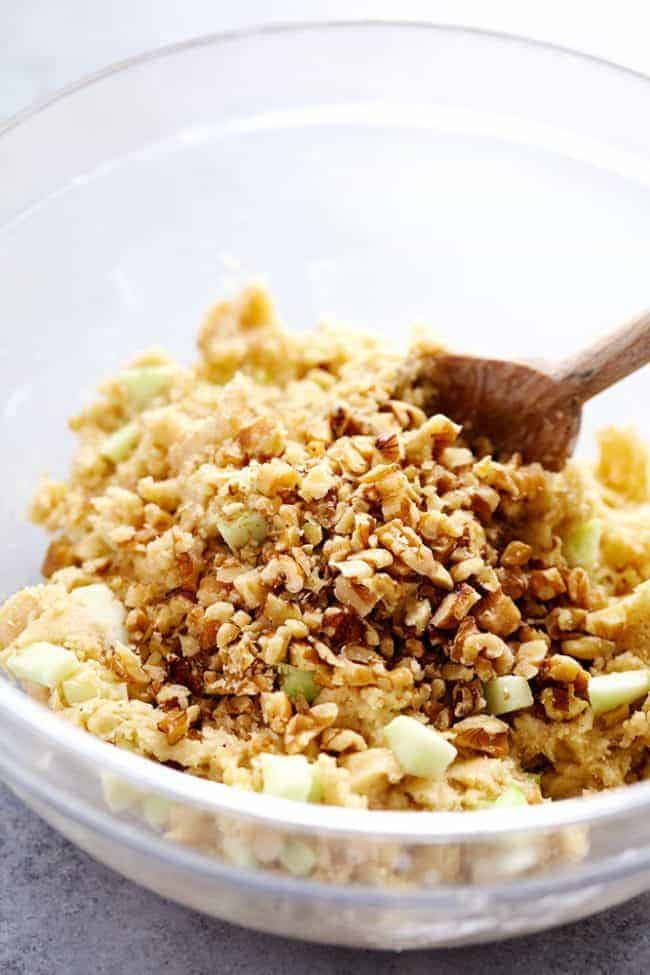 I used my favorite crumb topping which actually requires the butter to be melted instead of cold.  The crumb topping comes together quickly and is the perfect sized crumbs ready to go on top of the muffin.  I also press lightly to make the crumbs stay better.  A crumbly muffin is my favorite!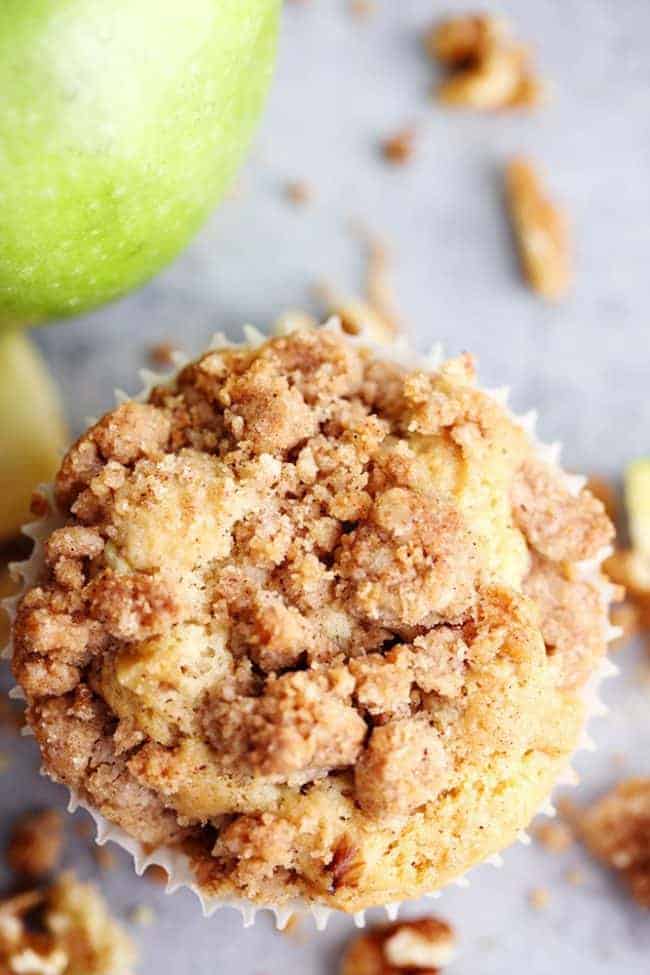 These muffins are the perfect fall muffins and you must put them on your baking list as soon as you can!   You are going to love every single thing about them from the buttery and moist muffin, to the apples and walnuts hidden inside, to the cream cheese center, and the cinnamon sugar crumb topping!  You will want to bake these again and again!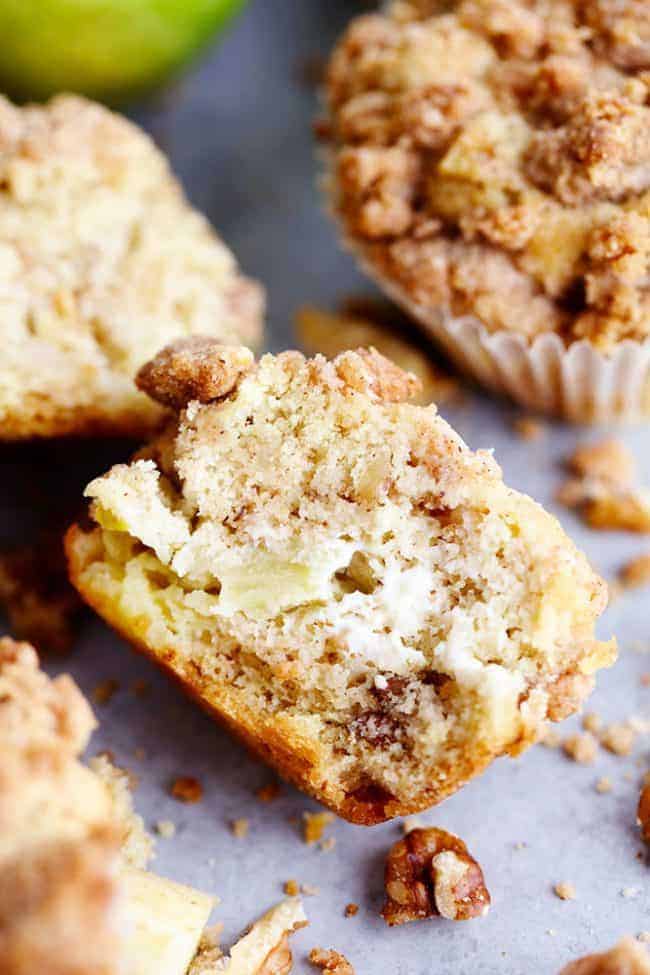 Apple Cream Cheese Crumb Muffins
Apple Cream Cheese Crumb Muffins are the perfect buttery and moist apple walnut muffins with a hidden cream cheese center. Topped with a cinnamon sugar crumb topping these are the perfect fall muffins!
Ingredients
2 cups all-purpose flour
1 teaspoon baking powder
½ teaspoon baking soda
½ teaspoon salt
½ cup butter
1 cup white sugar
2 eggs
1 teaspoons vanilla
1 cup chopped apples
½ cup walnuts, chopped
Cream Cheese Center:
6 ounces cream cheese, softened
¼ cup sugar
1 egg yolk
Crumb Topping:
⅓ cup light brown sugar, packed
1 teaspoon ground cinnamon
¼ cup butter, melted
⅔ cup all-purpose flour
Instructions
Preheat oven to 375 degrees. Line a 12 cup muffin pan with liners. In a medium sized bowl mix flour, baking powder, baking soda, and salt. Set aside.
In a large bowl beat together butter, sugar, and eggs until smooth. Mix in vanilla. Stir in apples and walnuts. Gradually add in the flour mixture and mix until combined. Add 1 tablespoon into the bottom of the muffin liners.
To make the cream cheese mixture: Beat together cream cheese, sugar and egg yolk until smooth. Put about 1 tablespoon on top of the bottom of the dough in the liners. Top the cheesecake layer with the rest of the dough and fill to the top.
To make the crumb topping: Add the brown sugar, cinnamon, and butter to a small bowl and mix. Add the flour until it starts to become crumbs. Top the muffins with the crumb mixture and lightly press into the top.
Bake for 20 minutes or until toothpick inserted into the center comes clean and the tops are lightly brown. Let them sit for 5 minutes and then remove to a wire rack to cool.
This post was sponsored by the California Walnut Board.  Thank you for allowing me to work with brands that I love.  All opinions expressed are my own.
Subscribe to the Recipe Critic Blog and get family friendly recipes via e-mail.
I am Alyssa and the blogger behind The Recipe Critic. I started my blog in June of 2012 as a place to share my passion for cooking. I love trying new things and testing them out with my family.
Latest posts by Alyssa Rivers (see all)