Quick and Easy Hawaiian Pork Chops. Pan fried pork chops simmered in a sweet and tangy Hawaiian sauce. Ready in under 25 minutes!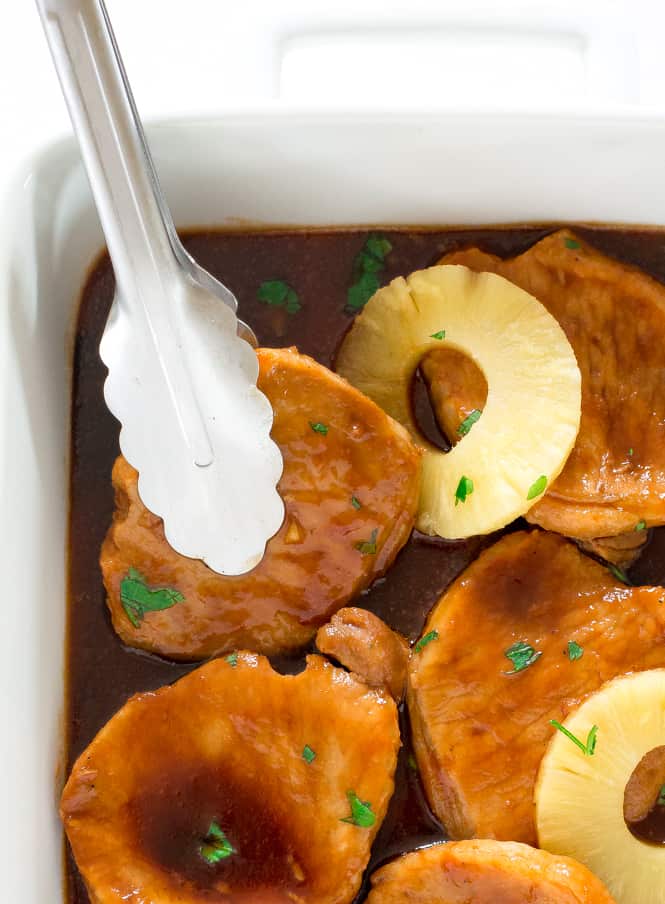 Hi guys! It's Kelley back from Chef Savvy! Today I am sharing these AMAZING Hawaiian Pork Chops! This is a quick and easy dish that is perfect for busy weeknights. Best of all this dish is ready in under 25 minutes!
The thinly sliced pork chops do not take long to cook. I brown them on both sides then let them simmer in the sauce for 10 minutes. The result is a super juicy and tender pork chop!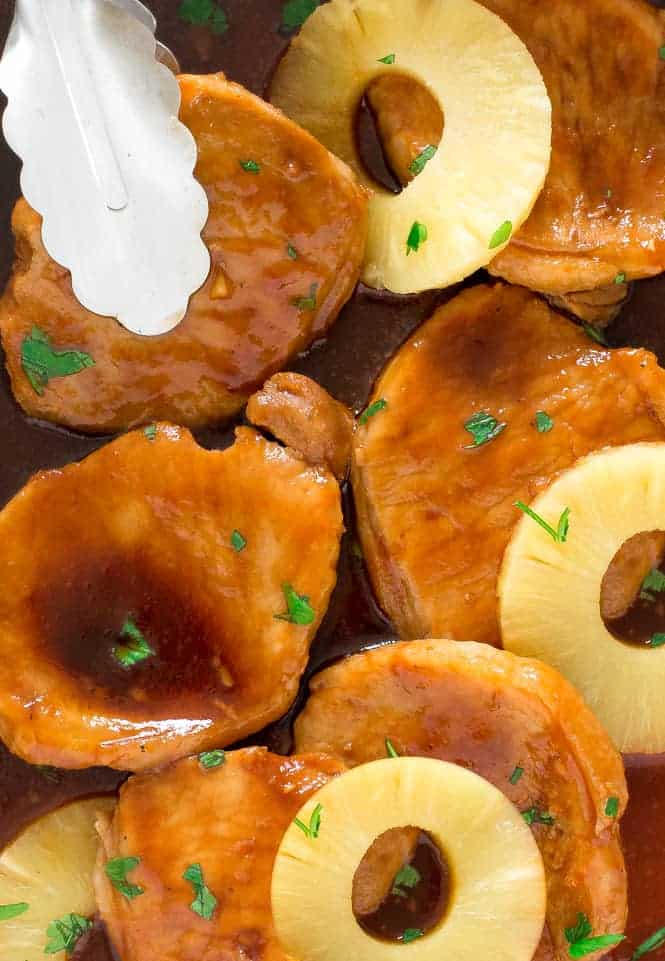 MY OTHER RECIPES
The best thing about this dish is the sauce. It's sweet, thick and tangy. It's a combination of soy sauce, ketchup, brown sugar, pineapple juice, garlic & ginger.
I love to serve this dish with rice to soak up all of that extra sauce. I also use the leftovers for pork and pineapple fried rice! Enjoy!
Hawaiian Pork Chops
Ingredients
2 tablespoons oil, divided
salt and pepper
1½ pounds thin pork chops (there were about 8 thinly sliced pork chops in my package)
½ cup low sodium soy sauce
¼ cup ketchup
¼ cup light brown sugar
1 (15 ounce) can pineapple slices (including the liquid), divided
3 cloves garlic, minced
1 teaspoon ginger, minced
1 teaspoon cornstarch
1 tablespoon water
chopped parsley for garnish, if desired
Instructions
Heat 1 tablespoon of oil in a large skillet.
Season pork chops on both sides with salt and pepper. Add pork to the hot skillet and cook for 2 minutes on each side or until each side is nice and browned. Remove from the pan and set aside.
In a large measuring cup combine soy sauce, ketchup, brown sugar and only the pineapple juice (reserve the slices for later). Set aside.
Add the remaining tablespoon of oil to the large skillet. Add garlic and ginger and sauté for 1 minute.
Pour in the sauce ingredients and bring to a simmer and cook for 2-3 minutes. Add the pork back to the sauce.
In a small bowl mix together cornstarch and water.
Slowly add the cornstarch mixture to the skillet and stir.
Add in the reserved pineapple slices and simmer for 10 minutes or until sauce is thickened and pork reaches 145 degrees. The thin pork do not take very long.
Serve immediately with chopped parsley for garnish, if desired.
Sauce adapted from
Creme De La Crumb
Love this recipe? Here are more dinner recipes from Chef Savvy!
Slow Cooker Hawaiian Meatballs