Chicken with 40 Cloves of Garlic. Juicy and tender chicken thighs pan fried and served with tons of garlic and an amazing sauce!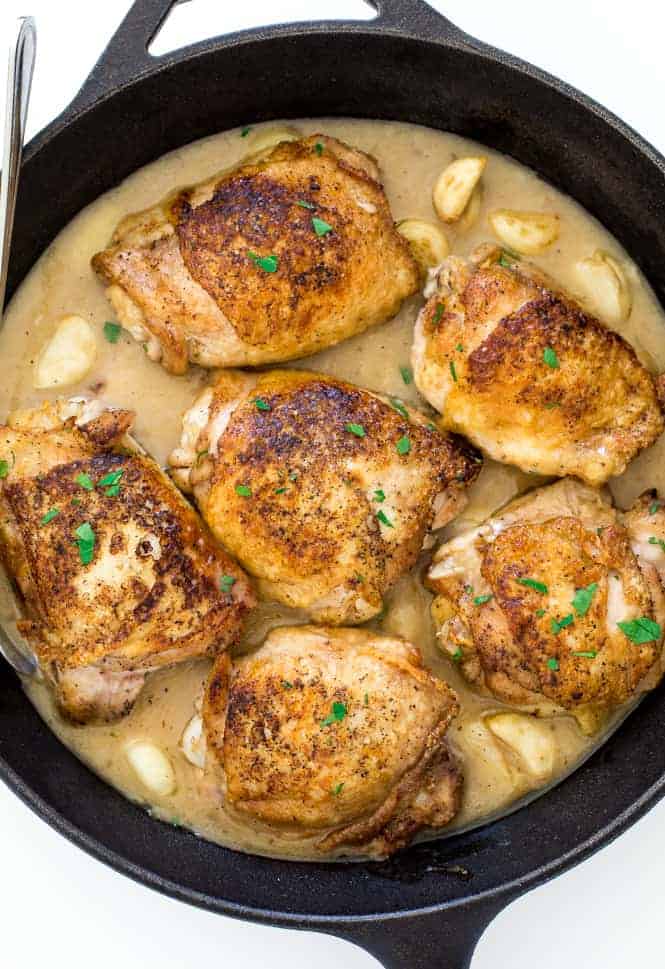 Hi guys! It's Kelley back from Chef Savvy! Today I am sharing this AMAZING Chicken with 40 Cloves of Garlic! This is one of my favorite dishes to prepare. Juicy chicken thighs pan fried and served with ton's of garlic and an amazing sauce.
The chicken get's nice and crispy on the outside and is incredibly juicy and tender on the inside. After the chicken is pan fried I add flour and milk to the pan to create a quick gravy. It is perfect over the chicken and mashed potatoes!
Serve with a veggie and dinner is on the table in less than an hour!
Chicken with 40 Cloves of Garlic
Ingredients
8 chicken thighs, bone in and skin on
salt and pepper
2 tablespoons butter, divided
1 tablespoon olive oil
40 cloves garlic, peeled
1½ cups chicken stock
2 tablespoons all purpose flour
2 tablespoons milk
parsley for serving, if desired
Instructions
Season chicken thighs with salt and pepper.
Heat 1 tablespoon of butter and 1 tablespoon of oil in a large skillet.
Add half of the chicken thighs to the hot pan skin side down.
Sear both sides until golden brown, about 2-3 minutes per side, set aside.
Add the remaining tablespoon of butter and add the remaining chicken thighs and repeat, set aside.
Add garlic to the skillet and cook until golden brown, stirring frequently, about 3-4 minutes.
Stir in chicken broth and bring to a boil.
Add chicken back to the pan and cover.
Simmer until the chicken is cooked through about 25-30 minutes.
When the chicken is cooked remove from the pan. (Leave the juices in the skillet)
In a small bowl combine the flour and milk and add to the juices in the skillet.
Whisk until thickened, about 1-2 minutes.
Season with salt and pepper to taste and serve immediately with the sauce.
Love this recipe? Here are more chicken recipes from Chef Savvy!
Slow Cooker General Tso's Chicken
Slow Cooker Honey Garlic Chicken
Subscribe to the Recipe Critic Blog and get family friendly recipes via e-mail.
Kelley is the photographer and chefbehind Chef Savvy.She has a background in culinary arts and Kelley has always been a foodie.She loves cooking thai food and exploring new restaurants on the East Coast.She resides in Delaware with her dog daisy.