An amazing pull apart bread stuffed with three cheeses and a buttery garlic!  You won't be able to get enough!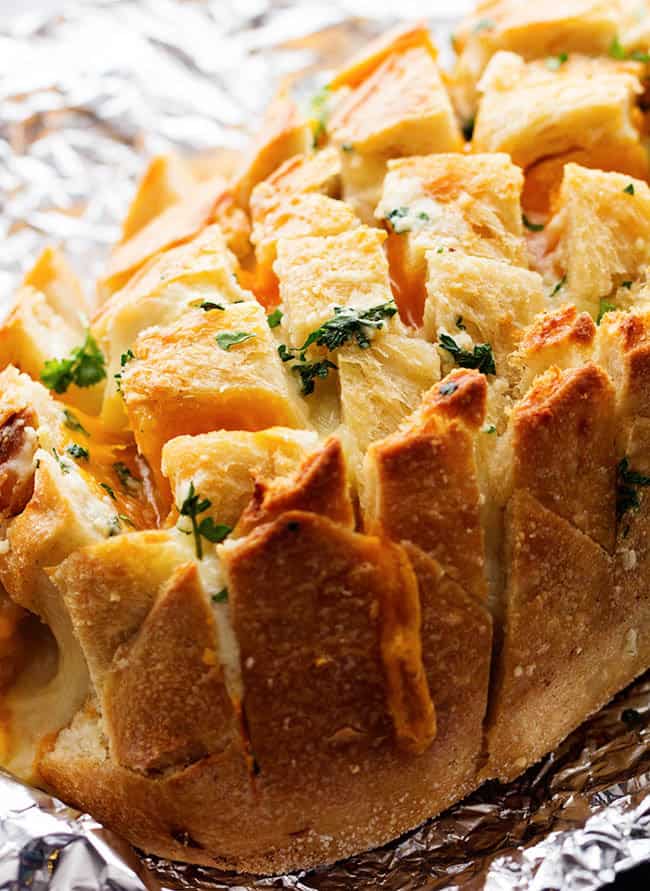 Carbs are my weakness.  Whenever I am really trying to watch what I eat, carbs are what tempts me.  It isn't chocolate or sweets it is all carbs.
When I am preggo I crave carbs.  Which probably isn't the best thing for gaining weight.  When I was pregnant with my first child I would crave a fresh baked french bread.  I could almost eat the entire thing.
Why are carbs so amazing?
This bread is perfect.  I mean seriously.  Can you imagine pulling a piece of bread that has ooey gooey cheese and a butter garlic flavor?  It is heaven.  This bread gets stuffed with three kinds of cheese to make it even more delicious with each bite.
The bread gets wrapped in foil and baked until the cheese is nice and melty.  It is so good and addicting you can't stop with just one!  You keep eating it until it is gone!
This bread is is perfect for your next party.  You are going to love it and it is sure to be hit!
Three Cheese Garlic Pull Apart Bread
An amazing pull apart bread stuffed with three cheeses and a buttery garlic! You won't be able to get enough!
Ingredients
1 small artisan bread loaf
½ cup butter
4 cloves garlic, minced
2 Tablespoons fresh parsley, chopped
2 Tablespoons grated parmesan cheese
2 ounces mozzarella cheese, sliced
2 ounces cheddar cheese, sliced
Instructions
Preheat oven to 375 degrees. Using a serrated knife, cut the bread in a crosshatch pattern being careful not to slice through the bread to the bottom crust.
In a small saucepan or microwave, melt the butter. Stir in minced garlic, parsley, and grated parmesan cheese. Brush the butter inside of the bread pulling it gently apart and distributing it evenly.
Tuck the pieces of cheese in each section of the bread filling the entire loaf. Place the bread on aluminum foil and wrap it up entirely. Bake the bread for 15 minutes. Unfold the foil and bake for an additional 10-15 to crisp the top. Serve immediately.
Subscribe to the Recipe Critic Blog and get family friendly recipes via e-mail.
I am Alyssa and the blogger behind The Recipe Critic. I started my blog in June of 2012 as a place to share my passion for cooking. I love trying new things and testing them out with my family.
Latest posts by Alyssa Rivers (see all)