Frosted Peppermint Sugar Cookie Bars –  Why do you need peppermint bark when you can have these incredibly easy sugar cookie bars?  So moist with the creamiest frosting, then topped with chopped candy canes. Only one bowl is needed!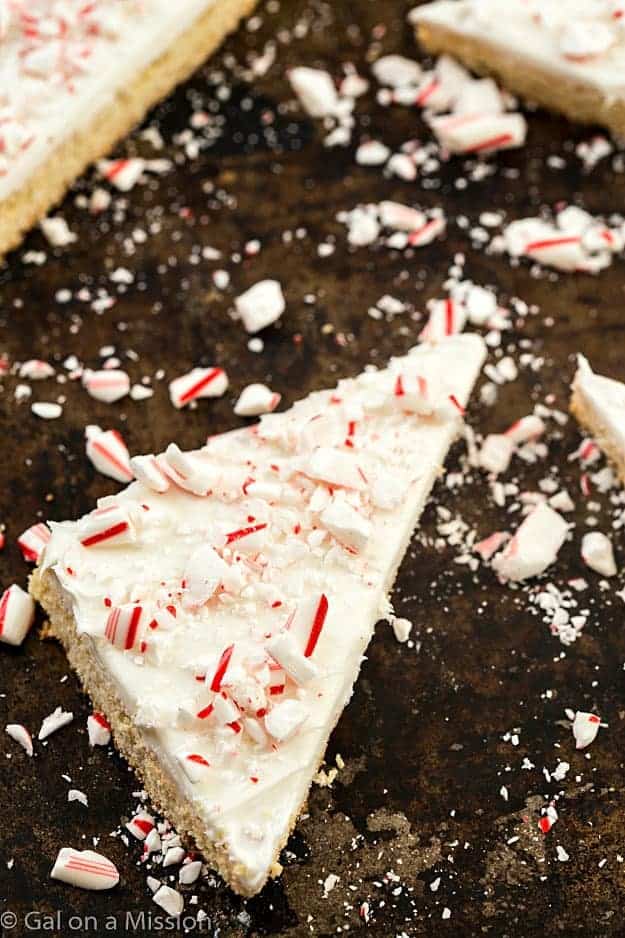 Hey, there! It's Chelsea from Gal on a Mission again sharing a delicious holiday dessert you need to whip up this year!
Growing up as a little girl, I did not like anything that had one drop of peppermint in it. I couldn't even tolerate the smell. Now as an adult, I cannot get enough peppermint – coffee, tea, sugar cookies, brownies, you name it! Pretty shocking to go from one extreme to another, right?
Since December is all about the peppermint craze, I thought it would be perfect to share incredibly easy frosted peppermint sugar cookie bars. You are going to be shocked at how easy they really are! They may or may not only need one bowl for the cookie batter. 😉
MY OTHER RECIPES
I will tell you, they are perfect with a glass of cold milk or two.

Frosted Peppermint Sugar Cookie Bars
Ingredients
Sugar Cookies:
¾ cup unsalted butter (1.5 sticks), softened at room temperature
1 cup granualted sugar
1 large egg, room temperature
1 teaspoon vanilla extract
2 cups all-purpose flour
½ teaspoon baking powder
½ teaspoon salt
Frosting:
15 ounce can vanilla frosting
½ teaspoons peppermint extract, optional
Topping:
Instructions
Preheat oven to 350 degrees. Line a 9x13 baking sheet or dish with aluminum foil and lightly spray non-sticking cooking spray. Set aside.
Cream together the butter and granulated sugar until creamy and fluffy.
Add in the egg and cream until creamy and fluffy.
Fold in the vanilla extra, flour, baking powder, and salt until combined.
Place the sugar cookie dough onto the baking sheet or dish and press down until the dough is spread out and even.
Bake for 15-18 minutes or until the top is no longer wet.
Allow the sugar cookie to cool.
Mix together the vanilla frosting and peppermint extract. Frost the sugar cookie and then top with crushed candy canes.
Cut into squares then cut into triangles.
Here are more delicious holiday treats from Gal on a Mission:
Andes Mint Cookies
Boston Cream Sugar Cookie Cups
White Chocolate Macadamia Nut Cookies
Snowball Cookies with Cranberries