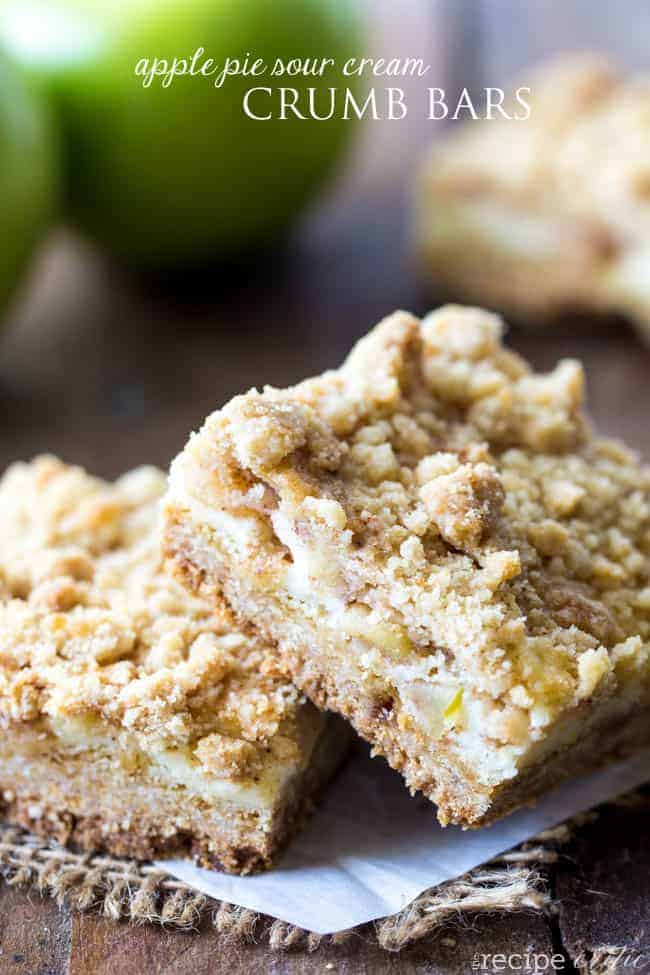 With rain and cooler temperatures here in Utah, I can feel that fall is just around the corner.  Fall is my favorite season.  I love how the leaves change.  I love the cooler sweater temperatures.  And I especially love fall baking!
Apple and pumpkin are my favorite things to bake with.  I would bake year round with them if I could.  When I woke up this morning I wanted to bake a treat that had apples in it.  I immediately wanted to bake my favorite recipe for crumb bars.  These things are amazing.  The sweet sour cream center is delicious and is my favorite part!  Everything that I love about apple pie is in these bars.  And my house smelled amazing like apple pie while they were baking!  If you love apple pie, you will these delicious bars!

Apple Pie Sour Cream Crumb Bars
Delicious crumb bars with a creamy sour cream and apple center!
Ingredients
Crust:
½ c butter, melted and cooled to room temperature
½ c light brown sugar
1½ cup all purpose flour
½ tsp baking soda
½ tsp baking powder
¼ tsp salt
Filling:
2 Granny Smith Apples, chopped into small pieces
1 Tablespoon Cinnamon
¼ teaspoon nutmeg
½ c sour cream
¼ cup granulated sugar
1 Tbsp all purpose flour
1 egg
½ tsp vanilla extract
Instructions
Preheat oven to 375 and prepare an 8×8 square pan by lining with parchment paper and spraying with cooking spray.
Make the crust by whisking together in a medium bowl the flour, brown sugar, baking soda, baking powder and salt. Add the melted butter. The dough will be crumbly but make sure all of the butter is incorporated.
Reserve ¾ cup of the crust and press the remaining into the bottom of your 8×8 prepared baking pan.
For the sour cream filling, mix together in a large bowl the sour cream, sugar, 1 Tbsp flour, egg, and vanilla. Pour over the crust in your 8×8 pan.
In a medium sized bowl combine cinnamon and nutmeg. Coat the apples with the mixture and sprinkle apples evenly over sour cream mixture.
Sprinkle your reserved ¾ cup crust over the top and bake for 25-28 minutes or until golden brown. Cool completely and serve into squares. Store in the refrigerator up to 3 days.