This creamy cheesecake dip is combined with delicious caramel and pumpkin. This dip is a perfect fall dip!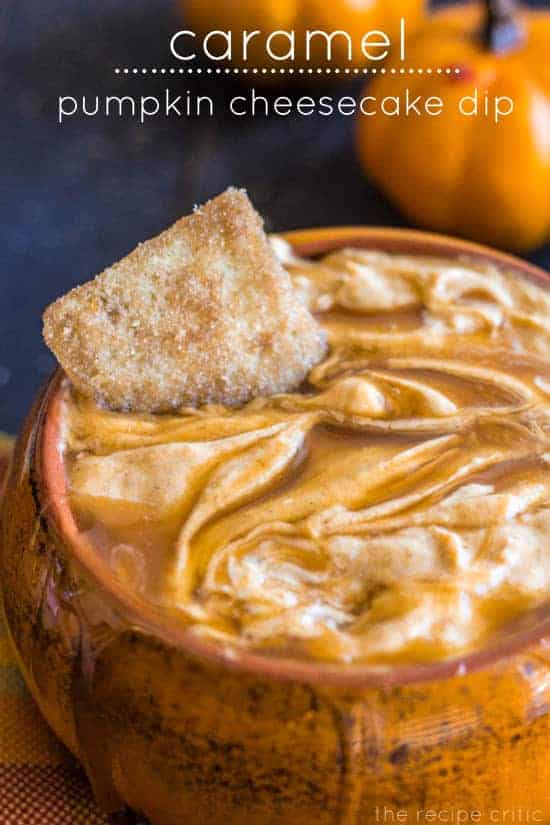 I have been reluctant to make any pumpkin recipes. It seems pretty early, and they haven't even started selling pumpkins yet! But according to Pinterest it is pumpkin season. And all of the delicious pumpkin recipes look amazing!
This dip is heavenly. While I was making it, I was eating it by the spoonful. Did I just say that out loud? 🙂  But it combined so many yummy fall flavors. It totally had me at cheesecake. Then with the pumpkin mixed in. Even better. Then swirled with caramel? Mind blown. You will become very popular with this delicious and easy to make dip!
Caramel Pumpkin Cheesecake Dip
Amazingly creamy cheesecake combines with pumpkin and caramel makes the perfect fall dip!
Ingredients
2 (8 oz) cream cheese, softened
2 cups powdered sugar
1 cup canned pumpkin
¼ cup sour cream
1¼ teaspoon cinnamon
½ teaspoon nutmeg
¼ teaspoon cloves
¼ cup caramel sauce
Instructions
In a kitchenaid or with a mixer, combine cream cheese and powdered sugar until frosting consistency.
Add pumpkin, sour cream, cinnamon, nutmeg, and cloves. Mix until it is fully incorporated.
Pour the caramel sauce on top and create a marble look by swirling with a knife.
Serve with graham crackers, cinnamon sugar pita chips, or gingersnaps.