Crumbly spiced carrot cake bars with a delicious cheesecake center!  They are packed with flavor and sure to be a hit!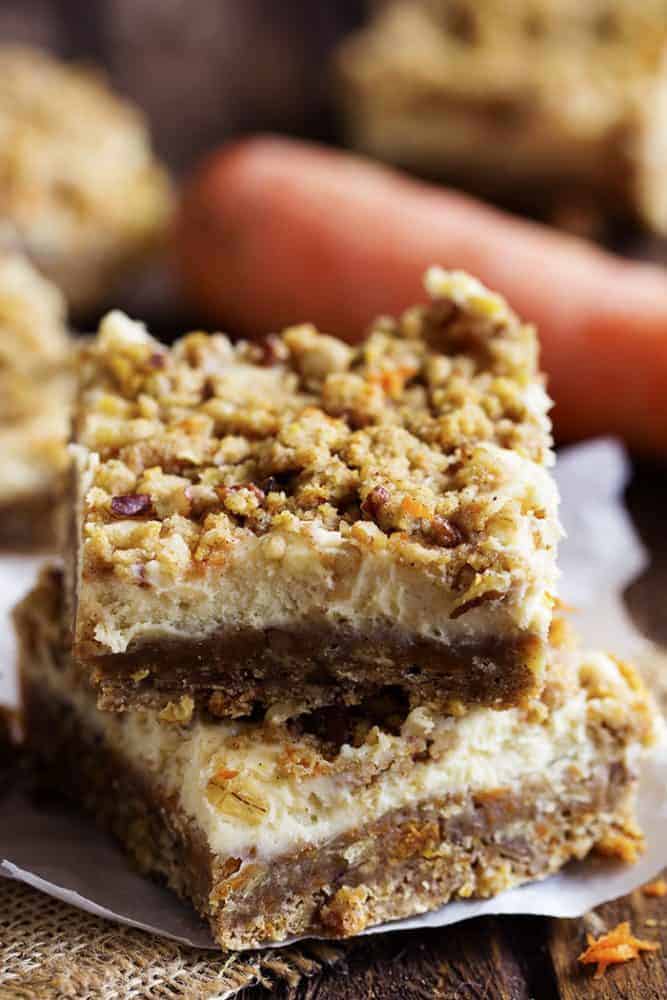 It is starting to feel like spring around here and we are loving it!  It was such a beautiful day today and it got into the 70s.  We spent most of our day outside enjoying the nice weather.  It is such a relief to start being able to go outside when you have been in hibernation for the winter.
I love spring desserts.  Carrot cake is one of my favorites and I could eat it year round.  Any dessert that you can sneak a vegetable into it and still be yummy is awesome.  So because it has a vegetable in it, it has to be somewhat healthy right!?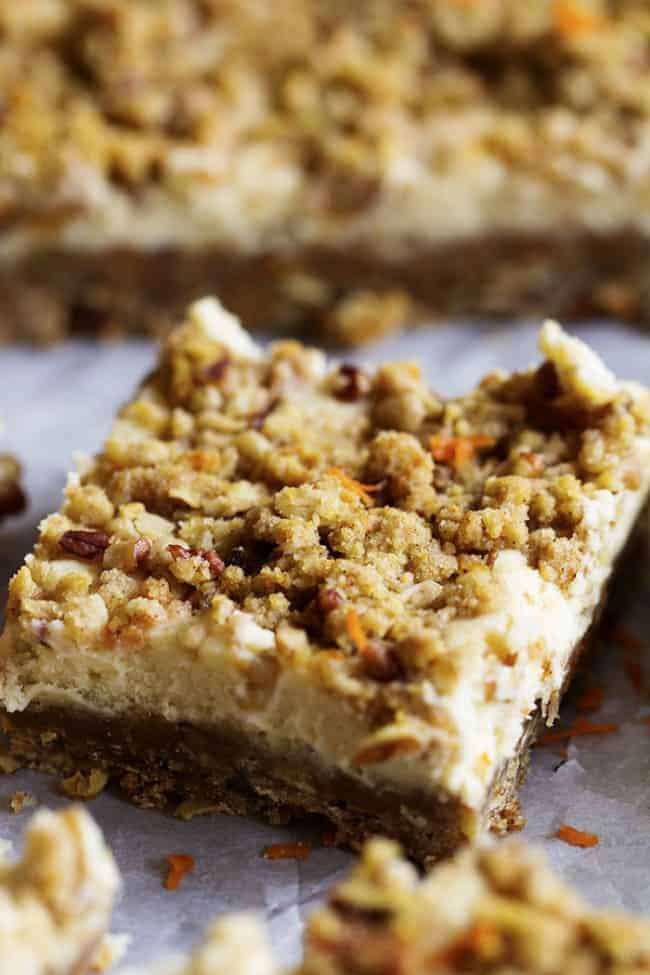 Carrot cake and cheesecake go so perfectly together.  The spices in the carrot cake and the sweetness of the creamy cheesecake center is to die for.  It was amazing together in this crumbly delicious bar!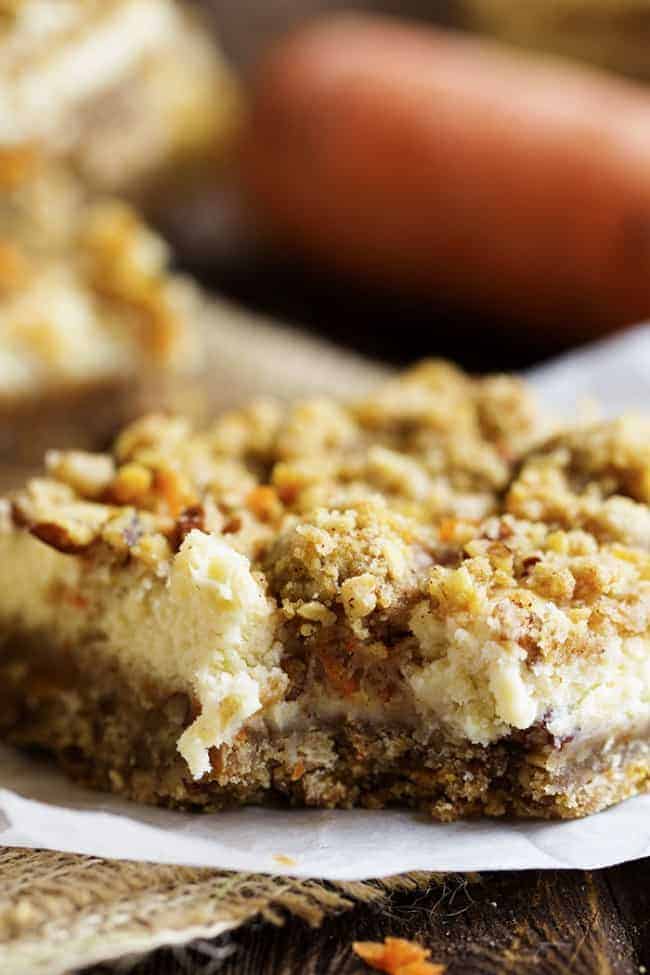 I love how the shredded carrots gives the bar a unique texture.  Everything came together so well in this dessert.  From the bottom of the moist and buttery crust, to the cheesecake center, to the crumbly carrot cake topping, you are going to love this dessert!

Carrot Cake Cheesecake Crumble Bars
Ingredients
2½ cups all purpose flour
1¼ cups old fashioned oats
¾ cups light brown sugar, packed
½ cup sugar
½ teaspoon baking soda
1½ teaspoons cinnamon
½ teaspoon allspice
¼ teaspoon nutmeg
1 cup butter, softened
1 teaspoon vanilla
1½ cup grated carrots, about 3 large
¾ cup chopped pecans
CHEESECAKE LAYER:
2 (8 oz package) cream cheese, softened
⅔ cup sugar
2 large eggs
1 teaspoon vanilla
Instructions
Preheat oven to 350 degrees. Line a 9x13 inch pan with aluminum foil and spray with cooking spray. Set aside.
In a bowl of a stand mixer, combine flour, old fashioned oats, brown sugar, sugar, baking soda, cinnamon, allspice, and nutmeg. Add the softened butter. Using the paddle attachment, mix until it resembles a coarse meal texture. Sprinkle in vanilla and blend. Stir in carrots and chopped pecans. Reserve 2 cups of the crumb mixture and press the rest in the bottom of your 9x13 inch pan. Bake for 20 minutes.
To make the cheesecake layer: While the crust is baking, beat together the cream cheese and sugar until smooth. Add the eggs one by one until smooth and lastly add the vanilla. Once the crust is done baking, spread the cheesecake mixture over the top of the warm crust.
Top with remaining crumbs and bake for an additional 25-30 minutes or until the top is golden brown and the cheesecake layer is set. Let cool completely and refrigerate for at least 3 hours for easier cutting.
Recipe inspired by
Wicked Good Kitchen