Chocolate Caramel Fudge is easy-to-make salted caramel topped chocolate fudge.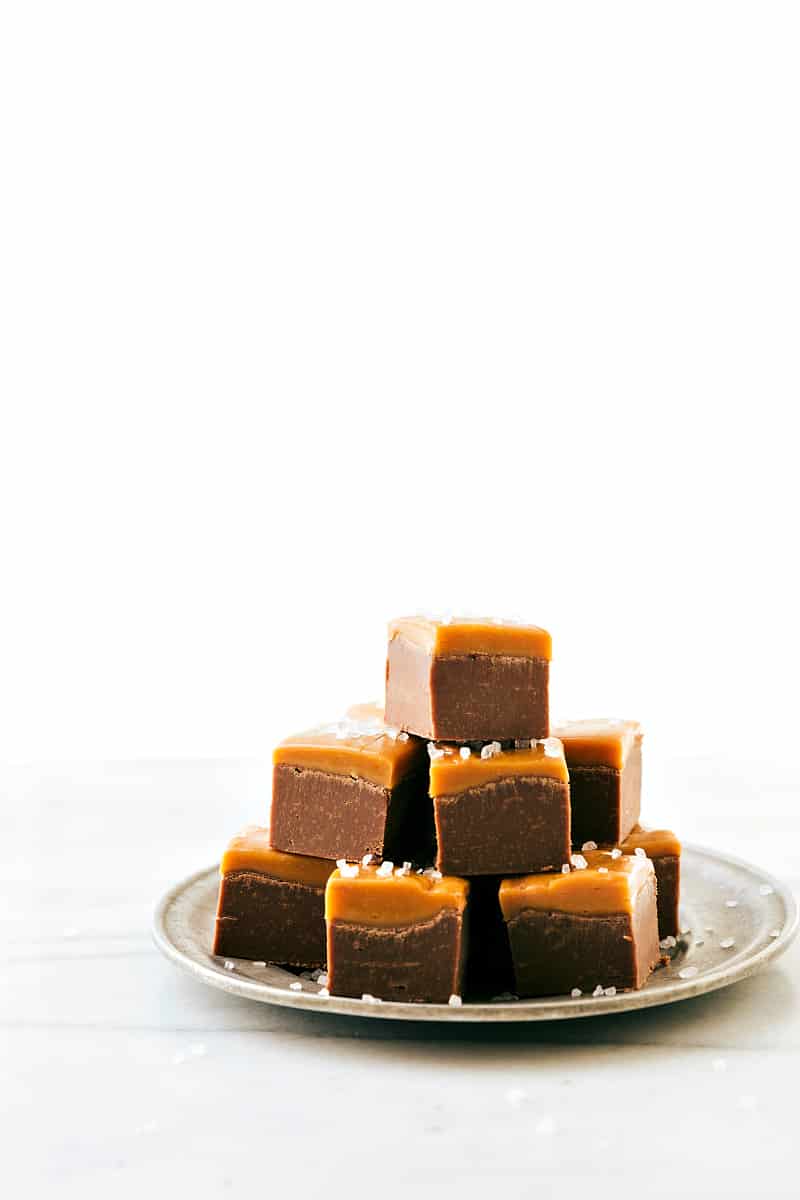 Hey everyone! Chelsea from chelseasmessyapron.com here with a holiday treat — salted caramel chocolate fudge. Fudge is an absolute holiday essential for my home! And we love to eat this caramel chocolate fudge all throughout the holiday season!
And the great news is this chocolate fudge does not have to be a huge time suck. In fact it's so quick and easy to make. Just one bowl, 5-ingredients, and all in the microwave. BAM. You are welcome busy people trying to prepare for the holidays.

Because it's in the microwave it's super easy, but I have a few tips anyways! First: use high quality chocolate chips for best results. Second, be patient in melting the chocolate in the microwave. Remember that even when the chocolate is out of the microwave in between melting bursts, it's still melting. And third: to smooth that chocolate and caramel use a spatula lightly sprayed with cooking spray.
I guess one more — if you are a fan of salted caramel add a nice sprinkling of coarse sea salt to the top! Enjoy 🙂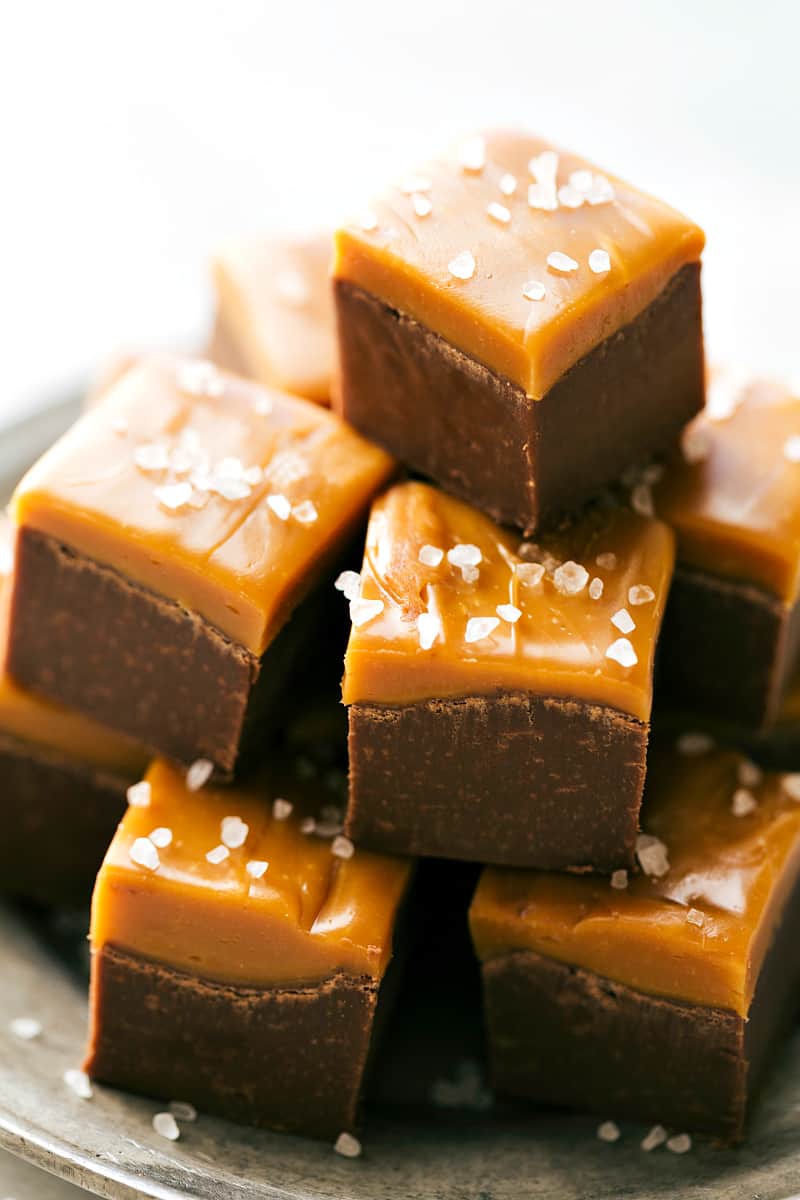 5-ingredient Microwave Caramel Chocolate Fudge
Ingredients
3 cups milk chocolate chips
1 can (14 ounces) sweetened condensed milk, full-fat
2 teaspoons vanilla extract
25 caramels, unwrapped
2 tablespoons heavy cream
Sea salt, optional
Instructions
Line an 8 x 8 pan with parchment paper - do not skip this or you likely won't be able to get your fudge out looking very nice.
Combine the milk chocolate chips (or dark or semi-sweet) and the sweetened condensed milk in a microwave safe bowl. Stir together and microwave for 30 seconds then stir for 30 seconds. Microwave in bursts of 15 seconds stirring for 30 seconds in between until completely melted. Stir in the vanilla extract.
Pour into the prepared pan. Spray a spatula with nonstick cooking spray and smooth the chocolate fudge.
Quickly rinse out and dry the bowl. Combine the unwrapped caramels and heavy cream in the bowl. Microwave for 30 seconds then stir for 30 seconds. Return the mixture to the microwave and microwave in bursts of 15 seconds stirring for 30 seconds in between until completely melted.
Pour the caramel over the chocolate evenly.
**If you want a chocolate caramel swirl fudge, prepare the two layers at the same time (so they are both melted at the same time) lay down the chocolate and then immediately (because it hardens quickly) pour the caramel over in vertical lines. Using a butter-knife swirl the layers together.**
If desired top the fudge pieces with sea salt.
Cover tightly and place in the fridge to harden/set up overnight.
Cut the fudge with a hot wet knife.
Store any leftover fudge in an airtight container in the fridge.
Notes
Cook time refers to chilling time
 Here are some more delicious Christmas treats from Chelsea's Messy Apron:
5-ingredient NO BAKE Christmas Treats: Peppermint Bark Cookies, Microwave Fudge, Cashew Toffee Clusters, and Reindeer Bites
3-ingredient Christmas Treats: Peppermint White Chocolate Hearts, Rudolph Noses, Thin Mint Cups, Easy Turtles