Hey everyone! Chelsea back from Chelsea's Messy Apron. I LOVE simple breakfasts and this is just that. Actually it's really more of a dessert, but anytime I can pass off dessert for breakfast, I'll take it! 🙂
It's like a smaller batch version of cinnamon pull-parts. You make this in a 8 x 4 inch loaf pan and it's the perfect amount for a smaller family OR a less healthy part of a larger healthier breakfast — so you can still have something nutritious and a slice of this bake. It's like the best of both worlds! 🙂
With the holidays coming and the need to entertain (or just create fun memories) this is a great recipe to have! It's simple, quick, and super tasty. Enjoy!!
Cinnamon Roll Biscuit Bake
Author:
Chelsea from www.chelseasmessyapron.com
Ingredients
1 (12 ounces) can Grands refrigerated buttermilk biscuits
½ cup white sugar
3 teaspoons cinnamon
½ cup melted butter
Frosting
1 and ½ cups powdered sugar
¼ cup butter, softened
½ - 1 tsp. vanilla extract, depending on taste preference
2-3 tbsp. milk or heavy cream
Syrup, for serving
Instructions
Preheat the oven to 400 degrees F. Grease an 8 x 4-inch loaf pan (do not use dark-coated pan).
In a bowl, combine sugar and cinnamon awns stir.
Separate dough into 10 biscuits; cut each into quarters. Dip each quarter into melted butter and then into the cinnamon sugar mixture.
Place the biscuits in the prepared loaf pan.
Bake for 19 to 27 minutes. Cool for 5 minutes and then invert to remove from pan.
Meanwhile, prepare the frosting by beating together the powdered sugar, butter, and vanilla extract. Slowly add in the milk or heavy cream until desired consistency is reached.
Spread the frosting over the cake and cut into slices to serve.
Top with syrup if desired.
Inspired by
Pillsbury
More delicious desserts from Chelsea's Messy Apron: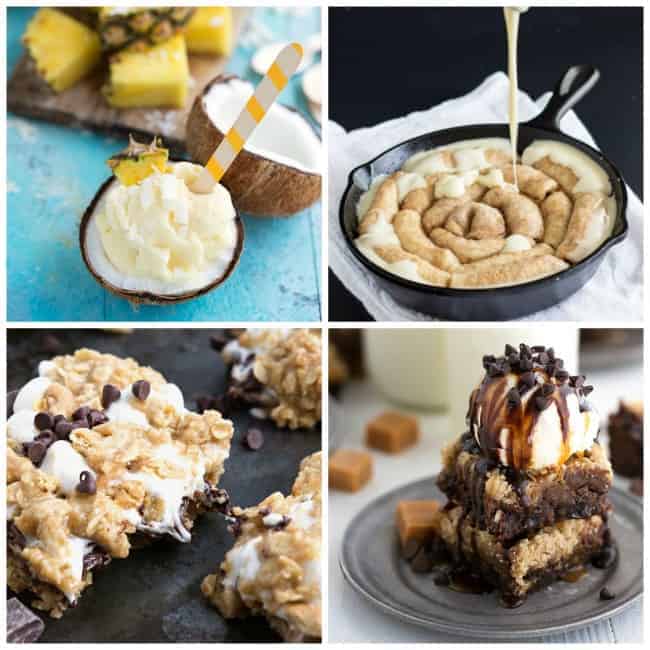 Healthy Pineapple Dole Whip (NO ice cream machine needed)
30-Minute Cinnamon Roll Skillet Cake
Oatmeal Cookie S'mores Gooey Bars