These Cookies and Cream Cupcakes are fluffy, moist and topped with a delicious vanilla buttercream frosting loaded with crushed Oreos.
Hi everyone, it's Jenn from Deliciously Sprinkled! I'm so excited to share these INSANELY delicious Cookies and Cream Cupcakes with all of you today. Seriously, these cupcakes are my new all-time favorite cupcake…I mean, look at that frosting.
These Cookies and Cream Cupcakes not only taste great but they are SO SIMPLE to make. To make these cupcakes, I start out by using my go-to Vanilla Cupcakes recipe. I then added a bunch of crushed Oreos to the vanilla cupcake batter and bake them for about 20 minutes.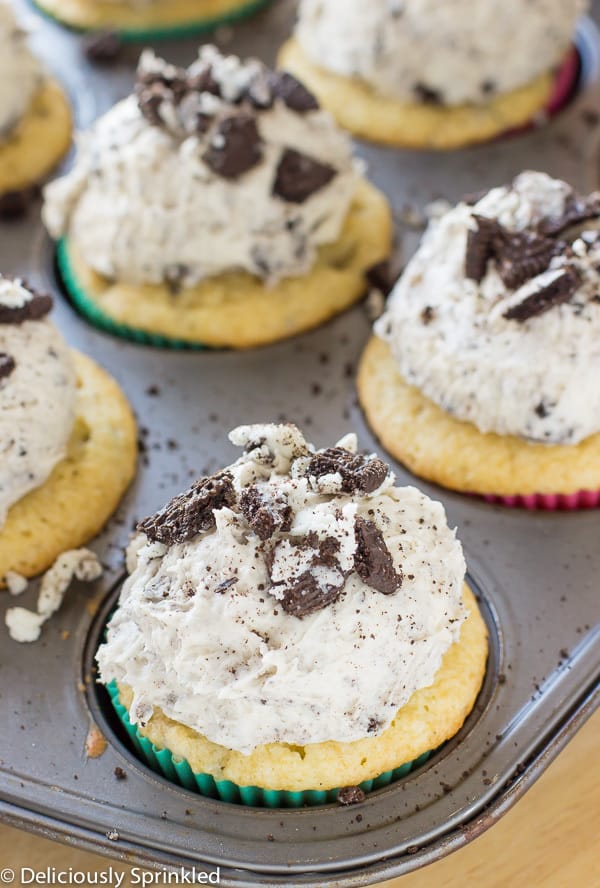 While I waited for the cupcakes to cool, I started to make the frosting which starts out my using my favorite  Vanilla Buttercream Frosting recipe. I then folded in some more crushed Oreos into the frosting to make a delicious cookies and cream frosting.
FROSTING TIP: To frost these cupcakes, I used an ice cream scooper to "scoop" the frosting on top of each cupcake and then sprinkled some more crushed Oreos on top. It doesn't get much easier than that.
Enjoy & Happy Valentine's Day! ♥ (p.s. these cupcakes would make the perfect V-Day gift!)
Cookies and Cream Cupcakes
Ingredients
CUPCAKES:
1¼ cups all-purpose flour
½ teaspoon baking powder
¼ teaspoon baking soda
¼ teaspoon salt
2 large eggs
1 cup granulated sugar
½ cup (1 stick) unsalted butter, softened
1½ teaspoons vanilla extract
½ cup sour cream
½ cup crushed Oreos
COOKIES & CREAM FROSTING:
1 (2 sticks) cup unsalted butter, softened
2½ cups powdered sugar
1 Tablespoons vanilla extract
1 Tablespoon heavy whipping cream
2 cups crushed Oreos
additional crushed Oreos, for topping
Instructions
Preheat oven to 350F degrees. Line (1) muffin tins with 12 cupcake liners. Set aside.
In a medium bowl, mix flour, baking powder, baking soda and salt. Set aside.
In a large bowl, using an electric or stand mixer on medium speed, beat eggs and sugar for about 2 minutes, or until light and creamy. Add the butter and vanilla extract and beat on low speed for about 1 minute, or until well blended. Beat in the dry ingredients on low speed until blended. DO NOT OVER MIX! Add the sour cream and beat until smooth. Fold in crushed Oreos.
Fill each cupcake liner about ¾ the way full with cupcake batter. Bake 18 to 20 minutes or until toothpick inserted in center comes out clean. Allow cupcakes to cool before frosting.
MAKE FROSTING: Mix softened butter on medium speed with an electric or stand mixer. Beat for 30 seconds until smooth and creamy.
Add powdered sugar, heavy whipping cream and vanilla extract. Increase to high speed and beat for 3 minutes. Add more cream if needed for spreading consistency. Fold in crushed Oreos.
Frost cupcakes using an ice cream scooper. Sprinkle with additional crushed Oreos.
MORE DELICIOUS CUPCAKE RECIPES FROM DELICIOUSLY SPRINKLED:
Classic Chocolate Cupcakes with Vanilla Frosting