These bars have a flaky pie crust base with spiced apples and a buttery crumb topping.  Drizzled with some homemade caramel, these will be one of the best desserts that you make this fall!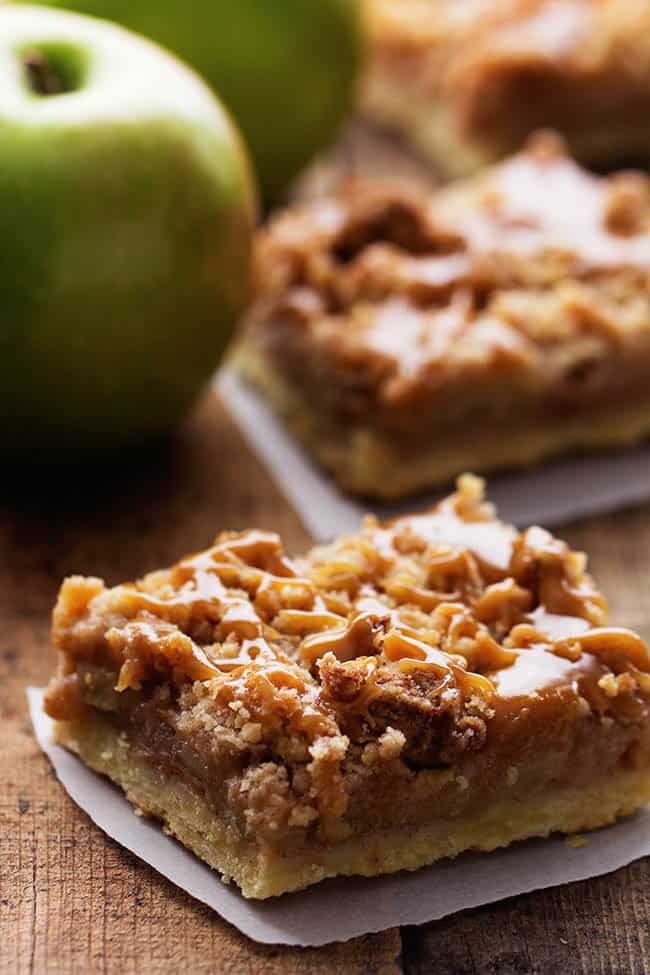 Let's just cut to the chase on this one and say that these will be one of the best desserts that you make this fall.  I absolutely love anything that is made with apple and I especially love dutch apple pie.  The buttery crumbs on top of tender spiced apples is my favorite!
I love that these bars have everything that you love about a dutch apple pie.  They are easy to cut up and serve to a crowd.  They have an easy, flaky, melt in your mouth pie crust base.  Followed by spiced tender apples and a buttery crisp.  But you can't forget one of the best part of this dessert!  The drizzled homemade caramel on top!
These bars are fantastic as they are but the caramel added on top is perfect.  I love the apple caramel combination and it was perfect on the top of these bars.
Put these delicious bars on your fall baking list.  You won't regret it!
Dutch Caramel Apple Pie Bars
Ingredients
Crust Ingredients:
1½ cups all-purpose flour
¾ teaspoon salt
½ cup unsalted butter
1 large egg, beaten
2 tablespoons cold water
Apple Filling Ingredients:
2 tablespoons unbleached all-purpose flour
½-3/4 cup sugar
⅛ teaspoon nutmeg
½ teaspoon cinnamon
¼ teaspoon salt
5 -6 cups peeled cored diced apples (I used Granny Smith)
2 teaspoons vanilla extract
½ cup heavy cream
Crumb Topping Ingredients:
1½ cups unbleached all-purpose flour
¾ cup sugar
¼ teaspoon salt
1 teaspoon cinnamon
½ cup unsalted butter, melted
1 teaspoon vanilla extract
Caramel Topping:
1 cup Brown Sugar
4 Tablespoons butter
½ cup Half-and-half
1 Tablespoon Vanilla
Pinch Of Salt
Instructions
To make the crust: Preheat oven to 425 degrees and lightly grease a 13x9 inch pan.
In a medium sized mixing bowl, whisk together the flour and salt; using a pastry blender, cut in the butter. Drizzle the beaten egg over the mixture and toss lightly to combine.
Add the cold water 1 tablespoons at a time, stirring gently until the dough starts to clump together. Roll the dough into a generous rectangle to fit your pan. Place the dough in the pan and prick it all over with a fork; bake it for 10-12 minutes, until it is set and barely starting to harden.
To make then filling: Whisk the flour, sugar, spices, and salt together. Add in the apples, tossing to coat. Stir in the vanilla, then the cream, spread the filling over the crust.
To make the Topping: in a mixing bowl, whisk together the flour, sugar, salt, and cinnamon.
In another bowl, combine the melted butter and extracts; pout over the flour mixture.
Stir until the butter is absorbed and the mixture forms fairly even crumbs and sprinkle over the filling.
Bake for 15 minutes; decrease temperature to 350°; bake for 30-35 minutes, or until the topping is brown and the filling is bubbly.
Remove from oven and cool on a rack; let them cool to lukewarm before cutting.
To make the caramel: Mix all ingredients in a medium saucepan over medium-low to medium heat. Cook while whisking gently for 5 to 7 minutes, until thicker. Turn off heat. Serve warm or refrigerate until cold. Drizzle on top of apple slab pie.