Hey there it's Tiffany from Creme de la Crumb here to share a recipe with all of you pumpkin lovers! You're gonna love this one, trust me – it involves caramel and chocolate! See? Told you. You love it.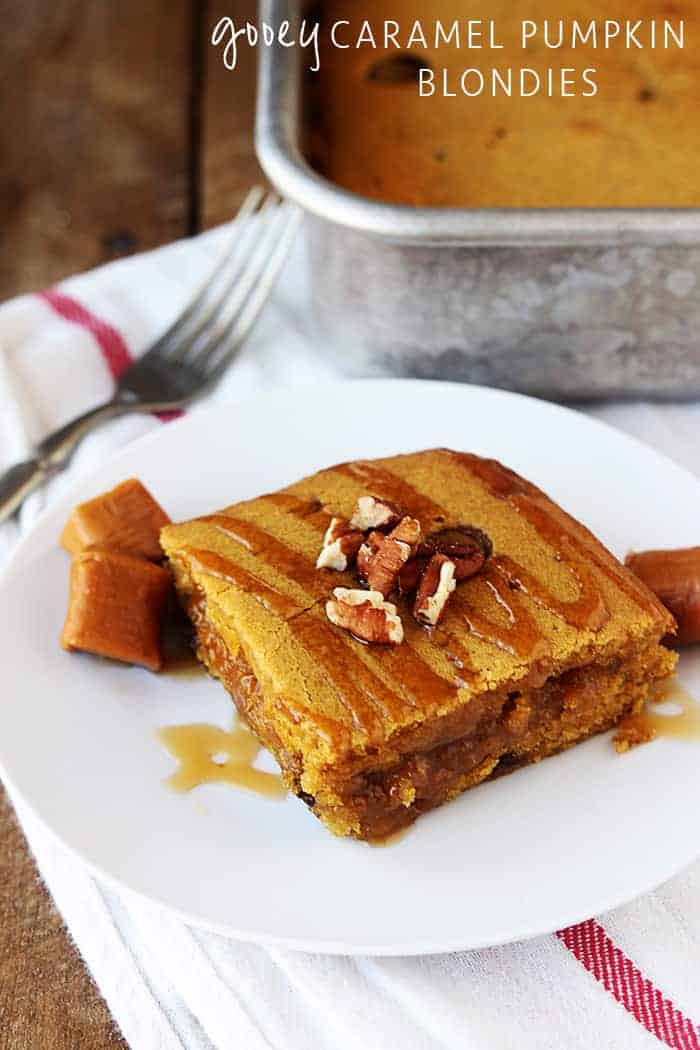 Look at all of that ooey gooey caramel! I love it! I adore pumpkin (who doesn't??) and I especially like caramel flavor with the addition of chocolate so these bars bring the best of everything into one yummy bar. These are way too easy to make which means my holiday XL sweat pants are making an appearance early this year… uh oh…..  But totally worth it!
Gooey Caramel Pumpkin Blondies
Ingredients
12 tablespoons butter, softened
1 cup brown sugar
1 cup pumpkin puree
2 eggs
1 teaspoon vanilla
1¾ cups flour
½ teaspoon cinnamon
½ teaspoon pumpkin pie spice
1 teaspsoon baking soda
¼ teaspoon salt
1 cup semi sweet chocolate chips
15 caramels, unwrapped (like the ones by Kraft)
¼ cup heavy cream
optional: additional caramel, pecans
Instructions
Cream together butter and sugar. Mix in pumpkin, eggs and vanilla.
In another bowl whisk together flour, cinnamon, pumpkin pie spice, baking soda, and salt.
Add dry ingredients to wet ingredients and mix until smooth. Stir in chocolate chips. Spread half of the batter in a greased 9x13 inch pan.
In a microwave safe bowl, microwave caramels and heavy cream, stirring every 20 seconds, until smooth. Pour caramel into pan.
Drop spoonfuls of remaining batter on top of caramel. Use a knife or spatula to gently spread the batter over the caramel. It's okay a few spots of caramel aren't completely covered.
Bake at 350 for 25 minutes or until an inserted toothpick comes out mostly clean. Allow to cool before cutting into bars. Top with additional caramel and nuts if desired. Enjoy!
Notes
Recipe adapted from Two Peas & Their Pod
Adapted from
Two Peas & Their Pod