Amazingly soft and perfect lemon sugar cookies with the best lemon cream cheese frosting on top!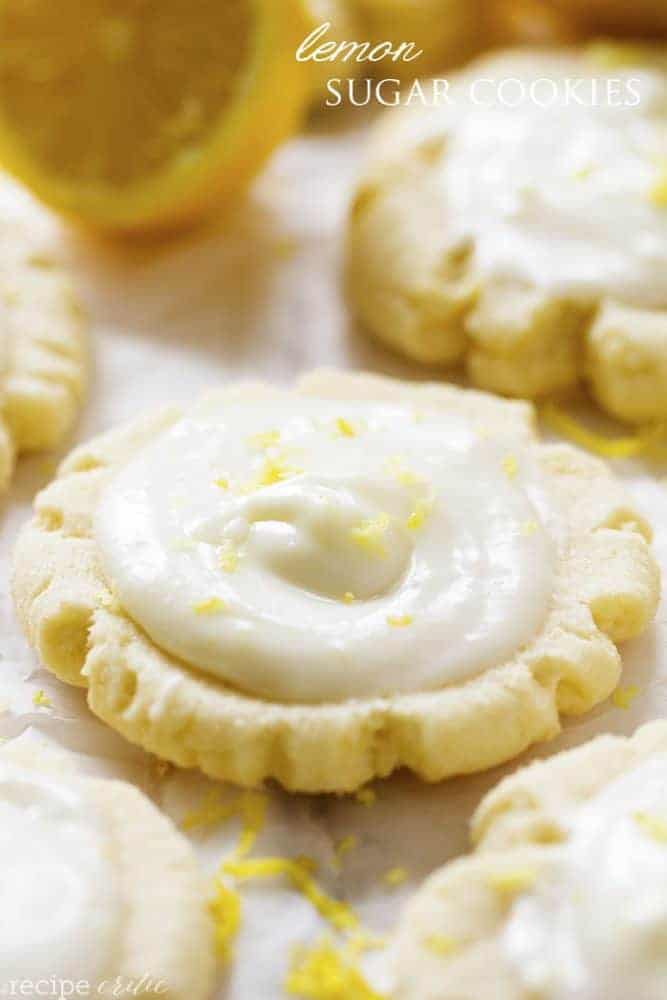 I am not even going to admit how many of these I ate.  But I couldn't stop eating them!  I loved everything about these cookies.  And the added lemon flavor and lemon cream cheese frosting made these cookies out of this world.
Rewind to the first time that I had my first Swig Sugar Cookie.  I went on a road trip with my friend and these swig cookies were the talk of the town.  We were so excited to try our first swig cookie.  Was it worth the five hour drive?  Yes!  Swig cookies are AMAZING!  They are so soft and the frosting on top is creamy and delicious.
So naturally I had to put a recipe for them on the blog.  They tasted just like the real thing and even had their signature rough edge.  I was in heaven.
So last week my family was craving a batch of Swig Sugar Cookies.  But I decided to add lemon to them.  HOLY YUM!  These are incredible with the lemon flavoring added to them.  And since I am a huge lemon lover, I loved these even more!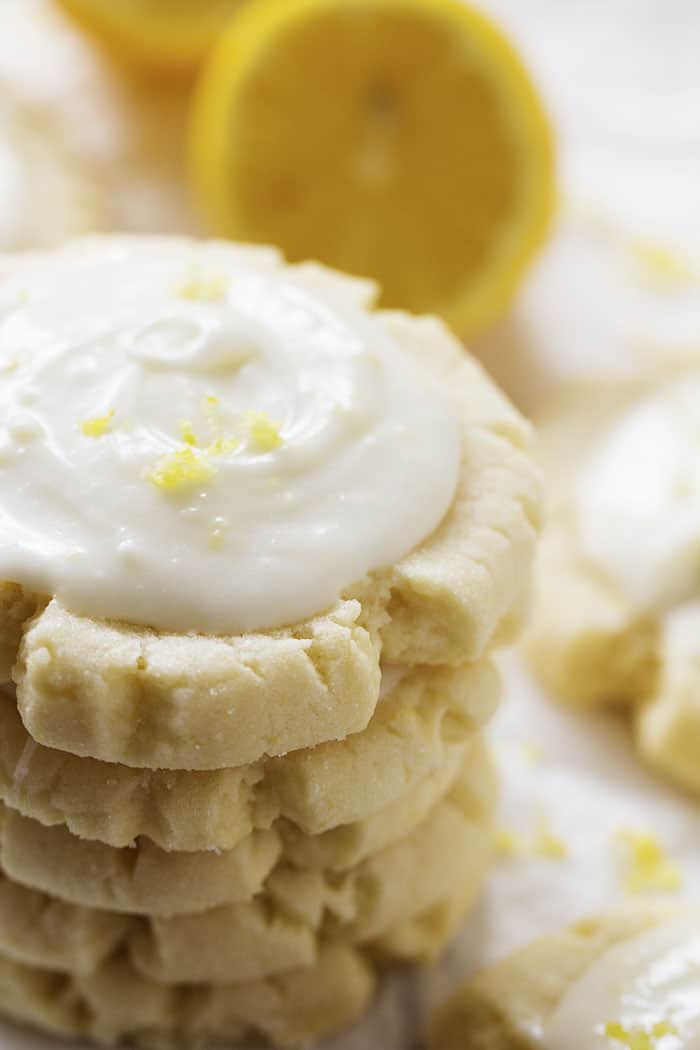 I declare these the best lemon sugar cookies out there.  They have a slightly crisp outside and a soft inside.  The lemon cream cheese glaze was the perfect finishing touch!  Try them out for yourself.  You will quickly find why I couldn't stop at just one! 🙂
Lemon 'Swig' Sugar Cookies with Lemon Cream Cheese Frosting
Amazingly soft and perfect lemon sugar cookies with the best lemon cream cheese frosting on top!
Ingredients
1 Cup Butter, softened
¾ C Vegetable Oil
1¼ C Sugar (plus ¼ cup reserved)
¾ C Powdered Sugar
2 T Water
1 teaspoon lemon juice
1 Tablespoon lemon zest
2 Eggs
½ t Baking Soda
½ t Cream of Tarter
1 t Salt
5½ C Flour
Lemon Cream Cheese Frosting:
1 (8 ounce) package cream cheese,
softened
¼ cup butter
2 tablespoons lemon juice
2 teaspoons lemon zest
1 teaspoon vanilla extract
5 cups confectioners' sugar
Instructions
NSTRUCTIONS
Preheat oven to 350 degrees. In a medium sized mixing bowl, combine flour, baking soda, cream of tarter, and salt. Set aside.
In a large mixing bowl, cream together butter, vegetable oil, sugar (1¼ C), powdered sugar, and water. Add in lemon juice and lemon zest.. Add in eggs.
Slowly add in flour mixture until combined. Roll the dough into golf sized balls and place onto a non stick cookie sheet.
To give the cookies their signature rough edge, dip the bottom of a glass into the reserved ¼ cup sugar and press onto the cookie ball to flatten the cookie. You still want the cookie to be thicker so don't press them to thin.
Bake for 8-10 minutes or until the bottom is lightly brown. The cookies stay soft so do not over bake.
To make the lemon cream cheese frosting: Beat cream cheese, butter, lemon juice, lemon zest, and vanilla together until smooth and fluffy. Add confectioners' sugar. Beat until creamy.