This No Bake S'mores Pie is the easiest summer dessert! A graham cracker crust is loaded with chocolate filling and topped with marshmallow cream!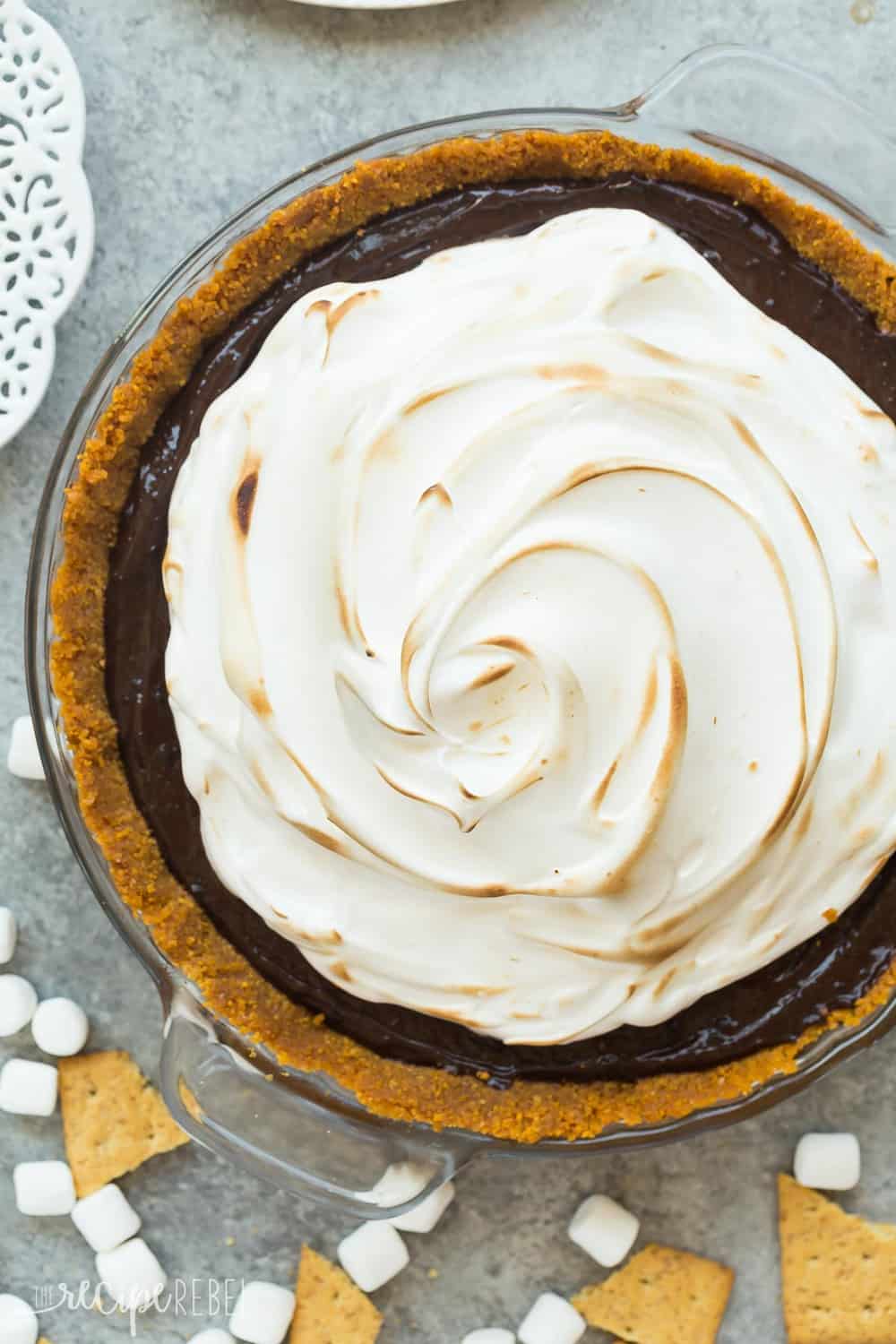 Hey everyone! Ashley here from The Recipe Rebel again and, you know, I just can't believe 2017 is half over. How crazy is that?
I know that summer is just going to fly by, so I'm trying to soak up all of the sunshine, ice cream, beach days and grilled food that I can while it's here.
One of my favorite things about summer is definitely making s'mores over a crackling campfire — there is just not much better than melty chocolate and marshmallow!
But hey, we all know there are days when you need the s'more but there is just no fire, so I've brought this No Bake S'mores Pie to share with you guys today. It is so smooth and creamy and requires no baking at all — the marshmallow cream does get prepped on the stove for a few minutes, but if you can't even handle that homemade whipped cream will do in a pinch!
This recipe is perfect for making a day ahead because the filling and the marshmallow really need a chance to chill and set up — a few hours will do but you can definitely keep it in the fridge for a day or two if need be! Though I'm not sure there's any way it will last that long… 😉
If you want to really go all out with this recipe, try using chocolate graham cracker crumbs for the crust or stirring in a spoonful of peanut butter to the filling — there are so many ways to have fun with the flavors here!

No Bake S'mores Pie
This No Bake S'mores Pie is the easiest summer dessert! A graham cracker crust is loaded with chocolate filling and topped with marshmallow cream!
Ingredients
Crust:
½ cup butter, melted
2½ cups graham cracker crumbs
Filling:
1½ cups mini marshmallows
2 (4 serving size) packages instant chocolate pudding mix
3 cups 1% milk
1½ cups mini marshmallows
Marshmallow Cream:
3 egg whites
¾ cup granulated sugar
¼ teaspoon cream of tartar
Instructions
Combine butter and graham cracker crumbs and press into the bottom and up the sides of a 9" pie plate. Set aside.
Lightly grease a medium microwave-safe bowl and add marshmallows. Microwave on high in 20 second intervals just until puffed and soft -- stir until completely melted and smooth.
In a medium bowl, whisk together pudding mix and milk until smooth. Add marshmallows and whisk vigorously until smooth.
Pour into prepared crust and refrigerate until set, at least 2 hours.
To make the marshmallow cream, place egg whites, sugar and cream of tartar in a glass bowl and whisk to combine. Add ½-1" of water to the bottom of a small pot (make sure that the glass bowl will rest on top and not touch the water) and bring to a simmer over medium-high heat.
Reduce heat to medium and place glass bowl over top, whisking constantly until egg whites are warmed (not hot) and sugar is dissolved.
Remove from heat and beat with an electric mixer on high until stiff peaks form -- this can take 5-8 minutes.
Spread marshmallow over the top and toast with a kitchen torch if desired. Chill for at least 2 hours before serving.