The summer has been pretty mild here so far in North Carolina. Last summer we were hitting well into the hundreds and the humidity was killer! We have had a lot of rain so far. But back in my hometown of Utah they are hitting record breaking temperatures. One thing that I love about summer is no bake desserts. Having a cool, delicious, and refreshing summer dessert is the best. And these Piña Colada Bars were fantastic!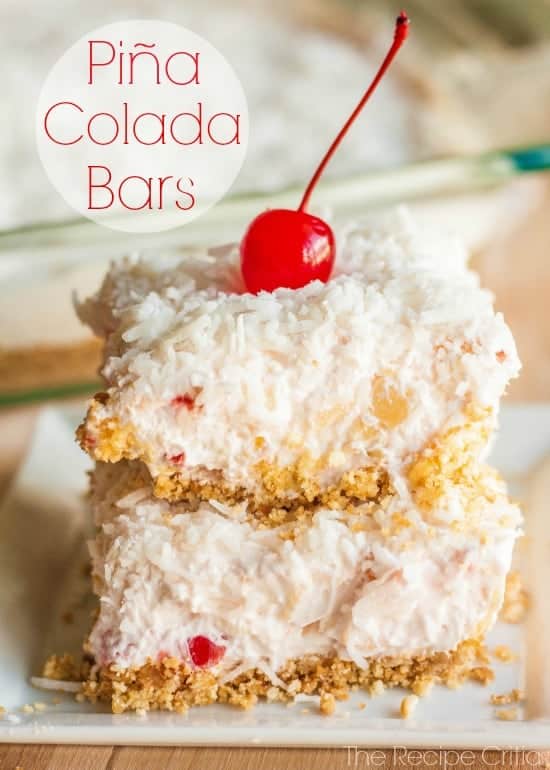 I love that you can make a big 9×13 pan of these and they feed a large crowd. But they didn't last long around here. Feeding 6 guys the pan lasted maybe 5 minutes. They all thought they were amazing!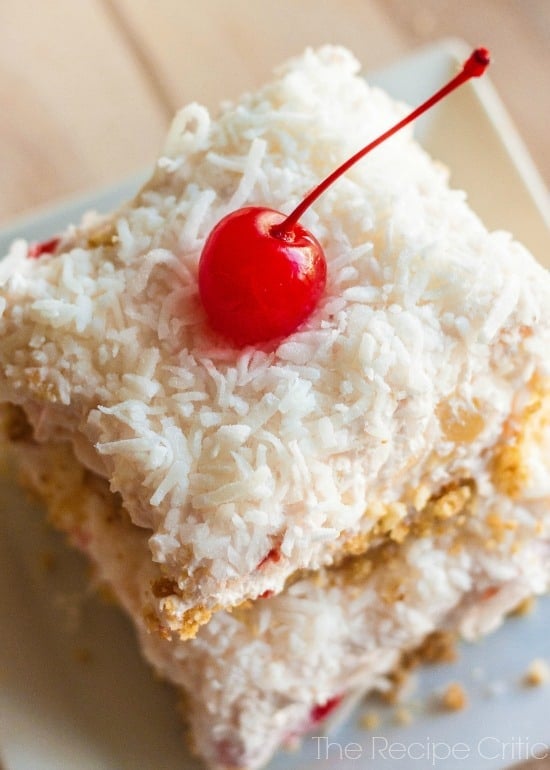 They have a delicious vanilla wafer crust. I loved how the center had maraschino cherries and pineapple chunks. It was perfect inside the creamy and delicious cool whip and cream cheese coconut filling! The coconut on top of these bars were the perfect touch and reminded me exactly of a piña colada!
Piña Colada Bars
Delicious no bake piña colada bars that are the perfect summer treat!
Ingredients
60 Vanilla Wafers, crushed
4 TBS butter, melted
16 oz (2 (8 oz) blocks) cream cheese, softened
½ cup cream of coconut
8 oz Cool Whip, thawed
8 oz can crushed pineapple in juice, with the juice drained
10 oz jar maraschino cherries, drained and diced
1 cup sweetened shredded coconut
Instructions
In a large bowl, combine vanilla wafer crumbs and melted butter. Press into the bottom of a 9x13 pan.
Beat together in your mixer cream cheese, and cream of coconut until smooth. Fold in the cool whip until combined.
Gently fold in pineapple and cherries and spread on top of the graham cracker crust.
Top with coconut and refrigerate for at least 3 hours. Enjoy!