Hey everyone! Chelsea back from Chelsea's Messy Apron with a fun pineapple pretzel salad! Ever had a strawberry jell-o pretzel salad? Well, this is a fun and tropical twist on that. It's got a pretzel crust, a creamy filling, and a sugared-pineapple topping.
This salad is simple to make and so delicious! Definitely a must-make for a summer get together! This dish whips up quickly and is pretty fool-proof. The best advice I have for making pretzel salads is to not overcook the crust. Even if it doesn't look done, 10 minutes has proven time and time again to be the perfect amount of time. If you leave it in the oven longer, there is a good chance it will be overdone and not come out with the rest of the salad.
Hope you all enjoy this delicious twist on a typical fruity-pretzel salad!
Pineapple Pretzel Salad
Author:
Chelsea from Chelsea's Messy Apron
Ingredients
2 cups crushed pretzels
1 cup melted salted butter
1 package (8 ounces) cream cheese, at room temperature
1 cup white sugar
2 teaspoons vanilla extract
1 (8 ounces) container Cool Whip
2 (20 ounces each) cans crushed pineapple
1 package (3.4 ounces) lemon pudding mix, dry
Instructions
Preheat the oven to 350 degrees F.
Place crushed pretzels in the bottom of a 9 x 13-inch baking dish. Pour melted butter carefully over top. Bake in preheated oven for 10 minutes and remove immediately. Do not overcook or it won't cut with the other layers.
In a large bowl, cream together the room temperature cream cheese, sugar, and vanilla. Fold in whipped topping. Spread over the completely cooled crust.
Drain the pineapple cans.
Combine the pineapple and dry pudding mix. Spread over whipped topping layer.
Chill in the fridge until serving. Return any leftovers to the fridge
Notes
Adapted from AllRecipes
More recipes from Chelsea's Messy Apron: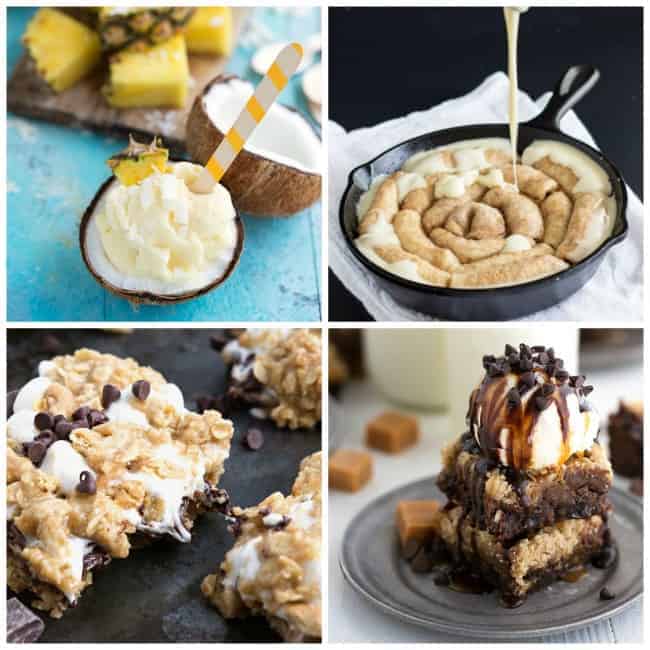 Healthy Pineapple Dole Whip (NO ice cream machine needed)
30-Minute Cinnamon Roll Skillet Cake
Oatmeal Cookie S'mores Gooey Bars
Caramel Chocolate Brookies (Brownie + Cookies)