Raspberry Peach Smoothie– a delicious and simple smoothie filled with raspberries, peaches and vanilla greek yogurt.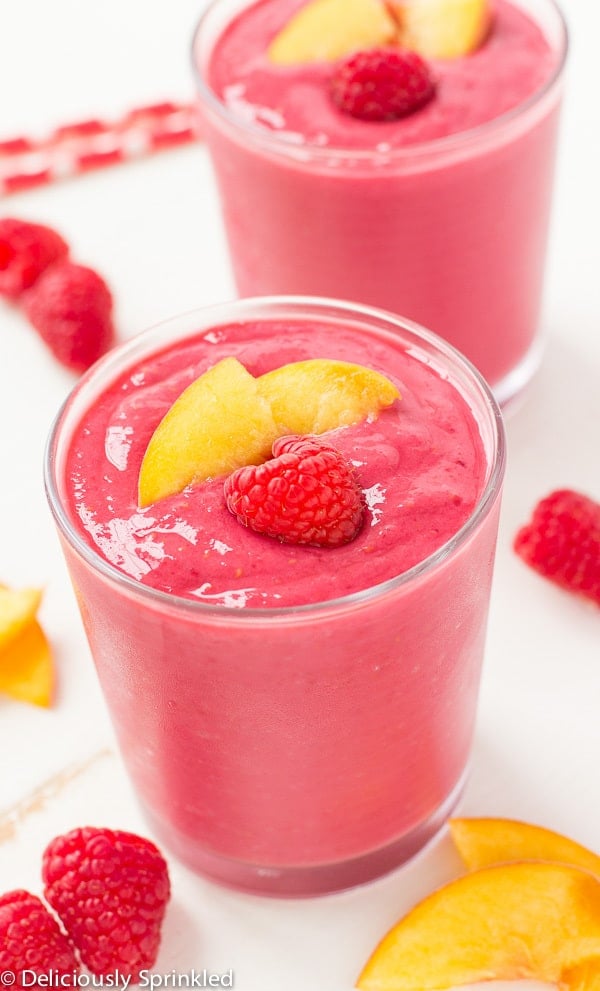 Hi, everyone! Jennifer back from Deliciously Sprinkled with one of my favorite smoothie recipes.
I love smoothies, I make myself a smoothie almost everyday. I switch between my go-to Breakfast Energy Smoothie, Energizing Green Smoothie and my new favorite which is this delicious Raspberry Peach Smoothie.
Making this Raspberry Peach Smoothie is super easy. All you need is some frozen raspberries, peaches, vanilla greek yogurt and vanilla almond milk. Blend it all together and you have a creamy, tasty smoothie to start your day!
Enjoy! ♥
Raspberry Peach Smoothie
Ingredients
1 cup frozen raspberries
¾ cup chopped fresh peaches
¼ cup vanilla greek yogurt
⅓ cup vanilla almond milk
Instructions
Place all ingredients in blender and blend until smooth, adding a bit more almond milk as needed if the smoothie is too thick. Serve and enjoy!
MORE SMOOTHIE RECIPES FROM DELICIOUSLY SPRINKLED: