A delicious and moist coffee cake bursting with fresh blueberries!  Topped with a crumbly topping and walnuts, you would never guess it is made with healthier ingredients!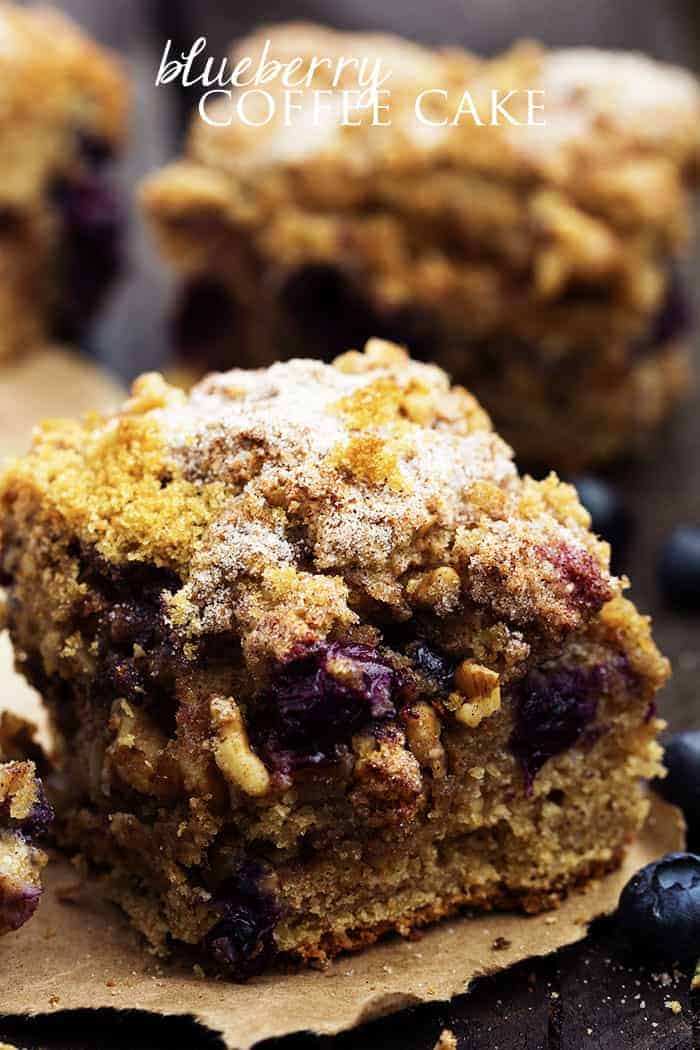 Alright.  February is officially here!  How many of you have kept to your resolutions to eat better?  Anybody out there still with me? 🙂  Hopefully you haven't fallen off of the band wagon just yet because I have a delicious recipe to share with you today!
It is one of my favorite things to eat.  Blueberry coffee cake.  But of course it is made with healthier ingredients!  I love a good crumbly coffee cake.  But when you add fresh blueberries I am in heaven!  This was a deliciously moist coffee cake and I loved the bursting blueberries with each bite.   Each piece is only 210 calories so you can enjoy a freshly baked piece for breakfast or even a snack!
Skinny Blueberry Coffee Cake
Author:
Prep time:
Cook time:
Total time:
A delicious and moist coffee cake that is bursting with fresh blueberries and made with healthier ingredients!
Ingredients
1 cup all-purpose flour
1 cup whole-wheat pastry flour or regular whole-wheat flour
1 teaspoon baking soda
1/2 teaspoon salt
3 tablespoons sugar
1/2 teaspoon ground cinnamon
1/2 cup chopped walnuts
1/2 cup packed brown sugar
2 tablespoons butter, at room temperature
2 tablespoons canola oil
2 large eggs
1 teaspoon vanilla extract
1 cup plain nonfat yogurt
1 cup fresh blueberries, or frozen and thawed
Instructions
Preheat oven to 350 degrees. Spray an 8×8 inch pan with cooking spray and set aside.
In a medium sized bowl, whisk together the all-purpose and whole-wheat flours, the baking soda and salt. In a small bowl, stir together the granulated sugar, cinnamon and walnuts. In a large bowl, beat the brown sugar, butter and oil until fluffy. Beat in the eggs one at a time until incorporated, and lastly add the vanilla and yogurt.
Spread half of the batter into the 8 inch pan. Sprinkle half of the nut mixture over the batter and top with the blueberries. Gently pressing them into the batter. Spoon the rest of the batter over the top and smooth it out. Sprinkle the remaining mixture over the top of the cake.
Bake 30-35 minutes or until a toothpick inserted comes out clean. Let cool slightly and then unfold and allow to cool completely. Cut into two inch squares.
Recipe from Food Network
Calories 210; Total Fat 8.5 g; (Sat Fat 2 g, Mono Fat 2.5 g, Poly Fat 3 g) ; Protein 5 g; Carb 30 g; Fiber 2 g; Cholesterol 41 mg; Sodium 230 mg