The most perfect and moist muffins with pockets of cinnamon sugar and fresh strawberries throughout!  The cream cheese glaze on top is amazing and these will become your favorite muffin!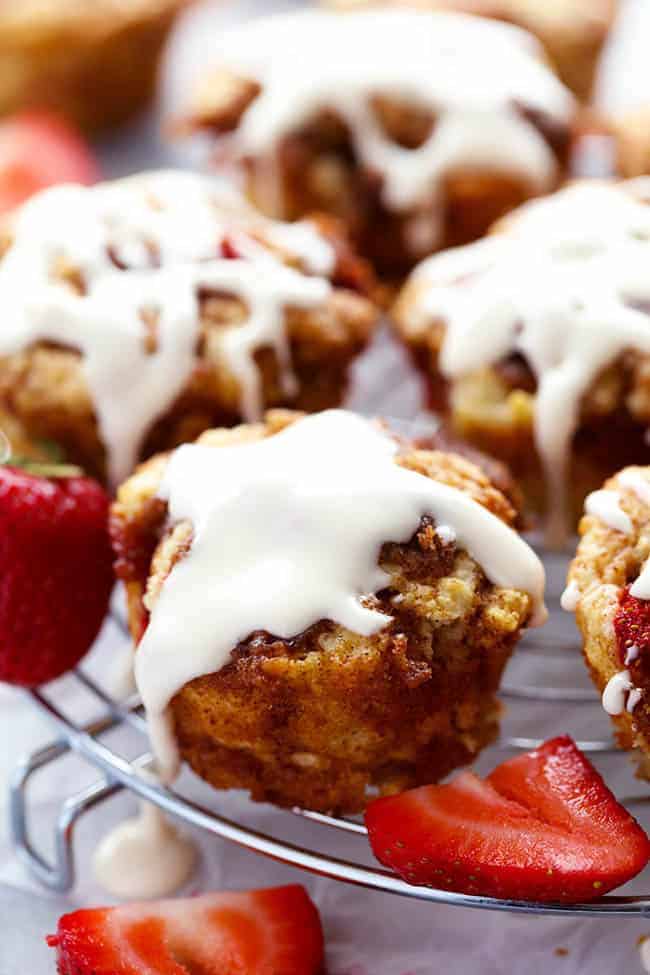 I am in heaven that strawberry season is here!  And you better believe my fridge is always stocked with them.  One of my favorite recipes on the blog are these Strawberry Cinnamon Rolls.   Strawberry and cinnamon together is amazing!  So I wanted to combine the two in a delicious muffin.  And let me just tell you.  These muffins were one of the best muffins that I have EVER had!
I seriously can't even rave about these muffins enough!  A perfectly moist muffin with pockets of cinnamon sugar swirled throughout and fresh strawberries inside.  Amazing.
MY LATEST VIDEOS
MY LATEST VIDEOS
I could not get over how amazing my first bite was.  These muffins baked perfectly and the cinnamon sugar pockets throughout was my favorite part!
Or maybe it was the cream cheese glaze on top?  That was TO DIE FOR!  This whole entire muffin was absolutely delicious.
And have you baked with fresh strawberries before?  The best.  It is like little pockets of strawberry jam in every bite.
You guys have GOT to make these muffins!  Your entire family will go crazy for them.  These became an instant favorite with the first bite.  The muffins are so perfect and tender plus you add some cinnamon sugar and strawberries swirled throughout?  This is the most delicious muffin recipe that I have ever had!  You will definitely agree!
Strawberry Cinnamon Roll Muffins with a Cream Cheese Glaze
Ingredients
2 cups all purpose flour
3 teaspoons baking powder
½ teaspoon salt
¼ cup sugar
3 tablespoons melted butter
1 egg
1 cup milk
2 cups strawberries, chopped into pieces
Cinnamon Sugar Filling/Topping:
1 cup brown sugar
1 Tablespoon cinnamon
3 tablespoons melted butter
Cream Cheese Glaze:
4 ounces cream cheese, softened
2 Tablespoons Butter, softened
1½ cup powdered sugar
1 teaspoon vanilla
1-2 Tablespoons milk
Instructions
Preheat oven to 400 degrees. Grease a 12 cup muffin tin generously and set aside.
In a large bowl sift together flour, baking powder, salt, and sugar. In another bowl, add melted butter, egg, and milk. Add to the dry ingredients. Fold in the strawberries.
In another bowl combine brown sugar, cinnamon, and melted butter. Reserve half and fold the other half into the batter. Fill each muffin cup with about ¼ cup of the batter. Top with remaining cinnamon sugar filling.
Bake for 12-15 minutes or until lightly brown and the tops spring back. Remove from the oven and cool slightly.
To make the cream cheese glaze: Beat together the cream cheese and butter until smooth. Add the powdered sugar and vanilla and beat until smooth. Add milk to thin out the glaze. And drizzle over the top of the muffin.