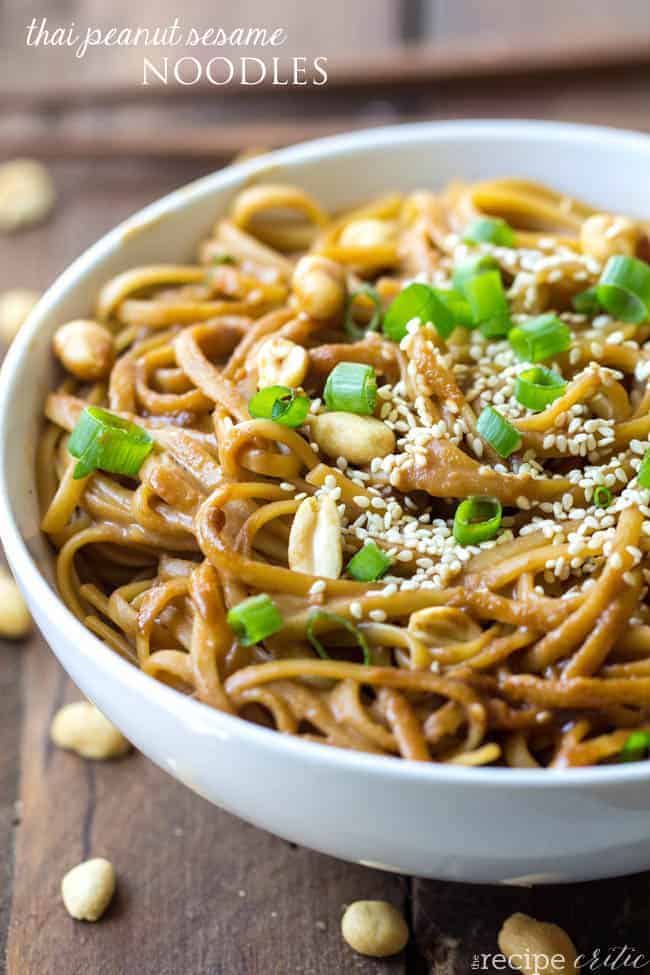 I love anything chinese and thai food and that is apparent on my blog.  When people ask me what my favorite recipes are on the blog, it is definitely the better than take out chinese recipes.   These are recipes that I make over and over again.  And when you repeat recipes as a food blogger, you know that they are good.
We recently went as a family to a fun thai restaurant.  They cook the food right in front of you and it is a lot of fun!  We actually went twice in a week my picky little eater loved it so much.  They made a tower of onions and lit it on fire and made a volcano.  My boys loved it!  My little boys favorite part of the dinner were the noodles.  They were so simple and the flavor was awesome.  I couldn't wait to make them for him at home.
I couldn't believe how amazing these noodles turned out.  I devoured them!  So simple and so flavorful!  The combination of the flavors in the sauce coated the noodles and gave this dish such an awesome taste.  My picky eater even gobbled them down and asked for seconds.  This is such a simple meal that our family will be making again and again.  We might try adding beef or chicken next time too!

Thai Peanut Sesame Noodles
Thai peanut sesame noodles are a simple dish that has fantastic flavor and will become a family favorite!
Ingredients
3 Tablespoons Peanut Butter
3 Tablespoons soy sauce
1 teaspoon sesame oil
½ cup chicken broth
1 teaspoon minced garlic
1 teaspoon ginger
1 teaspoon Sriracha chili sauce
8 oz linguine noodles
sesame seeds for garnish
green onions for garnish
Instructions
Cook the noodles in a large pot according to package directions.
While the noodles are cooking, in a medium sauce pan whisk together peanut butter, soy sauce, sesame oil, ½ cup chicken broth, minced garlic, ginger, and sriracha chili sauce. Cook over medium heat until smooth. Remove from the heat and set aside.
Drain the noodles and toss in the peanut sesame sauce. Serve immediately.