I really am loving this fall weather.  I especially love all of the apple and pumpkin recipes.  When I found this recipe I had to make it!  First of all it had a creamy cheesecake apple center.  I was sold on that just because of my obsession for cheesecake.  Then a streusel topping that is drizzled with caramel.  Double sold.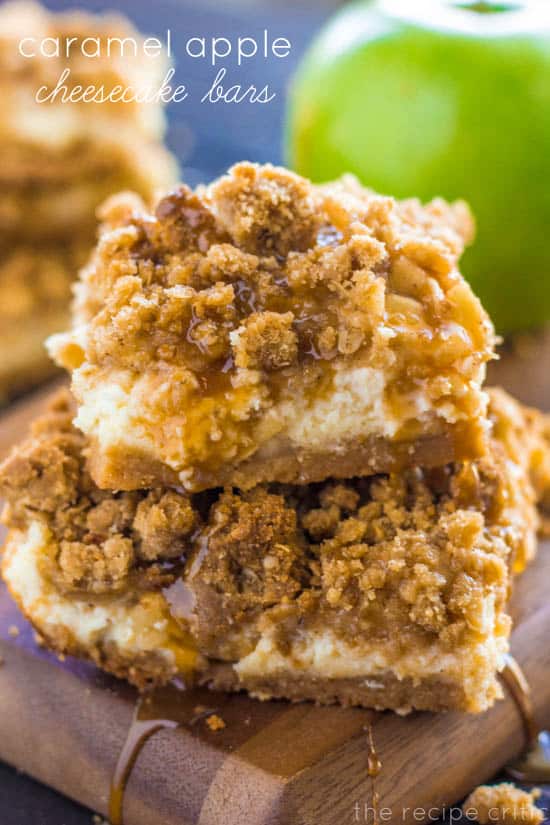 There is nothing like biting into a crisp fall apple that has been dipped in caramel.  This delicious caramel apple cheesecake dessert has all of the amazing flavors of fall combined into it.  The best part is the caramel drizzled on top!  Now drool.
Caramel Apple Cheesecake Bars
Delicious apple cheesecake streusel bars drizzled with caramel topping!
Ingredients
2 cups all-purpose flour
½ cup firmly packed light brown sugar
1 cup butter, softened
2 (8-ounce) packages cream cheese, softened
½ cup sugar, plus 2 tablespoons, divided
2 large eggs
1 teaspoon vanilla extract
3 Granny Smith apples, peeled, cored and finely chopped
½ teaspoon ground cinnamon
¼ teaspoon ground nutmeg
½ cup caramel topping
Streusel topping:
1 cup firmly packed brown sugar
1 cup all-purpose flour
½ cup quick cooking oats
½ cup butter, softened
Instructions
Preheat oven to 350 degrees. Line a 9×13 pan with aluminum foil and lightly spray with cooking spray. This makes removal of the bars easier.
In a medium sized bowl combine flour and brown sugar. Cut in the butter until mixture is crumbly. Press into the bottom of your 9×13 pan. Bake for 15 minutes or until lightly browned.
In a large mixing bowl beat cream cheese, ½ sugar on medium speed until smooth and creamy. Add the eggs one at a time and vanilla. Stir to combine. Pour over warm crust. In a small bowl combine apples, remaining 2 Tbs sugar, cinnamon and nutmeg. Spoon evenly on top of the cheesecake layer.
Combine brown sugar,flour, cooking oats and butter until crumbly. Sprinkle streusel topping over the apple layer.
Bake for 30 minutes until filling is set. Allow to cool and drizzle with caramel topping.