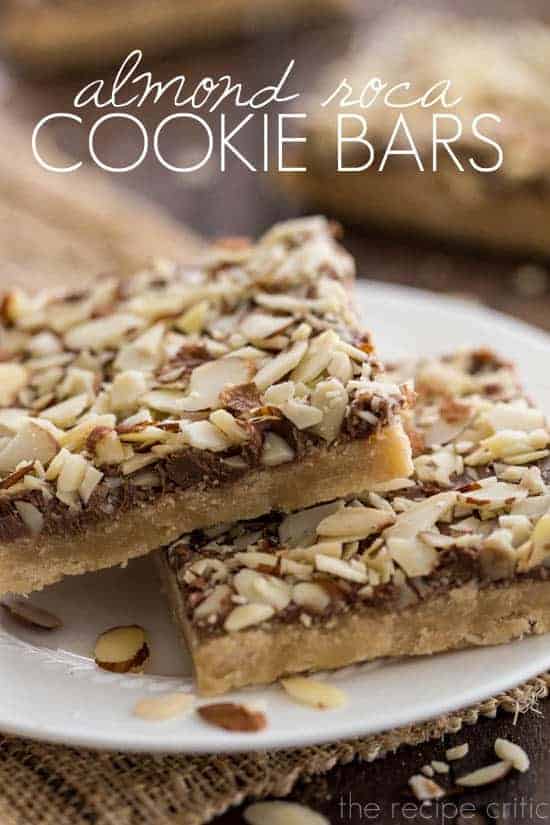 I shared a delicious crepe recipe last week from my hubby's mission cookbook.  Little did I know that there were a bunch of hidden recipes that he would make that are absolutely amazing!
Let's talk about these cookie bars for a minute before I tell you to run out to the store and buy the ingredients ASAP!  I love Almond Roca's.  So I was especially excited to try this recipe from the cookbook.  After taking a bite of this cookie bar I am convinced this is one of the best treats that I have baked.   The cookie crust is absolutely fantastic!  And these bars are so easy and made with simple ingredients.   They are topped with delicious chocolate and sliced almonds.  They look so pretty with the almond flakes on top.  Easy, mind blowing, and reminded me of a Almond Roca.
Ok now run to the store and buy the ingredients to make these. 😉

Almond Roca Cookie Bars
Delicious layers in a cookie bar that will remind you of an Almond Roca!
Ingredients
1 cup butter
½ cup white sugar
½ cup brown sugar
1 beaten egg yolk
1 tsp vanilla
2 cups cake flour
4 Tablespoons cornstarch
12 ounce milk chocolate chips
1 cup sliced almonds, coarsely chopped
Instructions
Preheat oven to 350 degrees. Lightly spray a 9x13 inch baking dish with cooking spray. Or you can line with aluminum foil and spray with cooking spray for easy removal. In a medium mixing bowl, whisk together the cake flour and cornstarch, set aside.
Using a mixer, cream together butter, sugar and brown sugar. Add beaten egg yolk, vanilla, and cake flour cornstarch mix until all incorporated.
Pat the dough into the bottom of your 9x13 inch pan. Bake for 15-20 minutes until the edges lightly brown. Let cool slightly.
In a microwave safe dish or using a double boiler, melt the milk chocolate. I melted it in the microwave stirring 30 seconds at a time. Pour the chocolate on top of the cookie crust and spread evenly. Sprinkle the nuts on top.
Cut into small squares once cooled, and store in airtight container.