Biscoff Oatmeal Bars are easy to make oatmeal bars with a thick layer of biscoff and milk chocolate!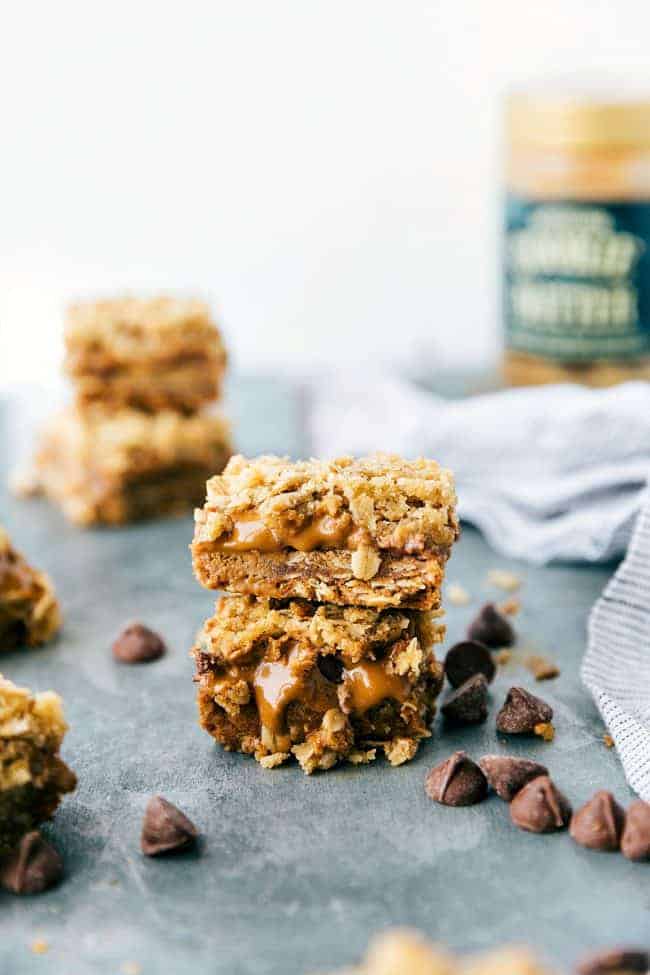 Hey everyone! Chelsea back from Chelsea's Messy Apron! Have you ever had carmelita's? Well, they were a CLASSIC in my home growing up. We made several batches every year as a family and gave them as gifts to neighbors and friends. These bars are a fun twist on those — made with Biscoff spread instead of caramel.
You can find Biscoff Spread at most grocery stores (look by the nut butters and jams!) or get "Cookie Butter" at Trader Joe's. If you've never had it, buy some now and I promise it will change your life!
These bars assemble pretty quick and are very simple to make. The only hard part is waiting for them to cool down!
MY OTHER RECIPES
Biscoff Oatmeal Bars
Ingredients
1 and ½ sticks (3/4 cup) unsalted butter
¾ cup brown sugar, packed
1 cup old fashioned oats
1 and ½ teaspoons vanilla extract
1 teaspoon baking soda
1 cup white flour
1 cup Biscoff spread
1 cup milk chocolate chips
Instructions
Preheat the oven to 350 degrees F. Line an 8 x 8-inch pan with parchment paper and set aside.
In a large bowl, add the butter and melt most of the way.
Add in the brown sugar, oats (do not use quick oats!), and vanilla. Whisk until well combined.
Add in the baking soda and flour. Mix.
Take half of this mixture and press it firmly into the bottom of the prepared pan.
Bake for 10-12 minutes or until lightly browned at the edges.
Meanwhile, place the biscoff spread in a microwave safe bowl and microwave for 30 seconds.
When the bottom layer is down baking, remove and sprinkle the chocolate chips over it.
Pour the biscoff evenly over the chocolate chips.
Sprinkle the remaining oat mixture over top of everything.
Bake for another 15-20 minutes or until lightly browned at the edges.
Remove and allow to cool. The cookie butter will be very gooey and soft at first, these bars take a while to be firm -- allow to completely cool before cutting.
More delicious desserts from Chelsea's Messy Apron:
6-ingredient NO BAKE Chocolate Pudding Pie
5-ingredient Frozen Strawberry Cheesecake Ice Cream Pie