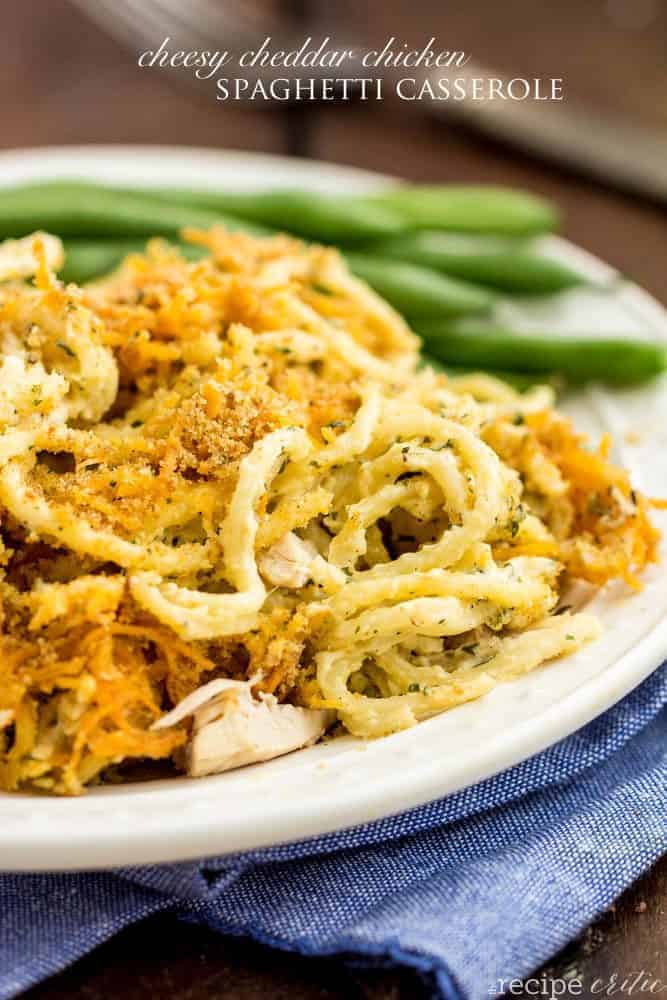 I always get so sad when Christmas is over. I hate taking the lights down and especially the tree and decorations. It just brightens up the house and the cold of winter so much. Then we are just left with cold and snow.
I try to think of the things that I like about the winter time. Which sometimes is hard because I hate the snow! But I do like to feel all cozy inside in a big sweatshirt and blanket and some hot chocolate. Of course I love soups, and especially casseroles this time of year. I love when I find a casserole that that family instantly loves and this one was just that!
The flavors are incredible in this casserole. Creamy delicious spaghetti with chicken topped with bread crumbs and cheddar cheese. The entire family gobbled it down. It makes enough to feed a small army and my hubby looked forward to having it for left overs the next day. It can also be frozen to which is great to reheat for busy nights. Our family loved this recipe and I know that yours will too!

Cheesy Cheddar Chicken Spaghetti Casserole
A delicious and cheesy casserole that is filled with amazing flavors that the entire family will love!
Ingredients
1 package 12 ounce spaghetti, broken
3 cups cubed cooked chicken (rotisserie works great)
2 (10¾ ounce) condensed cream of chicken soup, undiluted
1 (16 oz) sour cream
1 cup chicken broth
1 teaspoon seasoning salt
¼ teaspoon pepper
⅛ teaspoon cayenne pepper
2 Tablespoons dried parsley
Topping:
2 cups sharp cheddar cheese
½ cup Italian Seasoned Bread Crumbs
½ cup grated parmesan Cheese
Instructions
Preheat oven to 350 degrees. Spray a 9x13 with cooking spray and set aside. Cook the pasta according to package directions until al dente. Drain. In a large bowl combine cream of chicken soup, sour cream, chicken broth, seasoning salt, pepper, cayenne pepper, and dried parsley. Add cooked spaghetti and chicken. Toss until coated.
Place the mixture in the 9x13. Top with sharp cheddar cheese. Combine parmesan cheese and bread crumbs and sprinkle on top. Cover with foil and bake for 40-45 minutes. Take foil off the last ten minutes to make it nice and bubbly.
Recipe adapted from
The Pioneer Woman