These Chocolate Chip Cookie Cheesecake Bars are made with a soft chocolate chip cookie crust, filled with a real cheesecake filling, and topped off with even more chocolate chip cookie dough!  A rich, unique treat!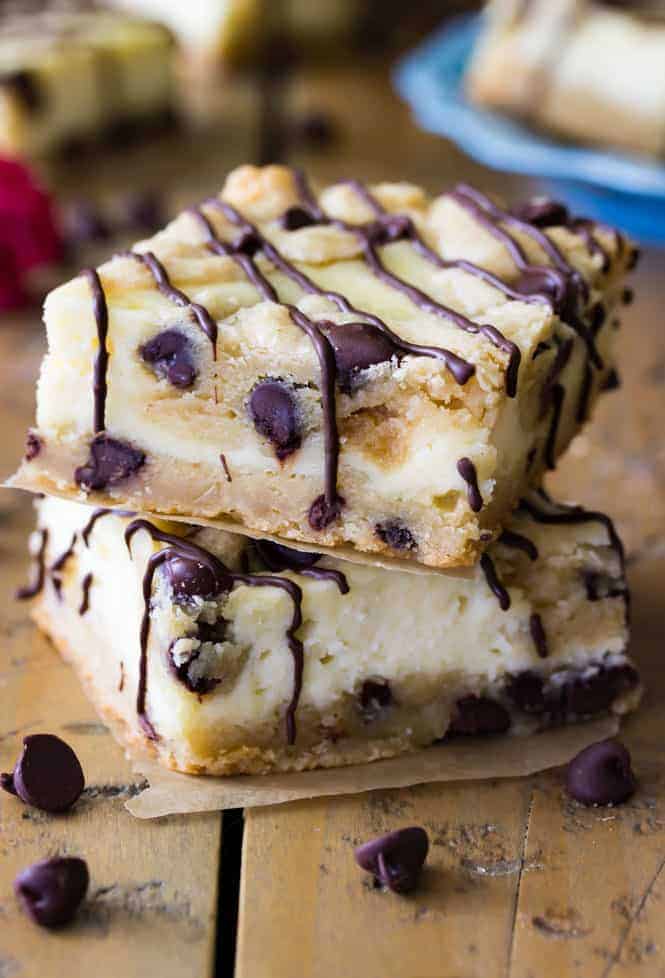 Hello again!  Sam from Sugar Spun Run here with another sweet treat for you this month!
Today's dessert stems from my slight obsession with chocolate chip cookies.  It's kind of a problem… this obsession is to blame for my favorite chocolate chip cookie recipe, my edible cookie dough recipe, and about 10 extra pounds that I just can't seem to shake no matter how much I run on the treadmill (those chocolate chips just won't stop calling my name!).
It was really only a matter of time before I combined chocolate chip cookies with one of my other all-time favorite desserts — cheesecake!
For the chocolate chip cookie parts of these cheesecake bars, I used a classic favorite recipe of mine.  I wanted to use a nice soft (and not crisp) cookie recipe so that the cookie portion would be easy to both bite into and cut.
Since the cheesecake portion obviously has to be refrigerated, this is important to keep in mind, and if you try to substitute a different chocolate chip cookie recipe you could end up with a cookie layer that's rock hard and too tough to bite or cut into, which is definitely not what you want!
The cheesecake for these chocolate chip cookie bars is very simple to make and very rich and creamy (as cheesecake always should be).  As with all of my cheesecake recipes, this one uses a small amount of sour cream to really bring out the full flavor in these bars.
Enjoy!

Chocolate Chip Cookie Cheesecake Bars
Ingredients
For Cookie Layer
¾ cup butter, softened
¾ cup brown sugar
⅔ cup sugar
1 egg + 1 egg yolk
1 teaspoon vanilla extract
2 cups flour
1 ½ tsp corn starch
½ tsp baking powder
¾ tsp salt
1 cup chocolate chips
For Cheesecake Layer
24 oz cream cheese, softened (three 8-oz packages)
⅔ cup sugar
¾ teaspoon vanilla extract
⅓ cup sour cream
2 eggs
Instructions
Preheat oven to 350F and line an 11x7 baking pan with foil. Lightly grease with butter and set aside.
Cookie Layer
Prepare your cookie layer first by using an electric mixer to beat together the softened butter and sugars. Beat until light and fluffy.
Add egg and then egg yolk, stirring until well-combined.
Stir in vanilla extract.
In a separate, medium-sized bowl, whisk together flour, corn starch, baking powder, and salt.
Gradually add dry ingredients into wet until completely combined. Stir in chocolate chips.
Press about half of the cookie dough evenly into the bottom of your prepared pan. Set the remaining cookie dough aside and prepare your cheesecake filling.
Cheesecake Layer
Use an electric mixer to beat together cream cheese and sugar until well-combined.
Stir in vanilla extract.
Gradually stir in sour cream until combined.
Add eggs, one at a time, beating until combined.
Pour the cheesecake layer into your pan over your cookie dough layer.
Take your remaining cookie dough and drop it randomly over the top of the cheesecake layer (it will not cover the whole cheesecake, this is fine).
Bake on 350F for 35 minutes or until cookie layer is just beginning to turn golden brown and cheesecake bounces back to the touch.
Allow to cool to room temperature, then transfer to refrigerator and allow to chill at least 6 hours before cutting and serving.
You Might Also Like These Recipes!
Chocolate Chip Cookie Cheesecake Bars with Strawberries