Join the Recipe Critic for the latest and greatest!  Like us on 
Facebook
 or follow on 
Pinterest

!
I feel like I have been on a roll lately with making awesome recipes!  The first batch of these were gone so fast that I couldn't even get a picture of it.  So I gladly volunteered to go back to the store and bought two boxes to make them in a 9×13.  Here is the best part of this whole recipe.  It is only 3 ingredients.  Seriously.  You can mix up a batch in 2.5 seconds and have them ready in no time.  These are so easy and delicious that you have no excuse NOT to try them!!
Rating:
5 stars
 Difficulty of Recipe:
1 star
Things that I changed: Second batch I doubled and made in a 9×13.
Things that I would do differently next time: Nothing
Will I make this again?  Yes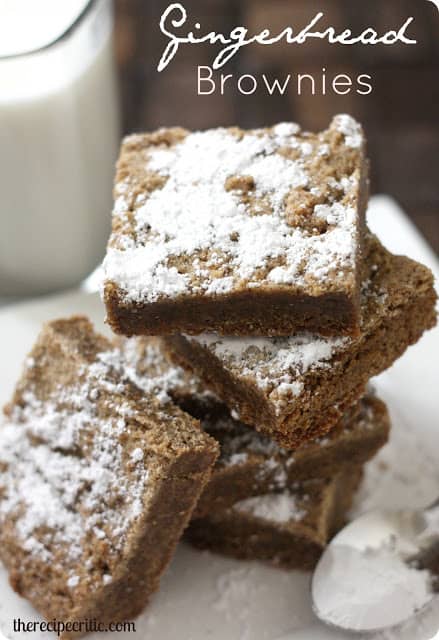 Ingredients:
1 box of Betty Crocker Gingerbread Cake Mix (I found it at Walmart near the holiday stuff)
1/3 cup evaporated milk
1/2 cup melted butter
Powdered sugar for dusting (Optional)

1. Preheat the oven to 350 degrees and spray a 9×9 baking dish with cooking spray.
2. Combine the 3 ingredients and mix well.
3. Spread the batter smoothly and evenly in the 9×9 baking dish.
4. Bake for 25 minutes or until the brownies are firm.  
5. Let them cool for a few minutes and devour!
Recipe from Oh Bite It