My little 5 year old loves pretzels.  So I was excited to give this recipe a try because I thought that he would like it.  Not sure you can go wrong with chicken crusted in pretzels with a homemade honey mustard sauce.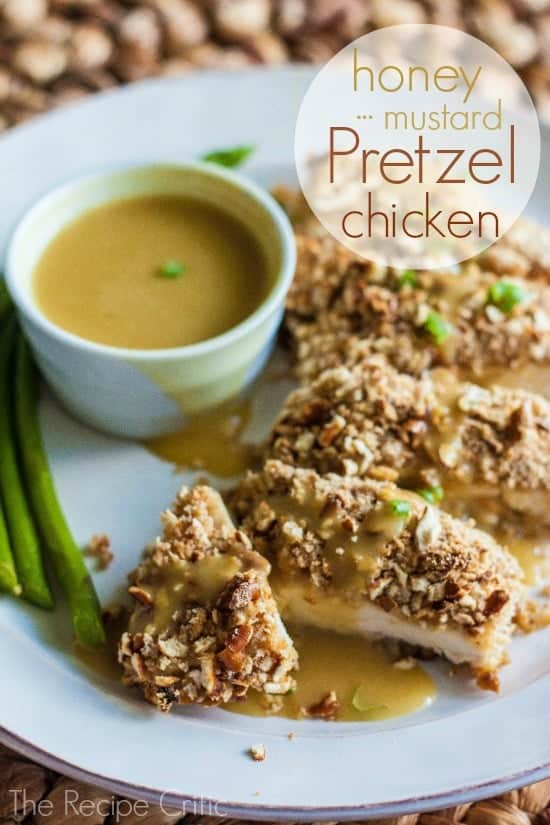 The homemade honey mustard sauce was fantastic!  Then dipped in crushed pretzels and panko crumbs made it delicious!
This was a hit with the family including the 5 year old!   The chicken was so moist and tender inside and I loved the added crunch that the pretzels gave.  The honey mustard sauce really balanced out the flavor making it a perfect meal!
Honey Mustard Pretzel Chicken
Delicious pretzel crusted chicken with amazing homemade honey mustard sauce!
Ingredients
4 boneless skinless chicken breasts
2 cups panko crumbs
2 cups pretzel crumbs
½ cup neutral tasting olive oil
½ cup Dijon mustard
⅓ cup honey
¼ cup bottled water
3 tablespoons red wine vinegar
coarse salt
fresh ground black pepper
½ cup flour
Instructions
Preheat oven to 400 degrees. Lightly grease a non stick baking sheet or line with parchment paper or aluminum foil.
In a medium skillet, toast the panko crumbs until lightly golden, stirring constantly. Remove from heat and set aside.
In a food processor, pulse the pretzels until coarsely ground and mix with the panko crumbs.
Wipe out the crumbs from the processor, and place oil, mustard, honey, water and vinegar and pulse until smooth. Season with salt and pepper to taste.
Pound the chicken with a mallet to even the thickness and season well with salt and pepper.
Set up a dredging station by pouring half of the dressing in a shallow bowl, put the flour in a large plate, and the pretzel mixture to a shallow bowl.
Dredge the chicken in the flour, then into the dressing and lastly coat in the pretzels. Place each chicken breast onto the baking sheet.
Bake 16-25 minutes or until cooked though. Serve with remaining honey mustard dressing.
MY OTHER RECIPES
MY LATEST VIDEOS