Overnight Cinnamon Apple French Toast Casserole is the perfect autumn breakfast to wake the family up to!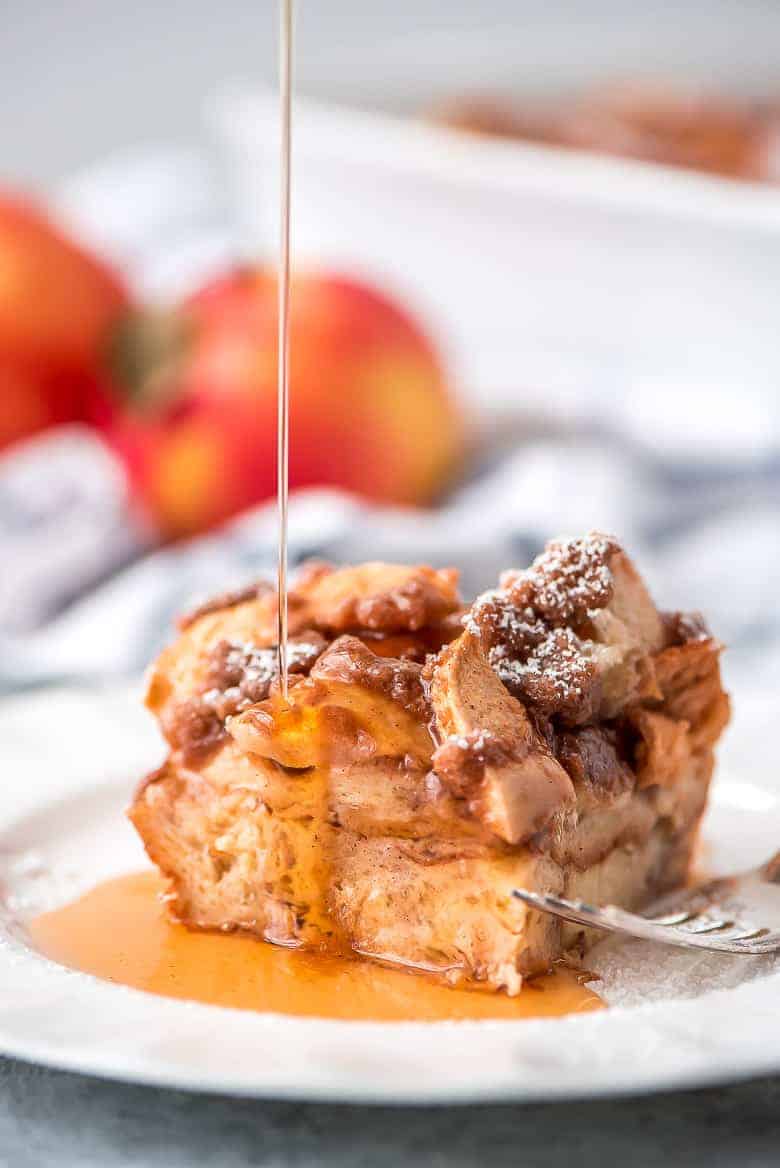 Hey! Melanie here again from Garnish & Glaze. Fall is in the air! It's getting cooler here on Long Island and the leaves are already turning and falling to the ground. I sure love this time of year and not just the because it's the perfect sweater layering and boot wearing weather but there are also so many yummy comforting food to eat, like this Overnight Cinnamon Apple French Toast Casserole.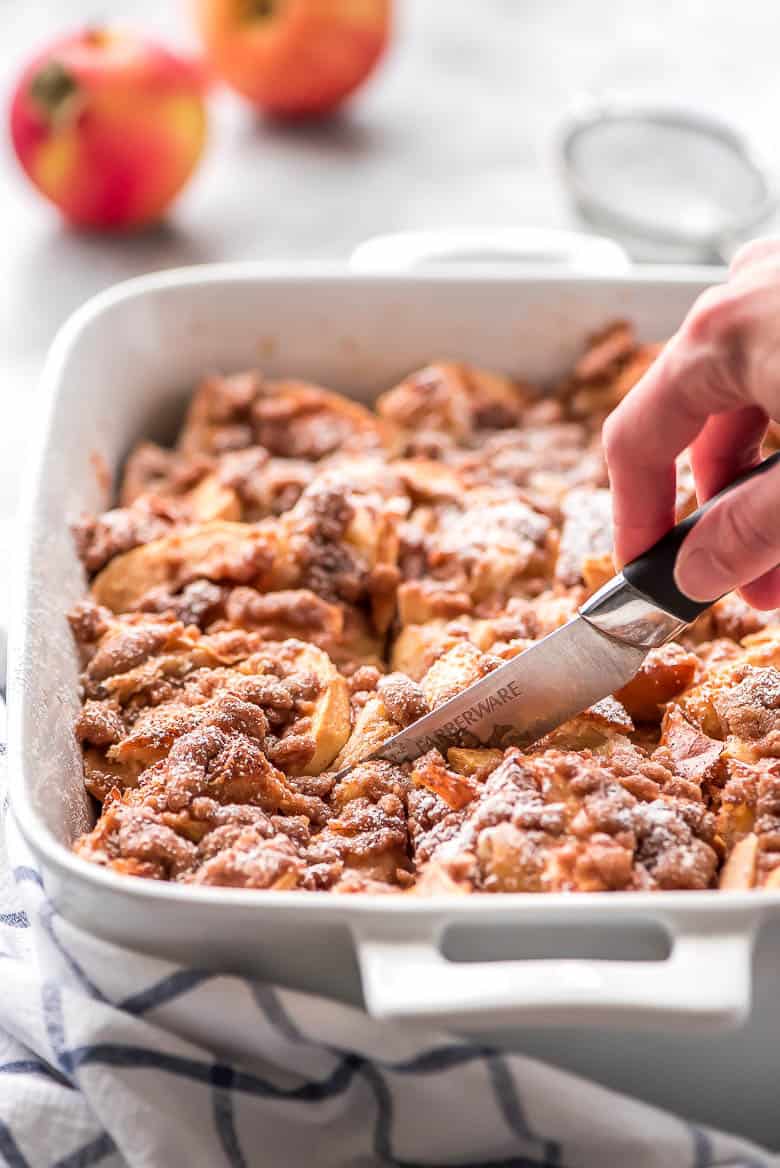 Guys, this is my new favorite French Toast Casserole, followed closely by my Overnight Coconut Almond French Toast Casserole! Seriously, your weekend weekend can't get much better than wearing your jammies and eating a slice of this Overnight Cinnamon Apple French Toast Casserole soaked in maple syrup. Mmmmm! I just feel all warm and cozy inside just thinking about it.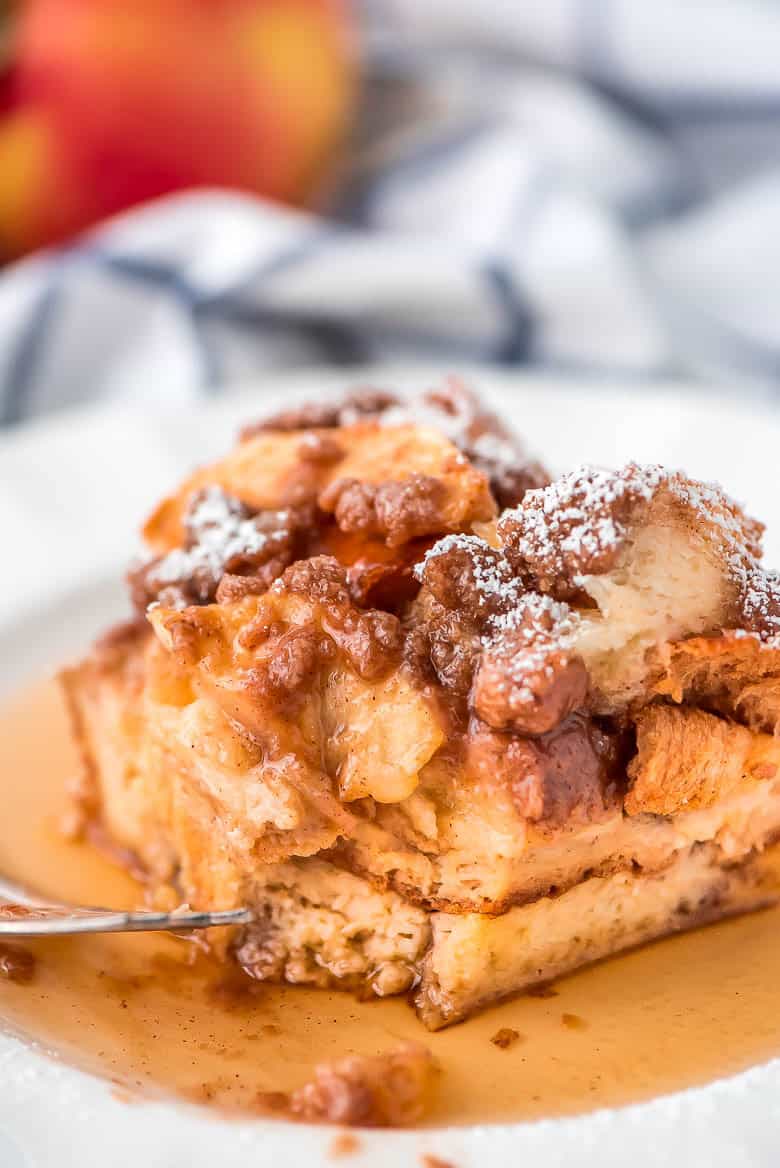 This breakfast casserole is a cinch to make. Just cut up some day old challah bread and your favorite apples, pour a custard mixture over the top and let it all soak into the bread while you sleep. The next morning all you have to do is turn on the oven, mix 4 ingredients together to make the yummy streusel for the top and then bake. While it bakes you can snuggle back in bed, binge on Netflix, get ready for the day,… whatever.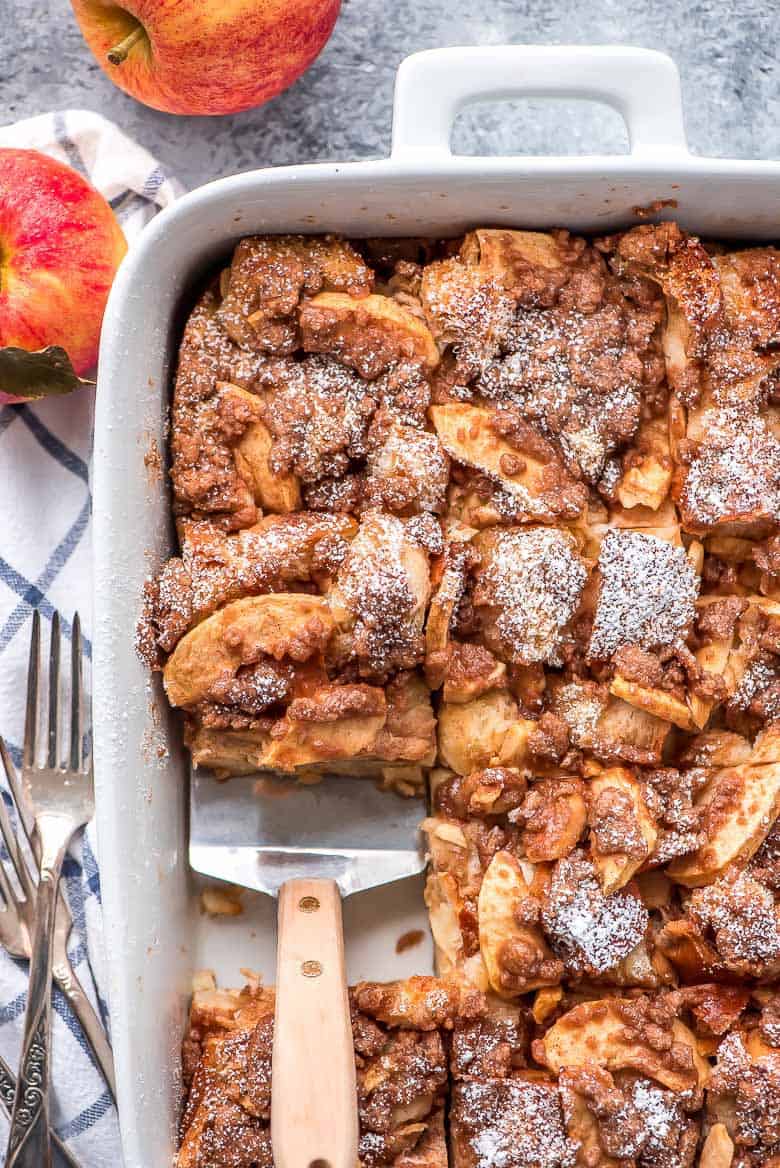 When the the streusel is golden brown on top and middle is set, it's breakfast time! Break out the powdered sugar and maple syrup for a scrumptious breakfast with the fam. The apples in this are perfectly cooked, just soft enough without being mushy. I used gala apples but you can really use any variety.
This is casserole is rather large so be prepared to feed many mouths or eat a lot… which you much might do because it's that yummy. Enjoy!

Overnight Cinnamon Apple French Toast Casserole
Ingredients
For the French Toast:
1 16 ounce loaf challah bread, day old cubes
6 eggs
1 cup half and half
1 cup milk (2% or whole)
½ cup granulated sugar
2 teaspoons vanilla
1 teaspoon cinnamon
3 apples peeled and sliced thin
For the Streusel:
⅓ cup brown sugar
⅓ cup flour
1 teaspoon cinnamon
¼ cup butter cold, diced
For the toppings:
powdered sugar
maple syrup
Instructions
For the French Toast:
In a mixing bowl (preferably with one with a spout), mix the the eggs, cream, milk, sugar, vanilla, and cinnamon together. Set aside.
Grease the pan and then place half of the bread cubes in the bottom. Layer with half the sliced apples and pour about a third of the egg mixture over it. Repeat again with the remaining bread, apples, and mixture. Cover with plastic wrap and place in the fridge overnight or for at least 4 hours.
Take the casserole out of the fridge and preheat the oven to 350 degrees F. Sprinkle with the streusel and bake for 45-55 minutes. Let cool for 5-10 minutes before slicing. Serve with powdered sugar and maple syrup.
For the Streusel:
Mix the brown sugar, flour, and cinnamon together. Cut in the butter until crumbly.