Summer is in full swing here in North Carolina.  With the high heat temperatures and humidity, I try to use my oven as little as possible.   These were the perfect summer dessert made with Lucky Leaf pie filling that required little effort and no baking!
I decided to use lemon pie filling to create this delicious dessert.  And then you should all be well aware of my obsession with cheesecake.  The lemon flavor combined with the cheesecake filling blew my mind with amazement.  Then layered with a graham cracker crust and fresh raspberries?  Are you kidding me!  This is heaven inside a jar!  This will definitely be served to me on a silver platter when I die!
I can't even express my excitement with how amazing these turned out!   I served these as a dessert to a group of people and they were a HUGE hit!   I had a little left over lemon cheesecake filling and they took that home with them too.   They couldn't get enough of these amazing little parfaits.  But here is the good news, I managed to save you a bite! 🙂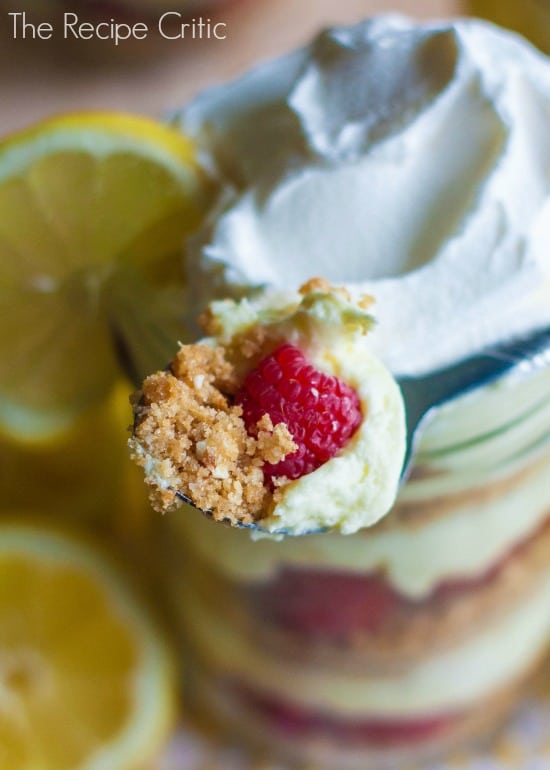 Raspberry Lemonade Cheesecake Parfaits
Delicious no bake parfaits layered with graham cracker crust, lemon cheesecake filling and fresh raspberries.
Ingredients
18 ounce fresh raspberries
9 graham crackers, crushed
½ cup light brown sugar
½ cup chopped almonds, finely chopped
pinch of salt
½ cup butter, melted
24 ounces cream cheese, softened
¾ cup sugar
1½ cup frozen whipped topping, thawed
21 oz Lucky Leaf® Lemon Pie Filling
Instructions
Mix crushed graham crackers, brown sugar, chopped almonds, pinch of salt, and melted butter in a bowl. Set aside.
In a mixer, blend cream cheese, and sugar until fluffy.
Gently fold in thawed whipped topping and lemon pie filling.
Layer parfaits in a mason jar starting with graham cracker crust, fresh raspberries, lemon cheesecake filling and repeat layers.
Top with whipped cream if desired. Enjoy!
Notes
I was able to fill 5 large mason jars
This post was sponsored by Lucky Leaf®.  All opinions expressed are my own!